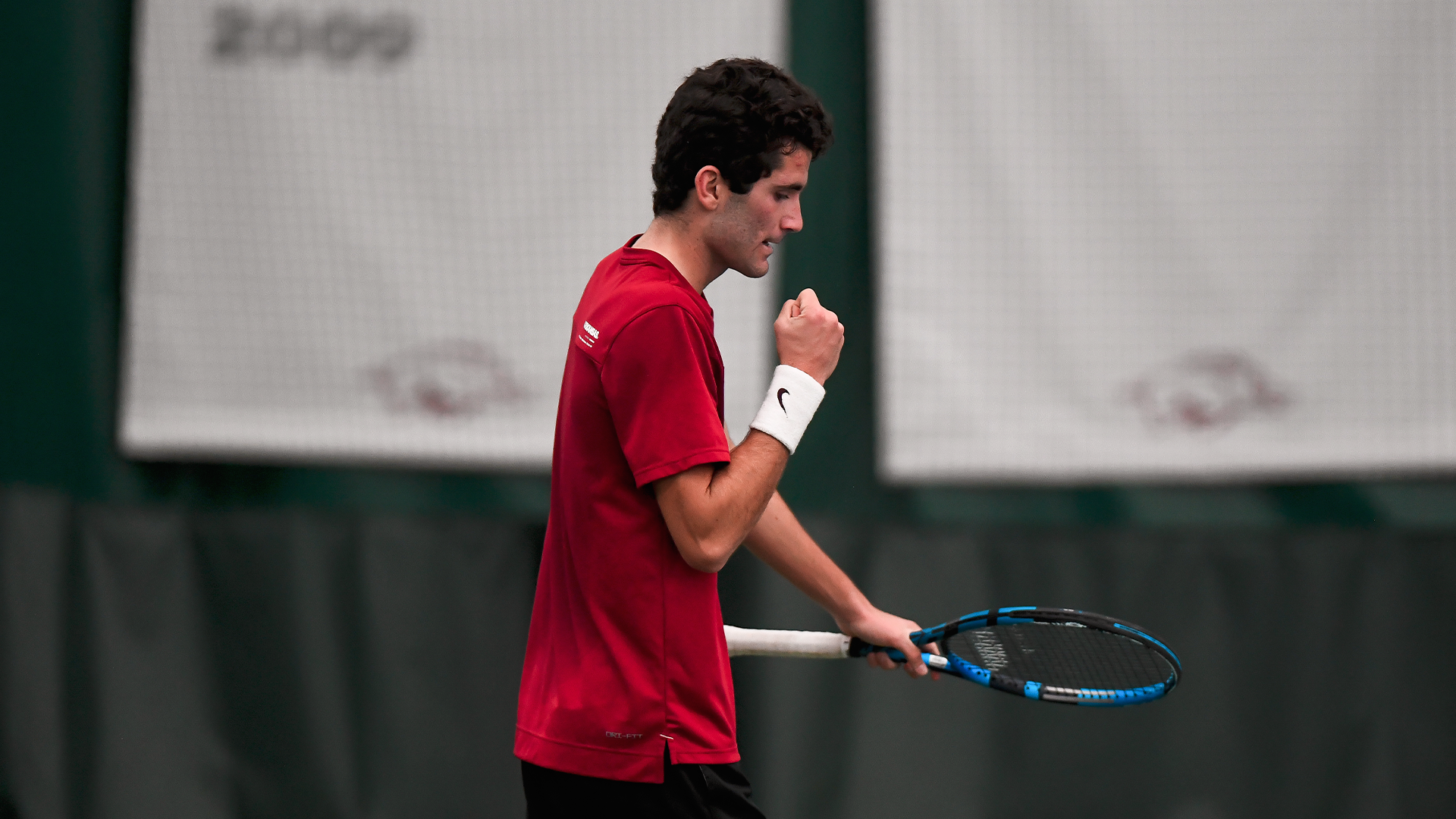 Arkansas Suffers 6-1 Loss to No. 4 South Carolina
COLUMBIA, S.C. – The No. 55 Arkansas men's tennis team concluded their three-match road stretch in Columbia, S.C. The Gamecocks (16-3, 5-2) gained the early advantage by winning the doubles point en route to a 6-1 victory over the Razorbacks (12-8, 0-7) Sunday afternoon.
South Carolina grabbed the first match in doubles play, as No. 1 Samuel/Thomson defeated juniors Adrien Burdet and Melvin Manuel, 6-3. Much like Friday night, the Hogs were in close battles on the other two courts. In the end, juniors Stefanos Savva and Alan Sau Franco dropped a tiebreak on court two to No. 43 Beasley/Story, 7-6 (5).
The Gamecocks carried their momentum into singles play and clinched the match with three straight-set wins on courts one, two, and four. Freshman Gerard Planelles Ripoll accounted for the only point of the match for Arkansas in the No. 6 spot, rallying from a first-set tiebreak loss to beat Lucas Da Silva 6-7 (4), 6-4, 10-6. Planelles Ripoll improves to 13-4 this dual season.
On court five, Sau Franco dropped a tight finish to Jake Beasley, 6-7 (5), 6-3, 10-3. In the No. 3 spot, Burdet fought back to force a third-set tiebreak against No. 111 Raphael Lambling. However, Lambling closed out the match by defeating Burdet 11-9.
The Razorbacks return home this upcoming weekend to host No. 51 LSU on Friday, March 31 and No. 7 Georgia on Sunday, April 2 at Billingsley Tennis Center.
For the latest information on all things Arkansas Men's Tennis, follow the Hogs on social media by liking us on Facebook (Arkansas Razorback Men's Tennis) and following us on Twitter and Instagram (@RazorbackMTEN).