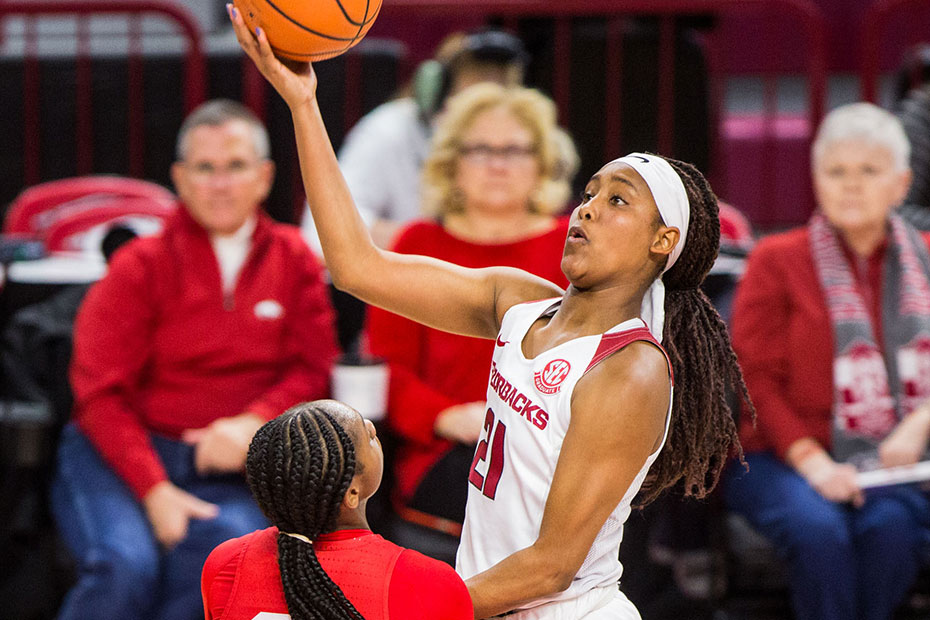 Arkansas Survives For First SEC Win
FAYETTEVILLE, Ark. – The University of Arkansas women's basketball team survived a tough fourth quarter to notch its first Southeastern Conference win of the year with a 73-72 victory over Ole Miss in Bud Walton Arena on Sunday.
Arkansas (10-4, 1-0 SEC) allowed the Rebels (10-4, 0-1 SEC) to open the frame on an 11-0 run erasing the 62-50 lead the Razorbacks held at the end of three periods.
Razorback head coach Mike Neighbors took a 30 second timeout and graduate student Devin Cosper got Arkansas on the board with a 3-pointer to maintain the lead. Arkansas played Ole Miss even, 11-11, from that point on.
The back-and-forth battle came down to the final seconds of the game. Arkansas held a 73-72 lead with 0:54 seconds to play. The Razorbacks missed a jumper and Ole Miss grabbed the defensive rebound.
The Rebels slowed the pace holding for the final shot but missed with 0:07 seconds on the clock. Arkansas forced a jump ball on the rebound, but the possession arrow favored Ole Miss. With 0:05 seconds on the clock, Ole Miss had to inbound the ball under their basket. The Razorbacks double-teamed the post player and Ole Miss tried to throw the ball off Taylah Thomas' back.
Malica Monk was able to steal the ball and charge up the court as time expired.
Notes
• Four 3-pointers ties Arkansas' 1Q record for makes from distance in the frame.
• Malica Monk has scored in double figures in all 14 games. She finished with 12 points and four assists.
• Devin Cosper scored in double figures in 12 games this year.
• Devin Cosper finishes with a double-double with 18 points and 11 rebounds. It is the sixth double-double of her career – all recorded this season.
• Arkansas has forced double figure turnovers for the 12th time this year (17).
• Arkansas is 4-6 in SEC home openers.
• Three players scored in double figures lead by Devin Cosper with 18 points. Jailyn Mason added 13 points and Malica Monk had 12 points.
• Arkansas is 8-0 at home this season.
Up Next
Arkansas has its first SEC road game of the season traveling to NCAA runner-up Mississippi State on Thursday for an 8 p.m. tip on the SEC Network.
More Information
For more information about Arkansas women's basketball, follow us on Twitter and Instagram at @RazorbackWBB and on Facebook at Facebook.com/RazorbackWBB. Be sure to subscribe to our YouTube Channel, "Kickin' It In The Neighborhood" for an inside look at the Razorback women's basketball program and check out The Neighborhood podcasts at CoachNeighbors.com.