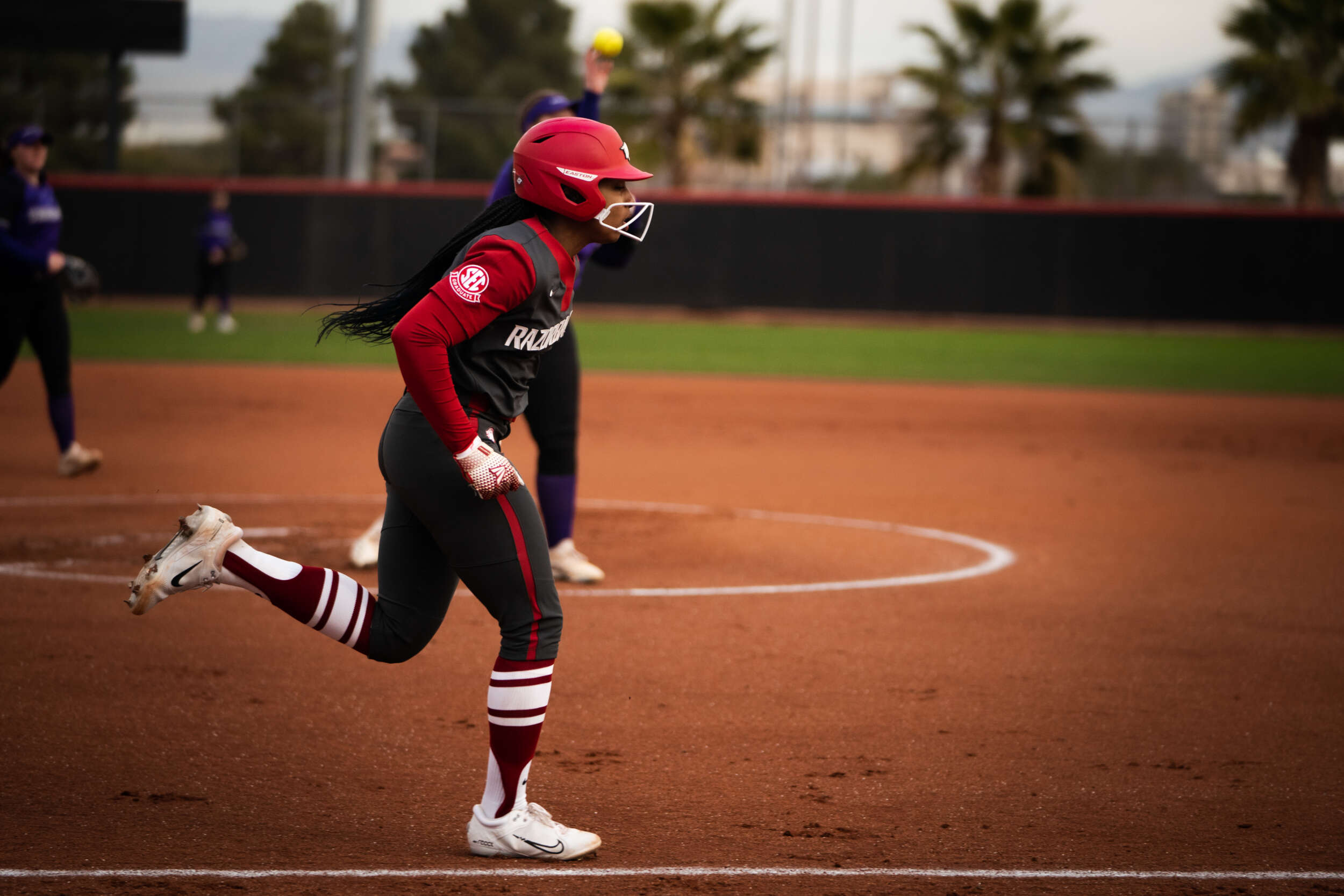 Arkansas Sweeps Saturday Doubleheader
LAS VEGAS – The No. 6 Arkansas Razorbacks moved to 4-0 on the season after a pair of impressive wins against Weber St. and Southern Utah Saturday at the Rebel Kickoff.
Arkansas shut out Weber St. for the second time this weekend after a strong 11-0 (5 inn.) win in game one. The Hogs took down Southern Utah 10-2 in Saturday's finale. In four games (22 total innings) this season, the Hogs have outscored opponents 40-2 while recording three shutouts. Arkansas has also scored as least one run in 19 of 22 innings played this season.
Saturday's win against Weber St. marked the first time Arkansas has shut out three consecutive opponents since Feb. 25-26, 2021.
Game 1
Freshmen Robyn Herron (1-0) and Nikki McGaffin combined for a one-hit shutout in Saturday's matinee against Weber St. Picking up her first career win in her first career start, Herron dazzled in three innings with the rock. The southpaw gave up only one hit, punched out five Wildcats and did not allow a walk. Getting handed the keys in the fourth, McGaffin took care of business as she retired six of seven batters faced while striking out one and working around a walk.
The Razorbacks combined for 8 hits, including two home runs and a double. Redshirt junior Rylin Hedgecock tied her career high in RBIs with three after going 2-for-2 at the dish. Junior Hannah Gammill towered her first home run of the season, a two-run shot to deep center, in the fourth. Cylie Halvorson also drove in two runs on a single through the 5-6 hole in the second. In her first career at bat, freshman Hannah Camenzind sliced a solo home run to left center in the fifth.
After a quiet first inning offensively, Arkansas outburst to a seven-inning second frame. Sophomore Kacie Hoffmann drew a leadoff walk and then advanced to second on a wild pitch. A force at the plate, Hedgecock doubled to center to score Hoffmann from second. Spencer Prigge's RBI single down the right field line granted the Hogs with a 2-0 lead. The scoring didn't end when freshman Atalyia Rijo singled through the right side to score Prigge from second. Kristina Foreman walked to load the bases for the hot-hitting Cylie Halvorson. Halvorson ripped a two-RBI single through the left side to extend the lead to 5-0. Arkansas added its final two runs on Hedgecock's two-RBI double to left.
Arkansas didn't look back after the second.
The Hogs tacked on three more runs in the fourth thanks to Gammill's two run home run and Raigan Kramer's RBI single to right.
Arkansas got its 11th and final run of the game on Hannah Camenzind's solo home run to left center in the fifth.
Game 2
Freshman LHP Hannah Camenzind  made her first career start in game two vs. Southern Utah. Tossing three innings, Camenzind struck out one and did not surrender an earned run. Junior LHP Callie Turner (2-0) earned her second win of the week after twirling the game's final four innings. The Land O'Lakes, Fla., native dialed four strikeouts and gave up zero runs on one hit.
Spencer Prigge continued to be dynamic at the plate and hit a three-run home run. Kristina Foreman and Atalyia Rijo had multi-hit games with two hits apiece. Kristina Foreman hit her third home run in an Arkansas jersey – a solo blast.
Taking an early lead on Kristina Foreman's solo home run in the first, Arkansas found itself down 2-1 in the second after Southern Utah scored on an errant throw and sacrifice fly. The offense quickly sparked to take a permanent lead in the fourth via Spencer Prigge's heroic three-run home run.
Arkansas continued to apply pressure throughout the game's final three innings. A bases-loaded walk to Hannah Gammill in the fifth pushed the lead to 5-2.
Hedgecock followed with a two-RBI single to right for a 7-2 lead.
Raigan Kramer scored the eighth run of the game after taking home on a wild pitch.
In the seventh, Rylee Cloud, pinch running for Hedgecock, forced an errant throw as she was advancing to third on a wild pitch to extend the lead to 9-2.
Kramer scored from third on a wild pitch for the Hogs' final run of the game.
Notes
Freshman LHP Robyn Herron earned her first career (1-0) win in her first career start
Hannah Camenzind, Kristina Foreman, Hannah Gammill and Spencer Prigge homered Saturday
Junior LHP Callie Turner got her second win of the season in game two
Turner hasn't given up a run in nine innings pitched
Arkansas has outscored its opponents this season 40-2
The Razorbacks have shut out three of four opponents
The Hogs move to 4-0 on the season
Spencer Prigge tied her career high in RBIs (3)
Rylin Hedgecock tied her career high in RBIs (3)
Up Next
Arkansas squares off against Baylor in Sunday's Rebel Kickoff finale with first pitch set for 11 a.m. CT. A live stream will be available on UNLV's YouTube page. A link to live stats can be found on Arkansas' schedule page.