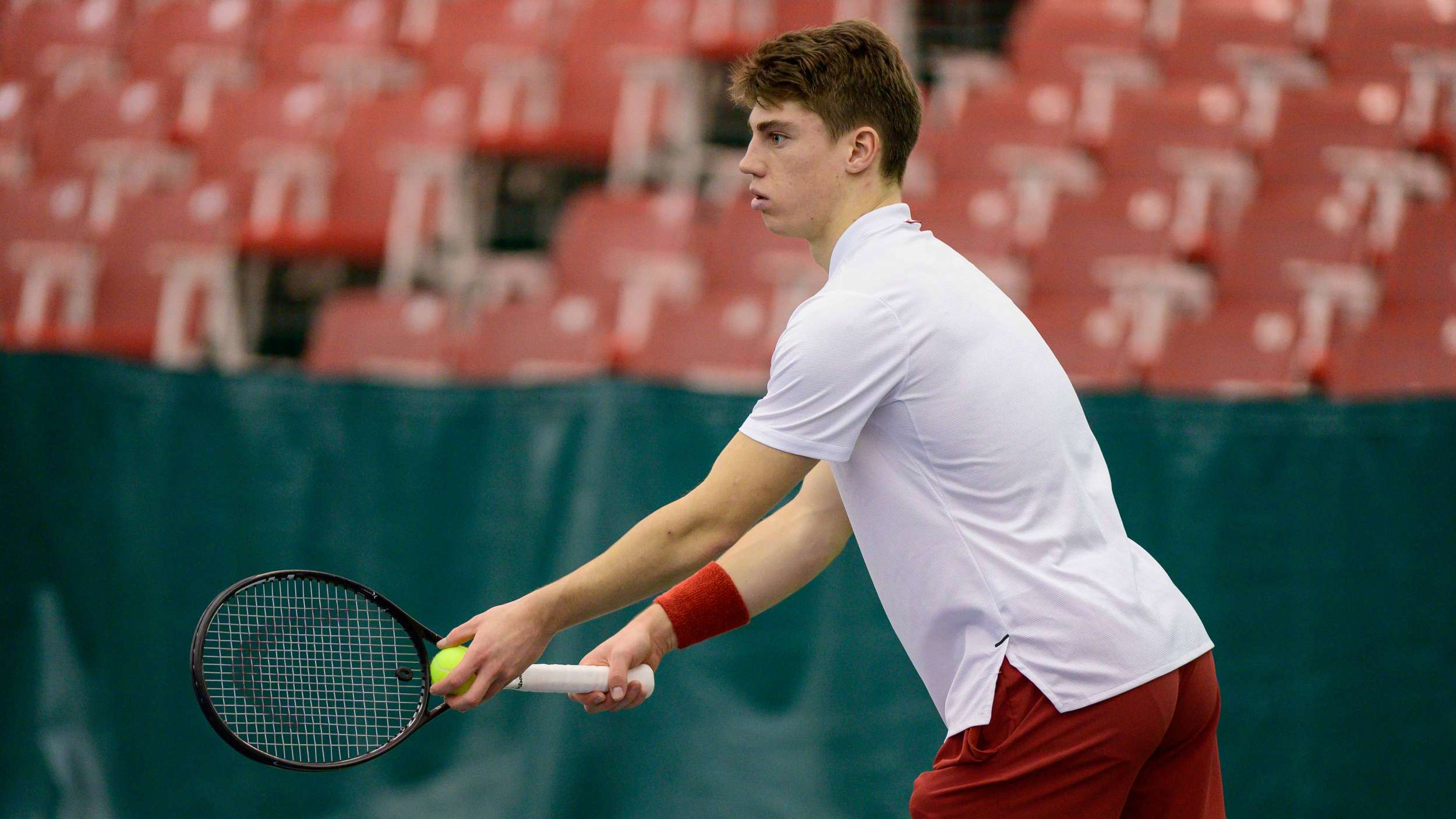 Arkansas Tops Cornell In Columbus
COLUMBUS, Ohio – The Arkansas men's tennis team topped Cornell 4-3 Saturday afternoon in Columbus as part of the nationwide ITA Kickoff weekend. The win marks the first time since 2007 that the Razorbacks advance to the second round of the ITA Kickoff Tournament. The Razorbacks will face off against No. 2 Ohio State tomorrow at noon for a berth at the ITA National Team Indoor Championships.
Arkansas dropped the doubles point, Cornell jumped out to a 2-0 lead as Josh Howard-Tripp dropped his match against Alafia Ayeni of Cornell 6-3, 6-2 on court one. The Razorbacks would come back to tie the match 2-2 with a consecutive wins on courts three and four from Alex Reco and Enrique Paya.
Reco defeated Daniel Soyfer (Cornell), 6-0, 7-5 as Paya downed Evan Bynoe (Cornell) 6-2, 7-5. Cornell would retake the lead 3-2 on court five as Maxim Verboven fell 7-6(7-5), 6-4 to Pietro Rimondini.
Down 3-2 with no margin for error, Oscar Mesquida took a tightly contested match against Lev Kazakov (Cornell) 6-4, 7-5 to even things up at three a piece.
The match was decided in a thriller on court six. Jose Dominguez Alonso took the first set, 6-1, against Konstantin Kirovski (Cornell) and came away with a victory in a set two that went to the tiebreaker 7-6(9-7) to give the Hogs a 4-3 win.
Doubles Results – Order of Finish (3,2,1)
1. Ayeni/Vasa (CU) def. Sanjurjo/Mesquida (AR), 6-4
2. Verboven/Paya (AR) def. Kirovski/Soyfer (CU) 6-3
3. Kazakov/McAllister (CU) def. Howard-Tripp/Reco (AR), 6-3
Singles Results – Order of Finish (1,3,4,5,2,6)
1. Ayeni (CU) def. Howard-Tripp (AR), 6-3, 6-2
2. Mesquida (AR) def. Kazakov (CU), 6-4, 7-5
3. Reco (AR) def. Soyfer (CU), 6-0, 7-5
4. Paya (AR) def. Bynoe (CU), 6-2, 7-5
5. Rimondini (CU) def. Verboven (AR), 7-6 (7-5), 6-4
6. J. Dominguez Alonso (AR) def. Kirovski (CU), 6-1, 7-6 (9-7)
For more information on Arkansas men's tennis, including in-match updates, follow @RazorbackMTEN on Twitter.