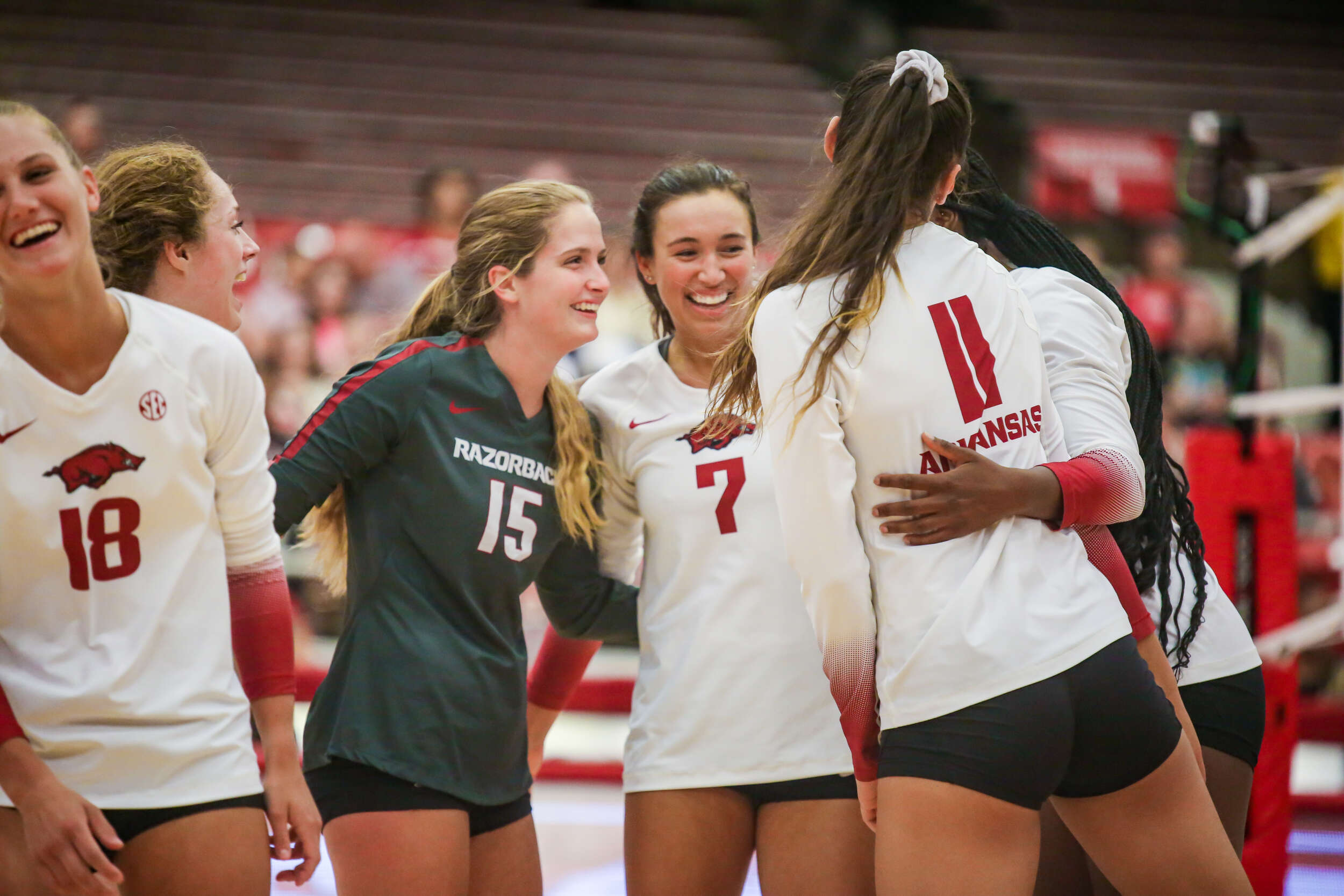 Arkansas Volleyball Announces 2023 Schedule
The Volley Hogs return to the court in August, and the team's full slate of matches and opponents is set for the 2023 season.
Arkansas will play a total of 30 regular season matches this fall, with 12 featuring teams from nine different conferences, 18 in SEC action, and nine teams that made appearances in the 2022 NCAA Tournament. Fifteen matches will be in Barnhill Arena, which includes two home tournaments to kick off the season.
Non-Conference Schedule
Following an exhibition match at Alma High School against Missouri State on August 19th, Arkansas opens the regular season with the Razorback Classic August 25-27 at Barnhill Arena. The Hogs will welcome Michigan State and Tulsa to town and face off against the Spartans on August 25 and the Hurricane on August 27.
Arkansas will then host the 2021 national champion and reigning Big Ten champion Wisconsin Badgers for a midweek series on Wednesday, August 30 and Thursday, August 31.
The pair of matches comes before a full weekend of volleyball at Barnhill Arena, in which Colorado State and Michigan will come to town for the Wooo Pig Invitational. Arkansas will play the Rams on Friday, Sept. 1 and cap off action with the Wolverines on Sunday, Sept. 3.
The Razorbacks then hit the road for the final two weekends of non-conference play, and first head to Bowling Green, Ky. for three matches. The Hogs play two on Friday, Sept. 8, against College of Charleston and Western Kentucky, and wrap up the tournament against Troy on Saturday, Sept. 9.
The Hogs take on the Big Apple for a tournament at St. John's Sept. 15 and 16. Another two-match day awaits with Buffalo and the host Red Storm on Friday and a match with the Bryant Bulldogs concludes non-conference play on Saturday.
SEC Schedule
The Southeastern Conference returns to a schedule format similar to those prior to 2020. Arkansas will play South Carolina, Auburn, Ole Miss, Alabama, Kentucky and Florida twice, with single matches against Texas A&M, LSU, Missouri, Tennessee, Georgia and Mississippi State. Series will be played home-and-home, and SEC play will be limited to Wednesday/Friday/Sunday matches.
The first three SEC matches of the season for Arkansas will be at home on Friday, Sept. 22, Sunday, Sept. 24 and Wednesday, Sept. 27, against South Carolina, Texas A&M, and Auburn, respectively.
The Hogs then have a week off before returning to action at LSU on Wednesday, Oct. 4, and return to Barnhill to take on Missouri on Sunday, Oct. 8.
The following weekend has two home matches in store, against Ole Miss on Friday, Oct. 13 and with Alabama on Sunday, Oct. 15.
Arkansas then has a five-match road swing: At Tennessee on Oct. 20, at Kentucky on Oct. 22, at South Carolina on Oct. 27, at Florida on Oct. 29 and capped off with a midweek match at Georgia on Nov. 1.
The Hogs take on Mississippi State on Sunday, Nov. 5 at home, before spending the next two away at Alabama on Nov. 10 and at Ole Miss on Nov. 15.
Two of the SEC's heaviest hitters come to Barnhill to conclude the home SEC slate. The Razorbacks play host to Florida on Sunday, Nov. 19, and Kentucky on Wednesday, Nov. 22.
Arkansas concludes the regular season at Auburn on Black Friday, Nov. 24.
Details
Times, TV designations, and promotions will be announced later this summer. General admission season tickets are available now and start at $40 through the Razorback Ticket Center, as well as reserved seating season ticket renewals, which are open through June 1.
The Razorbacks are coming off an excellent season in 2022, when they went 21-9, the most wins for the team in 10 years and most under head coach Jason Watson. Two of those wins were over top 10 teams (No. 8 Washington and No. 7 Georgia Tech), the first time in program history. The team also made its return to the NCAA Tournament after nine years, and got the first NCAA Tournament win since 2004 with a sweep against Utah State in the first round.
The Hogs also saw unprecedented fan support with a new season ticket record, new total attendance record (19,607) and new average attendance record (1,225) over their 16 home matches at Barnhill Arena, statistics that both rank within the top 50 nationally.
2023 Arkansas Volleyball Schedule
8/19: Missouri State (exhib) – Alma HS
8/25: Michigan State
8/27: Tulsa
8/30: Wisconsin
8/30: Wisconsin
9/1: Colorado State
9/3: Michigan
9/8: College of Charleston
9/8: Western Kentucky
9/9: Troy
9/15: Buffalo
9/15: St. John's
9/16: Troy
9/22: South Carolina*
9/24: Texas A&M*
9/27: Auburn*
10/4: LSU*
10/8: Missouri*
10/13: Ole Miss*
10/15: Alabama*
10/20: Tennessee*
10/22: Kentucky*
10/27: South Carolina*
10/29: Florida*
11/1: Georgia*
11/5: Mississippi State*
11/10: Alabama*
11/15: Ole Miss*
11/19: Florida*
11/22: Kentucky*
11/24: Auburn*
Home matches in bold, * denotes SEC matches
More Information
Visit ArkansasRazorbacks.com for the latest information on all things Arkansas Volleyball. You can also find the Razorbacks on social media by liking us on Facebook (Arkansas Razorback Volleyball) and following us on Twitter and Instagram (@RazorbackVB).