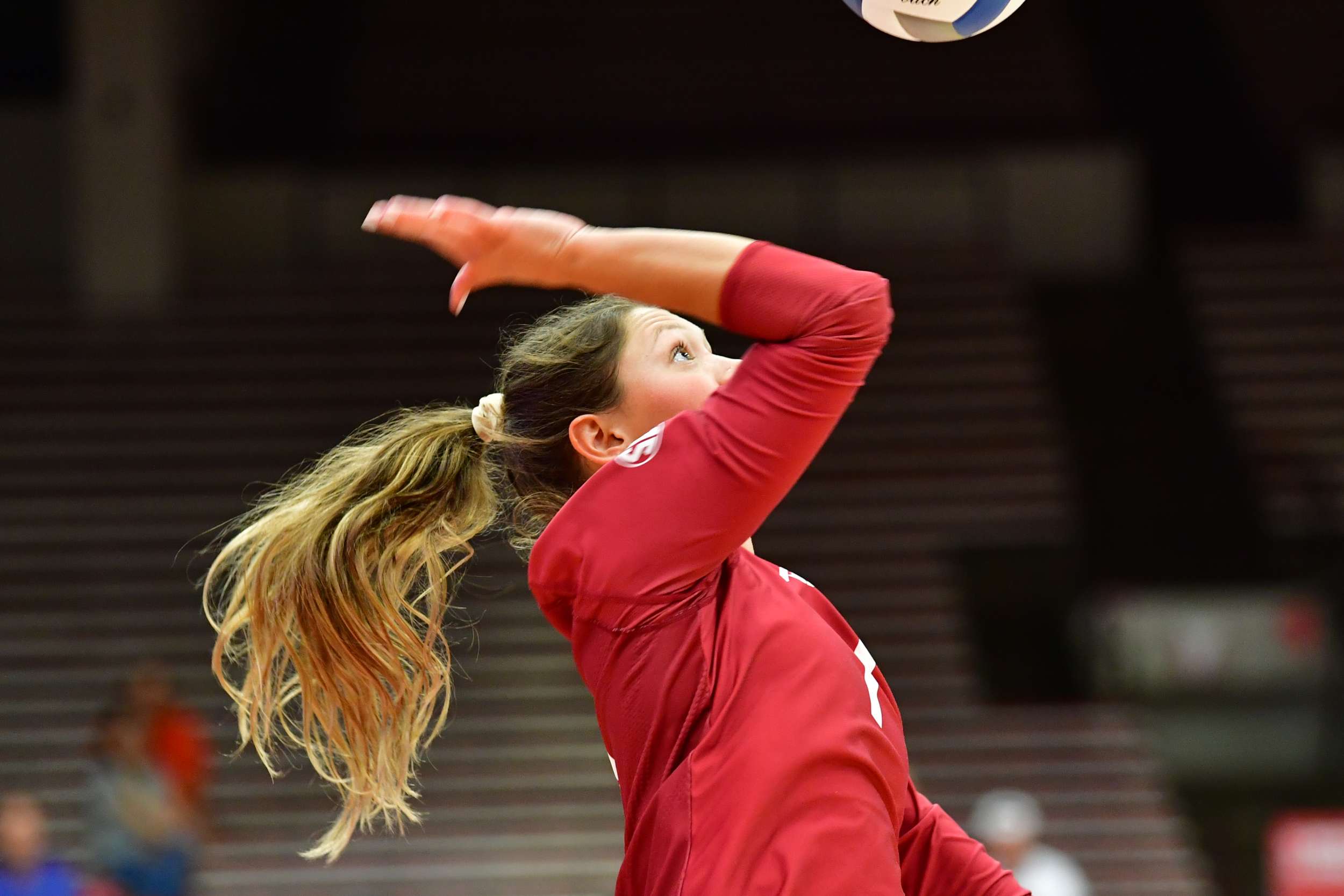 Arkansas Volleyball Drops First Match of the Season
FAYETTEVILLE – The University of Arkansas volleyball team met West Virginia on the court for the first time in program history on Thursday evening. The Razorbacks couldn't overcome the offensive errors and dropped the contest to the Mountaineers, 3-0 (17-25, 20-25, 22-25).
The Razorbacks claimed ten of the final 16 points in set three but were unable to break the Mountaineers' lead. The Hogs battled back from a deficit to tie the score ten times throughout the night, but West Virginia held on to the lead.
Arkansas (3-1) went to the net 90 times through three sets, only three less than West Virginia (4-0), but committed eight more attack errors than the Mountaineers, resulting in six less kills.
Freshman Jillian Gillen led the Hogs in kills for the fourth-straight time this season with 11 kills. Junior transfer Devyn Wheeler wasn't far behind, recording eight kills to the tune of a team-best .333 hitting percentage.
The Hogs did manage to control the dig-game, totaling 33 digs to West Virginia's 28. A trio of Razorbacks led the way with five or more digs apiece: Gillen (5), senior Rachel Rippee (6), and freshman Maggie Cartwright (7).
Rippee recorded the slight majority of assists for Arkansas with 18 of the team's 33 assists. Fellow setter Gracie Ryan saw action in the first two sets and tallied 13 assists in that time.
Arkansas will take on its second opponent of the weekend tomorrow night, as they visit the University of San Diego. The two teams will be meeting for just the third time in program history; first serve is slated for 8 p.m. (CT).
All matches at the USD/SDSU Challenge will be available via live stream and live scoring, links will be made available by the host team on gameday. Follow the Hogs on Twitter, Instagram, and Facebook to stay up to date on all things Razorback Volleyball.