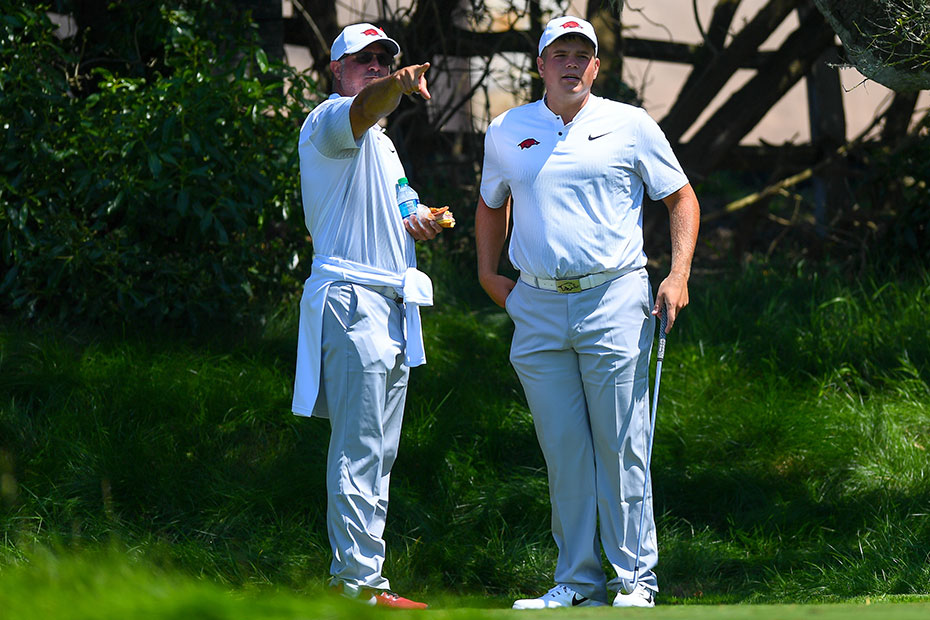 Arkansas Welcomes Nation's Best In 2018-19
FAYETTEVILLE, Ark. – The University of Arkansas men's golf team faces a challenging schedule in preparation for hosting the 2018-19 NCAA Men's and Women's National Championships at Blessings Golf Course next spring.
Arkansas has had back-to-back NCAA Tournament appearances and returns a loaded roster, losing just one senior to graduation.
Head coach Brad McMakin assembled a schedule with a familiar look but he has also added a few new events helping Arkansas to prepare for the postseason.
Arkansas opens with its fourth consecutive trip to the Carmel Cup in Pebble Beach, California, and they follow up with The Gopher Invitational competing at Windsong Farm Golf Course for the ninth time in 10 seasons. Arkansas picked up one of its two wins at the event last fall.
The Razorbacks also return to the Bearcat Invitational, the Jerry Pate Invitational and the Royal Oaks Intercollegiate to wrap up the fall schedule. The Sea Best Invitational kicks off the spring and one of two new events, The Prestige at PGA West In La Quinta, California, closes the month of February.
The other new event, the 3M Augusta Invitational, caps off a spring that includes trips to the Querencia Intercollegiate and the Valspar Invitational before the Razorbacks begin postseason.
McMakin enters his 13th season as the head coach of the Razorbacks and he will guide a seasoned lineup. This year's team features one senior, Noah Edmondson, and four juniors in Mason Overstreet, Tyson Reeder, William Buhl and Luis Garza. All four members of the junior class were part of Arkansas' NCAA Championship travel party a year ago.
Lone sophomore Landon Ernst also traveled to the postseason as an alternate. The Razorbacks welcome newcomers Wil Gibson, Julian Perico and Thomas Critch this year.
The Schedule

| DATE | TOURNAMENT | LOCATION | GOLF COURSE |
| --- | --- | --- | --- |
| A. 31-S. 2 | Carmel Cup | Pebble Beach, Calif. | Pebble Beach GC |
| Sept. 9-10 | The Gopher | Independence, Minn. | Windsong Farm, GC |
| Sept. 24-25 | Bearcat Invitational | Cincinnati, Ohio | Coldstream CC |
| Oct. 8-9 | Jerry Pate Invitational | Vestavia Hills, Ala. | Old Overton |
| Oct. 22-23 | Royal Oaks Intercollegiate | Dallas, Texas | Royal Oaks CC |
| Feb. 4-5 | Sea Best Invitational | Ponta Vedra, Fla. | TPC Sawgrass |
| Feb. 18-20 | The Prestige | La Quinta, Calif. | PGA West |
| March 3-5 | Querencia Intercollegiate | Cabo San Lucas, Mexico | Querencia GC |
| March 17-19 | Valspar Invitational  | Palm City, Fla. | Floridian |
| April 6-7 | 3M Augusta Invitational  | Augusta, Ga. | Forest Hills Golf Club |
| April 24-28 | SEC Championship | Sea Island, Ga. | Sea Island GC |
| May 12-15 | NCAA Regionals  | TBA | TBA |
| | Louisville, Ky. | Stanford, Calif. | Rhodes, Iowa | Athens, Ga. | Pullman, Wash. | Myrtle Beach, SC | |
| MAY 24-29 | NCAA CHAMPIONSHIP | FAYETTEVILLE | BLESSINGS |