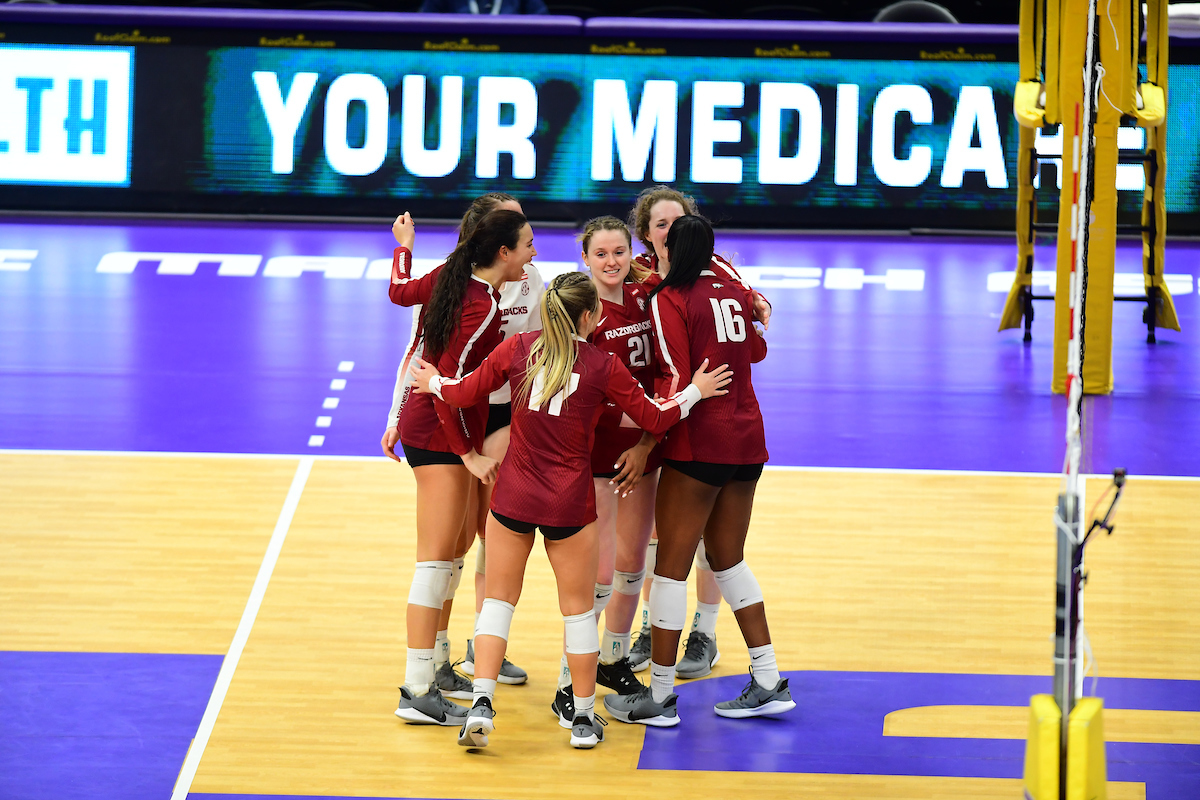 Arkansas Wins in Baton Rouge, 3-1
BATON ROUGE, La. – The University of Arkansas volleyball team bounced back from a slow first set to come out on top in Baton Rouge, 3-1 (15-25, 25-23, 25-21, 25-20) over the LSU Tigers. Arkansas improves to 11-4 with their fifth-straight SEC victory and LSU drops to 3-8.
After registering a mere .125 hitting percentage in the first set, Arkansas took advantage of the break between sets to make the proper offensive adjustments. Each set that followed, the Razorbacks recorded a better hitting percentage than the last.
The Razorbacks used their third consecutive double-digit blocking performance to overtake the Tiger offense, stifling their attack more in each of the four sets.
"We had a rough start of it," said head volleyball coach Jason Watson. "LSU, true to their competitive nature, made us play tough and pushed us all night. It was a battle the entire match and it will be again tomorrow. Both teams really went at it tonight and I expect the same tomorrow afternoon."
Freshman Taylor Head was the most consistent Razorback of the night, making sure the match never got out of Arkansas' reach. Head finished with 12 kills and 14 digs, reaching the double-digit mark for double-doubles in her rookie campaign.
Sophomore standout Jillian Gillen was a crucial part of the Razorback attack, recording 12 kills. She also added 12 digs to her stat sheet and locked in her 17th career double-double. Fellow sophomore, Maggie Cartwright had a career night as well, posting a personal-best eight blocks for Arkansas in the win.
Arkansas had one of its most equally distributed games of the season with Head, Gillen and Cartwright each accounting for about 25% of the Razorbacks' attacks.
With the victory at LSU, Arkansas breaks a four-match losing streak to the Tigers that dated back to 2016. Arkansas is now 14-12 all-time in Baton Rouge.
Friday's match is slated for a noon start time and will air live on the SEC Network.
Visit ArkansasRazorbacks.com for the latest information on all things Arkansas Volleyball. You can also find the Hogs on social media by liking us on Facebook (Arkansas Razorback Volleyball) and following us on Twitter and Instagram (@RazorbackVB).