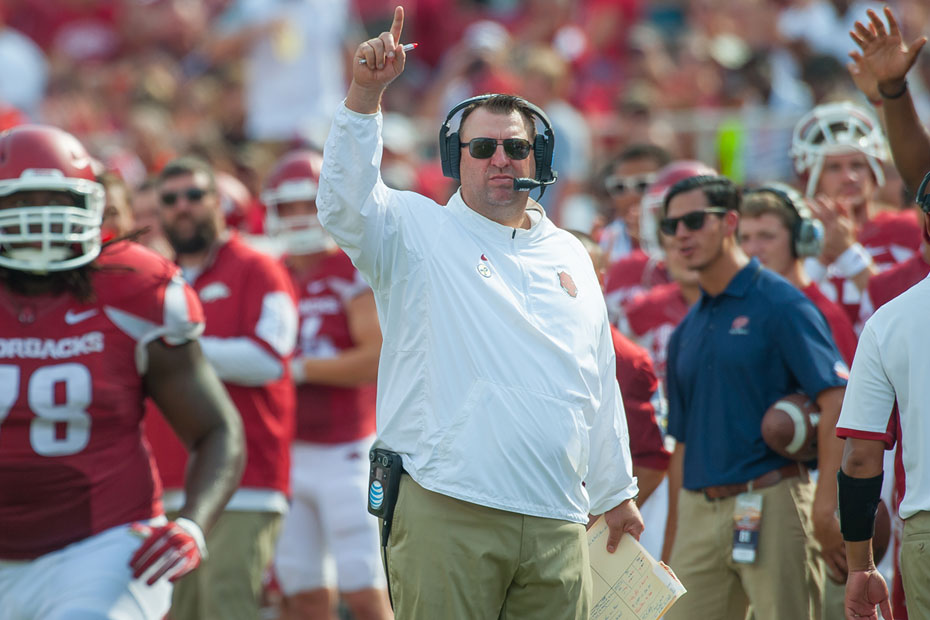 Ash Joins Bielema's Staff As Offensive Analyst
FAYETTEVILLE, Ark. – Arkansas head coach Bret Bielema announced Thursday the hiring of Rob Ash as the program's offensive analyst. Ash, a 36-year veteran head coach, most recently served as head coach at Montana State University from 2007-15.
"We are very excited to add another quality coach with head coaching experience to our program," Bielema said. "Rob will work with our staff in advanced preparation and also various projects with me. His background and experience within college football align him well with our program."
With 246 career victories, Ash comes to Fayetteville as the all-time wins leader at all three of his head coaching stops: Montana State (2007-15), Drake University (1989-2006) and Juniata College (1980-89).
During his nine-year tenure at Montana State, he totaled 70 victories, three Big Sky championships and four Football Championship Subdivision (FCS) playoff berths. Ash is one of three coaches in Bobcat history to win three Big Sky titles and the only coach to lead the program to three consecutive crowns. He also was named FCS Coach of the Year in 2011.
From 1989-2006, Ash served as head coach at Drake. He recorded a 125-63-2 record in 18 seasons, including four Pioneer Football League championships.
Ash's head coaching career began at Division III Juniata College in Huntingdon, Pennsylvania, in 1980. After recording a 4-5 record in his first season, he posted winning marks in six of the next eight campaigns, leaving Juniata with a 51-36-3 record.
Ash began his coaching career as offensive coordinator at his alma mater Cornell College of Iowa in 1975.
A three-year letter winner at quarterback for Cornell College from 1970-72, Ash earned Little All-America honors and CoSIDA Academic All-America first team honors as a senior in 1972.
A native of Des Moines, Iowa, Ash earned a master's degree in history from the University of Michigan in 1975 and also completed his master's in physical education at the University of Iowa in 1980.
ASH'S COACHING RESUME
2007-15
Head Coach
Montana State University
1989-2006
Head Coach
Drake University
1980-89
Head Coach
Juniata College
1975-80
Assistant Coach
Cornell College