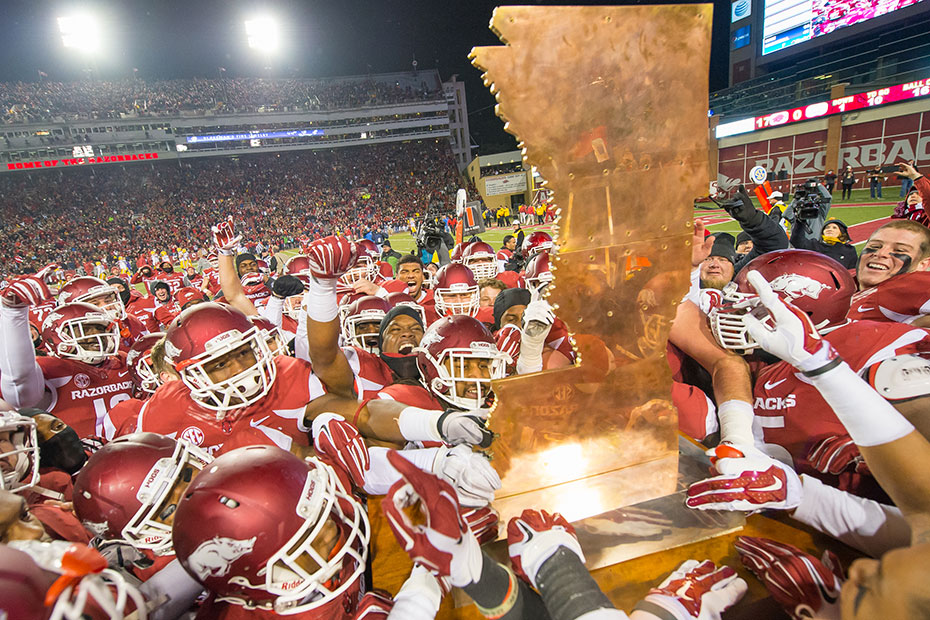 Battle For The Boot To Be Televised On ESPN
FAYETTEVILLE, Ark. – Riding a three-game win streak, Arkansas and No. 9 LSU's Battle for the Golden Boot on Saturday, Nov. 14, will kick-off at 6:15 p.m. CT, announced by the Southeastern Conference. The game will be nationally televised on ESPN.
The Razorbacks improved to 5-4 overall and 3-2 in the SEC after their 53-52 overtime win at No. 19 Ole Miss on Saturday night. Led by senior quarterback Brandon Allen, who threw for a program record six touchdowns and 422 yards, Arkansas eclipsed the 50-point plateau for the third straight game for the first time since 1916.
Arkansas took back the boot in 2014 with a 17-0 shutout of No. 20 LSU which is part of the Razorback's current run of five wins in their last eight SEC games. The last Arkansas win in Baton Rouge came in the form of a three-overtime thriller in 2007 when future NFL starters Darren McFadden and Peyton Hills combined for seven touchdowns in a 50-48 win. Led by McFadden's 206 yards, Arkansas ran for 385 yards and was able to stop the Tigers on the game-tying two-point conversion.
No stranger to overtime, Arkansas has played a program single-season record three overtime SEC games in 2015, taking the last two against Auburn and Ole Miss. In the two overtime wins this season, the Razorbacks have scored a touchdown on all five possessions while going a perfect 3-for-3 in two-point conversions.
LSU is led by Heisman Trophy candidate Leonard Fournette, who leads the nation in rushing yards with 1,383 while adding 16 touchdowns. The Tigers won their first seven games of the season before falling at No. 4 Alabama, 30-16, on Saturday.