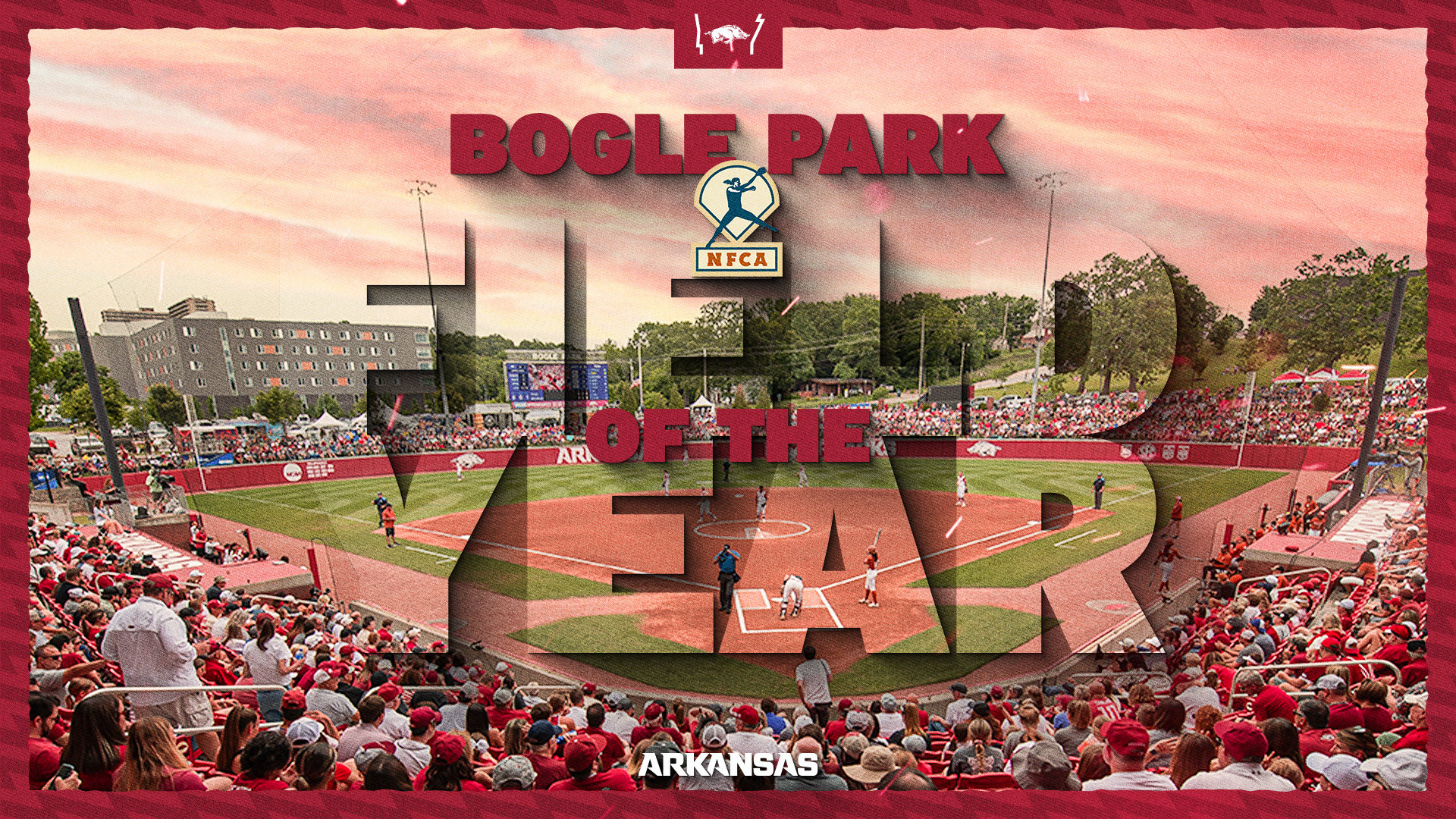 Bogle Park Named Netting Professionals/NFCA Field of the Year
FAYETTEVILLE, Ark. – Bogle Park, home of the Arkansas Razorback softball team, was recognized by the National Fastpitch Coaches Association (NFCA) as the 2022 Netting Professionals/NFCA DI Field of the Year.
"This is a great honor for our entire program, as Bogle Park has become one of the most electric atmospheres in college softball," said head coach Courtney Deifel. "This is a much-deserved honor for Austin Freeman and our grounds crew staff here at Bogle. Austin and his staff work tirelessly to make Bogle one of the premier stadiums in the nation."
The playing surface is tended by a crew led by Austin Freeman.
Bogle Park was made possible thanks to the lead gift made by Bob and Marilyn Bogle and the Bogle family who have also made significant contributions to both the university and the athletic departments over the course of many years. An event celebrating the naming was held Friday, Oct. 26, 2009.
With a total capacity of 3,200, Bogle Park is regarded as one the nation's premier softball stadiums as it hosted the highest attended Regional and Super Regional in the NCAA in 2022. Arkansas finished the 2022 season third in cumulative attendance (66,247) and fourth in average attendance (1,948) at home. Nine of the 10 highest attended games in Bogle Park history were played in 2022. Bogle Park sold out nine times in 2022.
One of Bogle Park's most striking aspects is the dramatic entrance on the concourse level. Upon entry, fans see the field and then descend into the seating area which is home to 1,200 chair-back seats. There is space for groups in the outfield Berm while six modern skyboxes overlook the field.
This award, made possible by NFCA Official Sponsor Netting Professionals, recognizes top fields/stadiums in the nation for their flawless grounds maintenance and exceptional playing surfaces. These locations are selected by the NFCA Awards Committee for NCAA Divisions I, II, and III, NAIA, NJCAA, Cal JC, NWAC, and High School.
The winners were nominated by NFCA member coaches and selected by a panel of their peers on the NFCA Awards Committee. They will be recognized on Dec. 10 during the NFCA Convention's annual Awards Brunch.