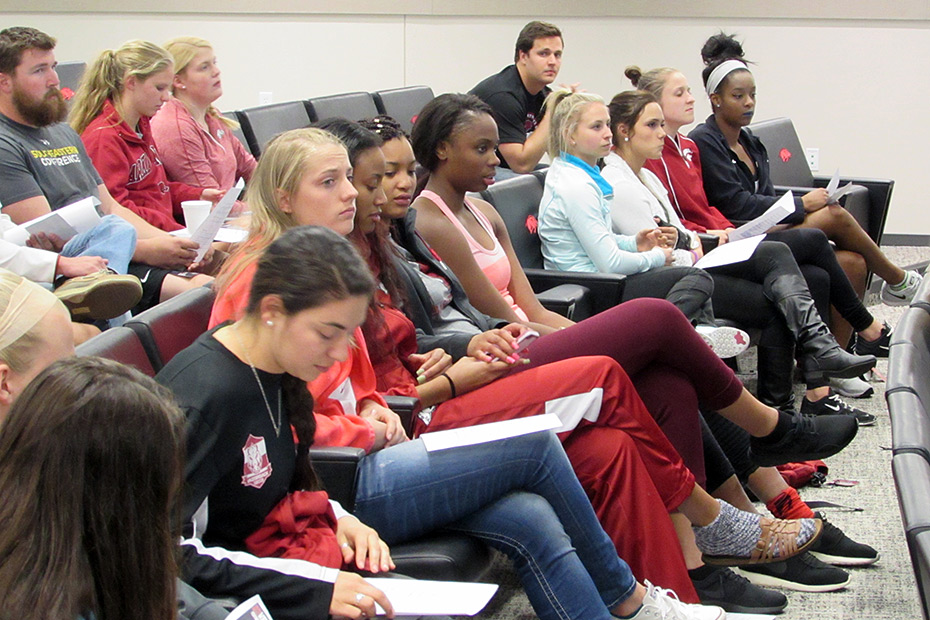 Building And Fostering Professional Relationships
FAYETTEVILLE, Ark. – The Office of Student-Athlete Success partnered with Growing Leaders® Wednesday, March 29 to facilitate a workshop on networking for junior and senior Razorback student-athletes.
By utilizing the "Habitudes" system – a method for teaching character and leadership principles through imagery that fosters conversation – student-athletes learned strategies related to building and cultivating professional relationships.
Student-athletes were guided through self-reflection on personal interactions and how they embrace different ideas and situations. For example, the images used during Wednesday night's workshop were "a bridge, not a wall" and "social currency." These images emphasized personal value and how this level of self-awareness is beneficial in the workplace.
"It's easier to build walls rather than bridges in relationships," said sophomore football linebacker Matt Reynolds. "It takes hard work to get to know people for lasting relationships."
The workshop, one of the latest in the Finishing Touch series, was geared toward preparing student-athletes for the annual Career Symposium on Tuesday, April 12.
"I feel more prepared for the career symposium with the information I've learned," said sophomore freestyle and backstroke swimmer Courtney Nall.