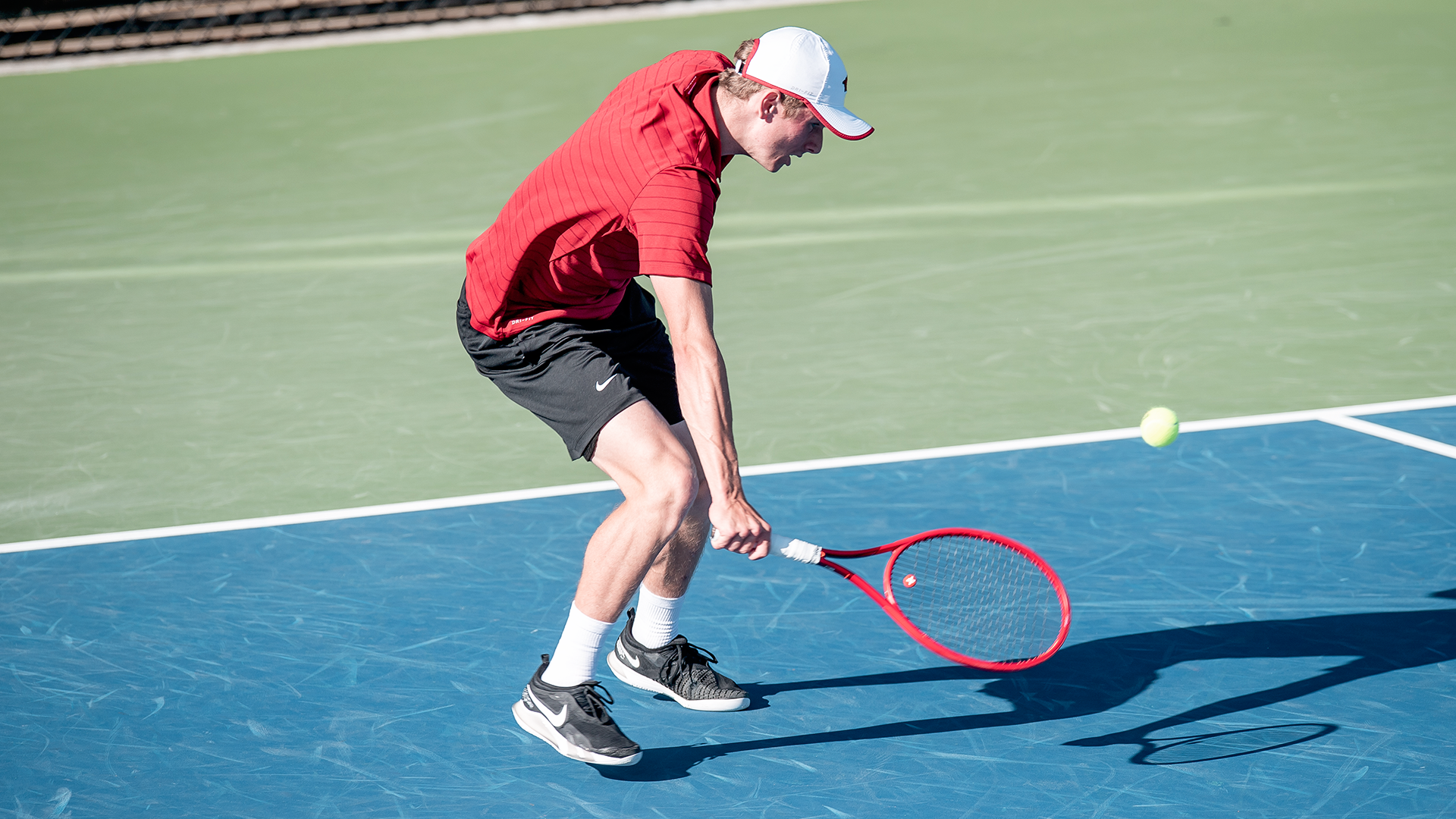 Burdet Advances at ITA All-Americans
TULSA, Okla. – The Arkansas men's tennis team kicked off the ITA All-American Championships today with four players competing in the first two rounds of the singles pre-qualifying draw on Saturday. The Razorbacks had three players advance to the second round with junior Adrien Burdet set to continue play in the third round of the prequalifying draw tomorrow.
Sophomore Jake Sweeney started out the day for the Razorbacks in the first pre-qualifying round against Daniel Linkuns-Morozovs of Abilene Christian University. Sweeney fought hard the entire match, dropping a first-set tiebreaker 6-7 (9) and then battling back to take a second-set tiebreaker 7(7)-6. In the forced third set, Sweeney dropped the set 4-6.
The newest Hog, Alan Sau Franco, won his first match of the day over South Carolina's Carter Morgan. Sau Franco dropped the first set 4-6, but came back to win the next two 6-4, 6-2. In his second match of the day, Sau Franco was up against Bozo Barun of Wake Forest. He took the first set 7-5, but dropped the next 1-6 and 5-7.
The Little Rock native, Foster Rogers, got off to a quick start winning his match 6-3, 6-2 over Karlo Kajin of LSU. Rogers went on to drop his second match in straight sets, falling to Tennesse's Boris Kozlov.
The junior Adrien Burdet continued with the Razorback wins in the first pre-qualifying round. Burdet got the straight set 6-4, 6-2 win to start his day against Alex De Soussa of Drexel. In the second round, Burdet faced Memphis' Pau Fanlo to win his second match of the day 6-3, 6-2.
Burdet is back in action at the ITA All-American Championships as the pre-qualifying draw continues tomorrow, facing South Carolina's Casey Hoole at 11:30 a.m. CT.
For the latest information on all things Arkansas Men's Tennis, follow the Hogs on social media by liking us on Facebook (Arkansas Razorback Men's Tennis) and following us on Twitter and Instagram (@RazorbackMTEN).