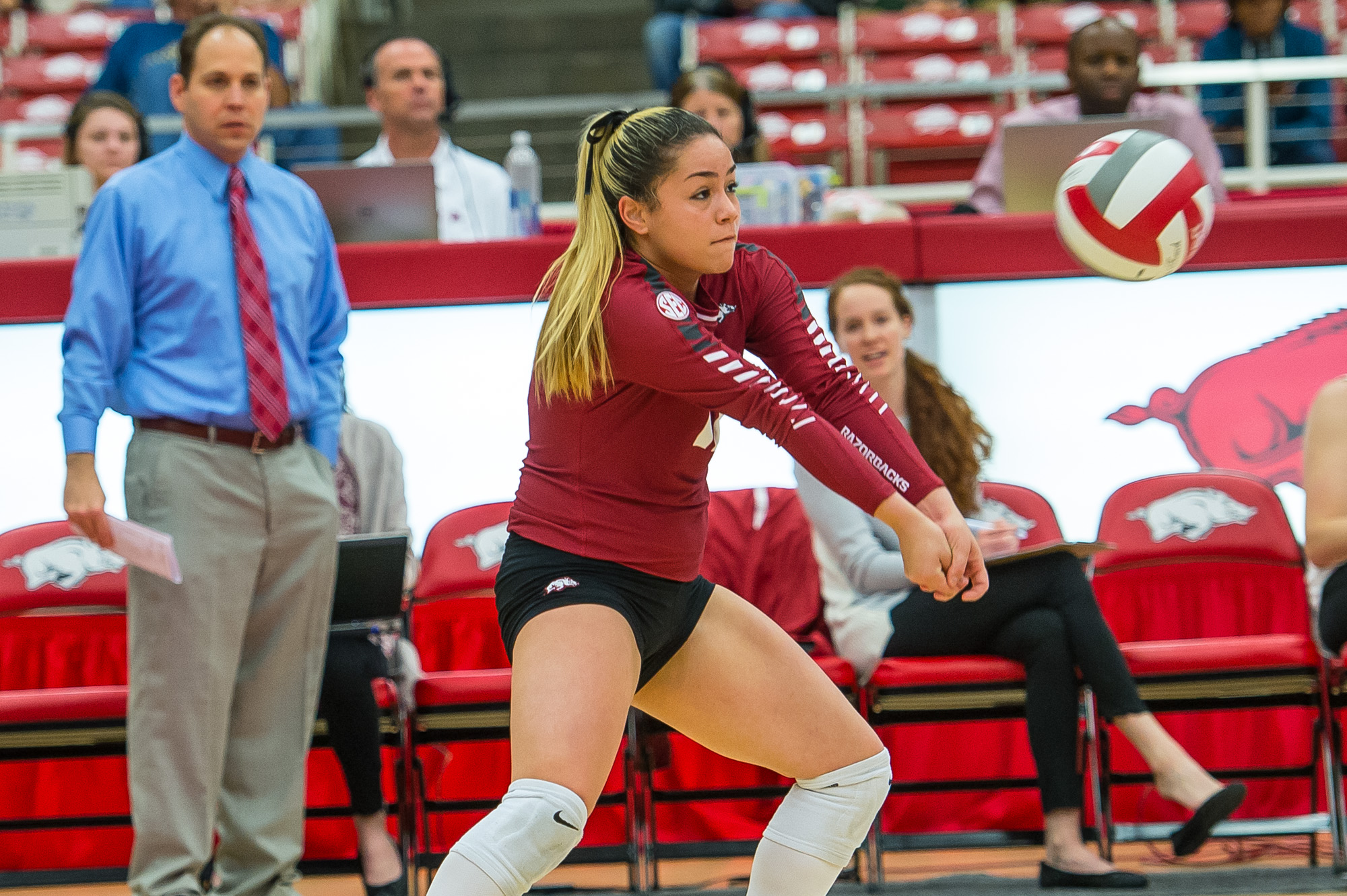 Career-High Efforts Not Enough in Five-Set Loss
Box Score | Photo Gallery
FAYETTEVILLE, Ark. – In response to being named to the SEC All-Freshman Team earlier in the day, libero Okiana Valle registered a career-high 32 digs in a five-set loss Wednesday night to South Carolina. Junior Barbara Dapic posted a career high of her own with 16 kills. Chanell Clark-Bibbs added 17 kills while Pilar Victoria and Adrien Wohlschlaeger each tallied a double-double. With the setback, the Razorbacks are now 17-12 overall with a 7-10 mark in SEC play.
The Razorbacks wrap up the 2015 regular season Saturday, Nov. 28, by hosting SEC champion Texas A&M. Prior to the match, Arkansas' senior class of Clark-Bibbs, Monica Bollinger, and Liz Fortado will be recognized for their standout careers. Individual match tickets for home matches are $5 while UA students and fans 17 years and younger get free admission.
FINAL
South Carolina 3, Arkansas 2 (25-23, 18-25, 25-23, 17-25, 15-10)
Barnhill Arena (Fayetteville, Ark.)
Attendance: 741 | Time: 2:25
#RazorStats | Leaders vs. South Carolina
• Kills: Chanell Clark-Bibbs – 17
• Digs: Okiana Valle – 32 (career high; sixth Razorback with 30+ digs in a single match)
• Blocks: Breana Jones – 5.0 (0-5)
Valle is the sixth player in program history to record 30 or more digs in a single match, and the first to do so since Emily Helm reached the mark in 2013. The freshman libero also becomes the eighth Razorback with 400 digs in a season. Valle also had four assists and two service aces against South Carolina. Collectively, Arkansas finished the match with 83 digs. Breana Jones led the efforts at the net with five total blocks while chipping in eight kills in the match.
With Wednesday night's performance, Dapic replaced her previous career best of 12 kills which she set earlier this season against UT Arlington. She was joined in double figures by Victoria who posted 15 kills and 16 digs for her team-leading 14th double-double of the season. Victoria also became the ninth player in program history to total 500 kills in a single season. Wohlschlaeger collected her third double-double with 49 assists and 10 digs.
In the decisive fifth set, South Carolina (13-17, 6-11 SEC) scored the first three before Breana Jones put the Razorbacks on the board with her eighth kill of the match. The visitors maintained their advantage and led 8-3 when the teams switched sides. Arkansas cut its deficit to three with the Gamecocks leading 11-8 after Ana Sofia Jusino tapped an overpass down for a kill. The Razorbacks got to within three again at 13-10 but South Carolina took the final two points to secure the win.
Having won the first set with a late rally, South Carolina jumped out to a 7-3 advantage in the second before the Razorbacks rattled off four in a row to pull even on the scoreboard. Arkansas erased another deficit later in the set and tied the score at 13-all with a block by Clark-Bibbs and Wohlschlaeger. The home team put together a 5-0 run to go ahead 19-14, capping the push with a Clark-Bibbs kill. Closing the set with four in a row, the Razorbacks clinched the second set with an ace from Kori Ortiz.
Facing a must-win fourth set, Arkansas won the first three points of the frame and led 9-3 after consecutive kills from Clark-Bibbs. She had seven of her 17 kills in the fourth set. The Razorbacks' lead reached double digits on two occasions, lastly at 19-9 after Victoria put away back-to-back sets from Wohlschlaeger. Dapic gave the Razorbacks set point with another kill, and on the team's third chance to close out the set, closed out the frame with her 14th kill.
Wednesday also marked the release of all-conference accolades in which Victoria was named to the All-SEC along with the all-freshman nod for Valle. The duo become the ninth and 10th all-conference selections under head coach Robert Pulliza. With it latest additions, Arkansas Volleyball now has 35 All-SEC performers in its history dating back to the program's first season in 1994.
For more information about Arkansas volleyball, follow @RazorbackVB on Facebook, Instagram, Snapchat and Twitter.