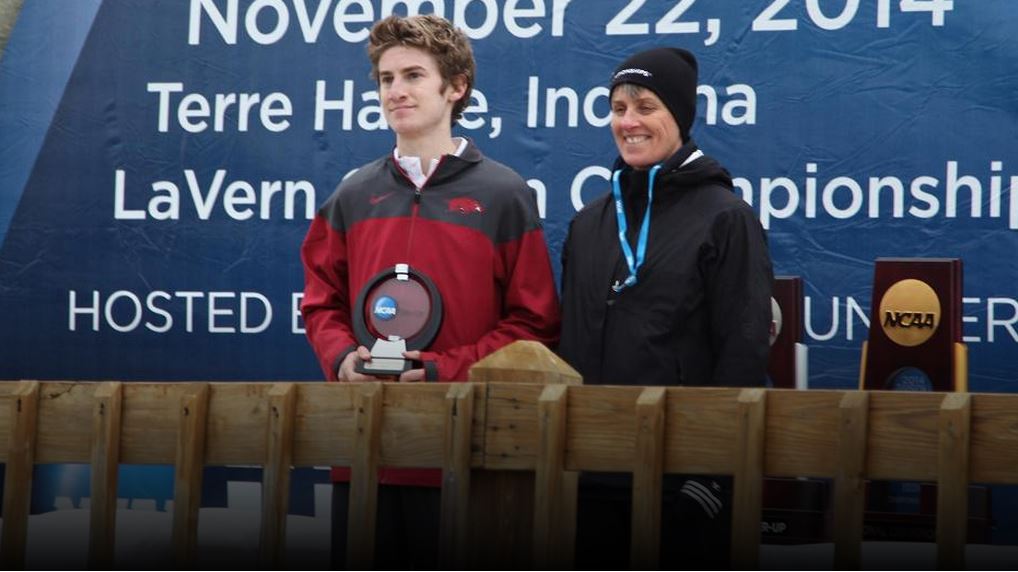 Christian Heymsfield Wins NCAA Elite 89 Award
FAYETTEVILLE, Ark. – Arkansas men's cross country runner Christian Heymsfield was named the recipient of the Elite 89 award for the 2014 NCAA Division I Men's Cross Country Championship on Saturday afternoon.
The redshirt sophomore, majoring in biological engineering, currently carries a 4.0 GPA. He was presented with the award following the NCAA Championship race on Saturday afternoon (Nov. 22) in Terre Haute, Ind.
The Elkins, Ark. native is the second Arkansas runner to receive this prestigious award, as Andrew Pisechko won the award during the 2014 track season. Pisechko, a junior, is a 4.0 accounting major.
Heymsfield, a seven-time Arkansas 3A state champion at Elkins High School that helped Elkins win four straight cross country state titles, participated in three races for the Razorbacks this season. In his collegiate debut at the Hurricane Cross Country Festival (Aug. 30), he finished second in Arkansas' scoring rotation and took fifth place (Four-Mile; 20:17.00). At the NCAA South Central Regional (Nov. 14) at Agri Park he set a person-best in the 10K, finishing in 41st place with a time of 31:02.40. Heymsfield wrapped up the 2014 season by taking 227th place (33:14.50) at the NCAA Championships (Nov. 22).
The Elite 89, an award founded by the NCAA in the 2009-10 season, recognizes the true essence of the student-athlete by honoring the individual who has reached the pinnacle of competition at the national championship level in his or her sport, while also achieving the highest academic standard among his or her peers.
The Elite 89 is presented to the student-athlete with the highest cumulative grade-point average participating at the finals site for each of the NCAA's championships. Eligible student-athletes are sophomores or above who have participated in their sport for at least two years with their school. They must be an active member of the team, traveling and a designated member of the squad size at the championship.
For more information on the Elite 89 award winners, log on to NCAA.com/elite89 and for more information on the Arkansas men's cross country team, follow @RazorbackTF on Twitter.