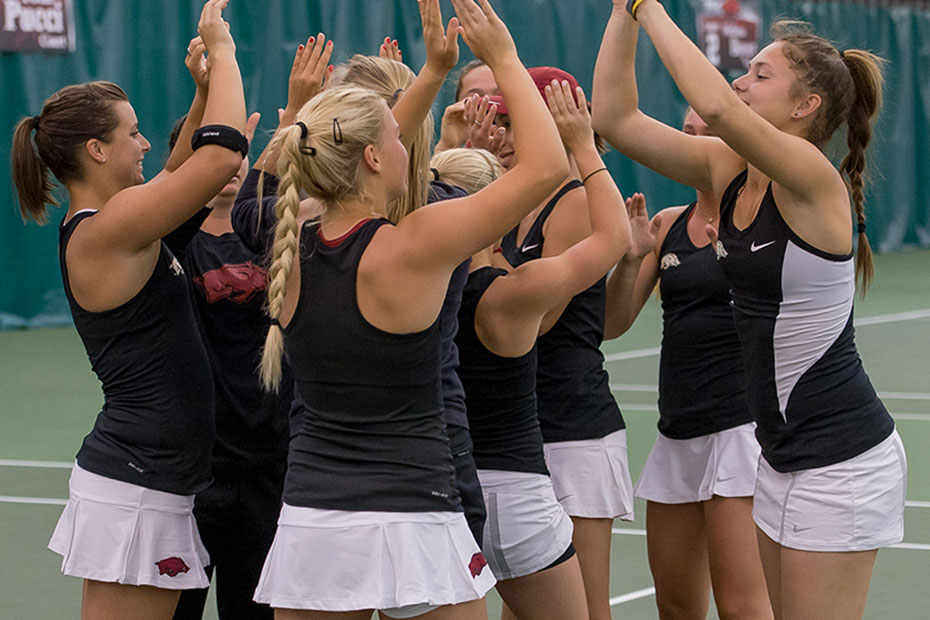 Classroom Success Lands Academic Accolades
FAYETTEVILLE, Ark. – A successful year in the classroom led the Arkansas women's tennis program to team and individual academic honors from the Intercollegiate Tennis Association for the 2014-15 season, announced Thursday.
The Razorbacks owned a 3.42 grade-point average during the 2014-15 academic year, earning All-Academic Team status which is awarded to any team with a cumulative GPA of 3.20 or higher on a 4.0 scale.
Arkansas was joined by seven other Southeastern Conference schools on the team list, including Florida, Kentucky, Mississippi State, Ole Miss, South Carolina, Tennessee and Vanderbilt.
"This award is another fine achievement for our team as we made great strides last season both on and off the court," head coach Michael Hegarty said. "To be successful both athletically and academically is what we aspire to be as a program, and I am very proud of the nine ladies represented on this team."
Individually, four members made their debut as ITA Scholar-Athletes as juniors Nicole Breaux (human development and family sciences), Makenzie Craft (marketing), Flavia Araujo (business) and freshman Peyton Jennings (psychology) earned the honor.
Breaux led the Razorbacks with a perfect 4.0 GPA, while Craft (3.90), Araujo (3.88) and Jennings (3.88) all tallied impressive marks.
To qualify, one must hold a 3.50 for the year, be a varsity letterwinner and have been enrolled at least two semesters at their present school.
Along with ITA honors, Araujo earned a spot on the 2015 SEC Spring Academic Honor Roll, while Breaux, Craft and Jennings were named to the SEC First-Year Academic Honor Roll earlier this month.
On the court, Arkansas finished 38th in the final rankings for the 2015 season. The Razorbacks captured the program's 14th NCAA Team Championship bid and finished the season 16-15 overall.
For more information on Arkansas women's tennis, follow @RazorbackWTEN on Twitter.