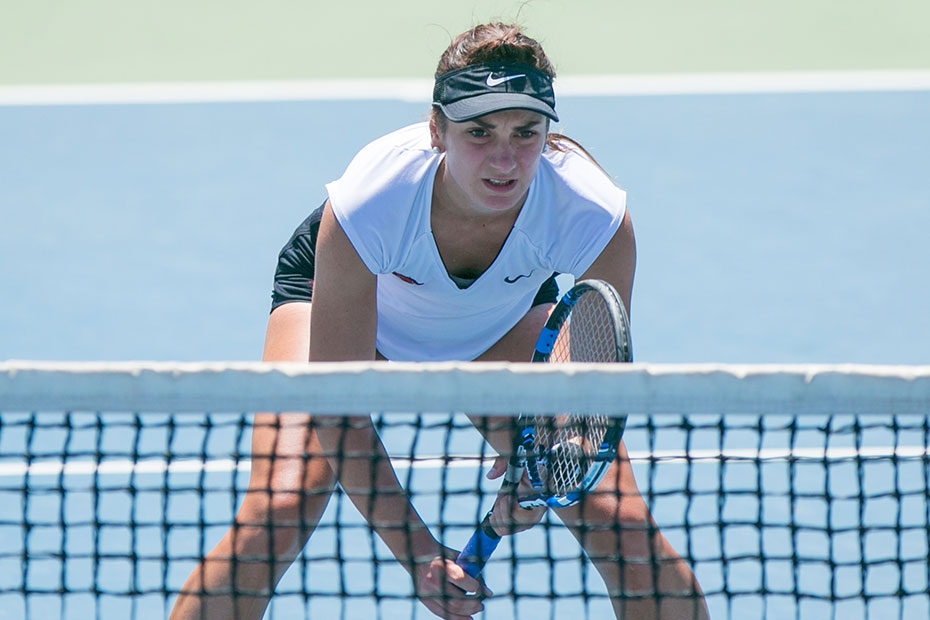 Comeback Comes Up Short
Box Score (PDF) | Season Stats (PDF)
COLLEGE STATION, Texas – Arkansas' comeback in singles play came up just short as Texas A&M held off the Razorbacks 4-2 on Saturday at the George P. Mitchell Tennis Center.
It all came down to the final two singles courts after the Razorbacks (5-9, 1-4 Southeastern Conference) raced out with a 1-0 lead claiming the doubles point, but the Aggies (12-4, 3-3 SEC) used strong singles play winning on courts three, four, five and six to earn the team victory.
"You've got to give both teams so much credit for their performances out here today," Razorbacks head coach Michael Hegarty said. "The match came down to a few points, and I was so impressed with the hunger and fight we displayed from start to finish."
The Razorbacks were dominant in doubles and clinched the lead with wins at the top two spots. Arkansas' No. 30 ranked tandem of junior Ana Oparenovic and freshman Tatum Rice picked up a 6-4 win at No. 1, improving to 11-1 in the spring with a 3-1 mark in SEC action. Razorbacks sophomore Giulia Pairone and senior Mia Jurasic secured the early edge, winning 7-5 at No. 2 to better their spring record to 10-2 with a 5-0 ledger against conference opponents.
A&M stormed out in singles, taking the first set on five of six courts.
The Aggies won the first two matches earning a 6-3, 6-2 win at No. 4 and a three-set win at No. 5
No. 87 Oparenovic tied the match 2-2, scoring a 5-7, 6-1, 6-1 victory at No. 2.
A&M responded with a 7-6 (8-6), 6-4 win at No. 3, reclaiming the lead.
With all eyes on the final two courts, No. 66 Pairone led 4-2 in the third set at No. 1 against No. 111 Domenica Gonzalez and Razorback junior Agne Cepelyte was up 6-5 in the third at No. 6 over Dorthea Faa-Hviding.
Faa-Hviding sent the third set into a tiebreaker and went on to win 7-4 for the clinching victory.
At the clinch, Pairone was just two points away from a win.
For more information on Arkansas Women's Tennis, follow @RazorbackWTEN on Twitter.