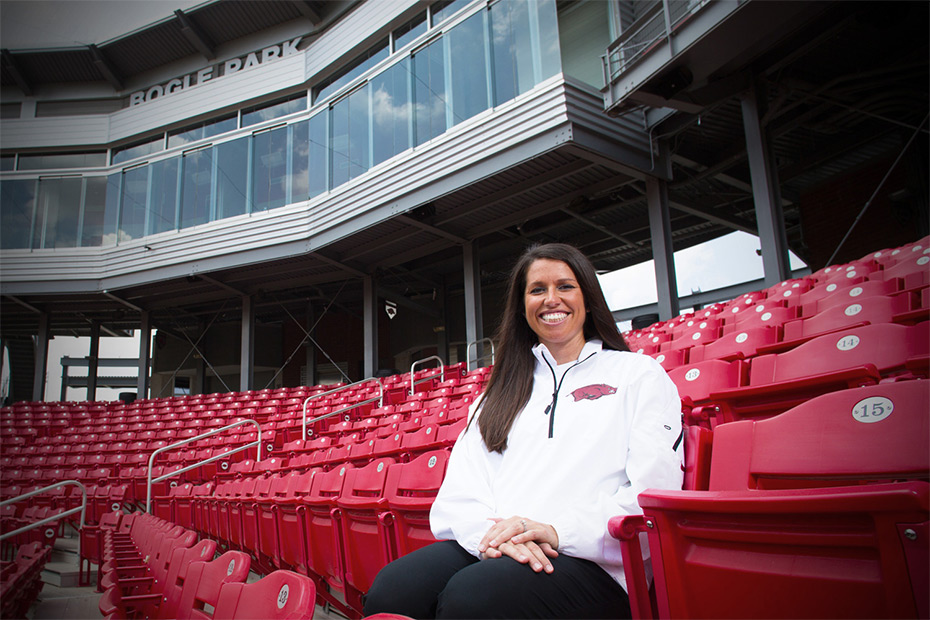 Courtney Deifel: Forecasting Success
FAYETTEVILLE, Ark. – Throughout the four-part Courtney Deifel series, we've talked about her championship softball pedigree, the role her family played in molding and shaping her career, her playing days at Cal, and the genesis of her coaching career.
As we head into the start of the 2016 Arkansas softball season this Thursday against Texas, we'll wrap up the series with an analytical look into Deifel's revitalizing impact on the Maryland softball program and examine how she plans to institute and effect positive change in Arkansas.
One of the best ways to forecast the future is to track one's successes and accomplishments in the past. The following chart outlines a tale of three teams: Pre-Deifel Maryland in 2014, Pre-Deifel Arkansas in 2015, and the Deifel-led Terrapins squad in 2015:
The statistical similarities between the pre-Deifel Maryland and Arkansas teams are strikingly similar. In addition, the "Deifel Effect" during her first season as the Terrapins' head softball coach was equally dramatic. The 2015 Maryland squad improved in several key offensive and defensive areas: Batting average (BA) improved by 40 points, slugging percentage (SLG%) was up 140 points, home runs (HR) increased by 123 percent from the previous season, runs batted in (RBIs) increased by 149, and the run differential improved from -158 to +36.
What were the factors that ushered change in a short span of time at Maryland? Was there a winning system or philosophy instituted by Deifel in College Park that can be applied in Fayetteville?
"I think we took over similar situations, but this team is so different from the Maryland team both individually and overall," Deifel said. "I think when you compare both teams stats wise, they're very similar. But when you look at our approach on how to turn it around here, we're using some of the same tactics but shaped to meet the individual needs of our student-athletes."
The quintessential "Courtney Deifel Team" is a gritty squad that plays the game the right way, leaves everything on the field, and fights to the end. How does one build that kind of team? Deifel said it all starts with preparation, building confidence, fostering competition on a daily basis, nurturing relationships, and establishing a culture of trust.
One path invariably leads to another: Being prepared contributes to increased confidence in competitive situations, which helps earn buy-in, and eventually leads to the ultimate team goal — winning games.
"I just look at what we were able to do as a team during my time at Cal, and if you were to measure us against the other top teams in the country, player-for-player, we wouldn't have been chosen by anyone," Deifel said. "But we were a confident group. We kind of had that underdog mentality and that made us mad. We had a chip on our shoulder because we knew we could do it. And I think that's where I saw how much confidence can bring a team together and lead to success."
Another aspect of success is understanding failure and how to deal with it. Deifel's father, Fresno City College baseball head coach Ron Scott, said of his daughter: "Courtney was a very determined player. She was hard on herself when she wasn't successful. But as she started to mature as a player, I think she realized that there is a lot of failure in softball. How you handle that determines who you are."
With the Razorbacks coming off a 1-23 mark in Southeastern Conference play last season, moving past old setbacks and learning from them will be an important goal for the team this season. Luckily, the team has the best possible guide and mentor.
"We don't ever talk about wins and losses -- that's not necessarily going to be a good measure of the team this year and how they'll compete," Deifel said. "We're in the toughest conference in the country and we're behind. We know that, so what we need to do is compete -- to work for everything that we can get. Losing can be a habit and winning can be a habit. Ultimately, we don't want a loss to define us. It's more about the effort, what we're doing as a team, how we're moving forward, and how we're competing."
Rome wasn't built in a day, and the road to the SEC and NCAA tournaments is in front of Razorback softball.
"For us this season, it's going to be smaller, in-game goals. Just working inning-to-inning and focusing on that," Deifel said. "And then hopefully, the big results will come from those efforts. Winning in softball has a lot to do with confidence and that's what we're mostly trying to build: Confident athletes. I believe we built that with our team in Maryland and that can make all the difference."