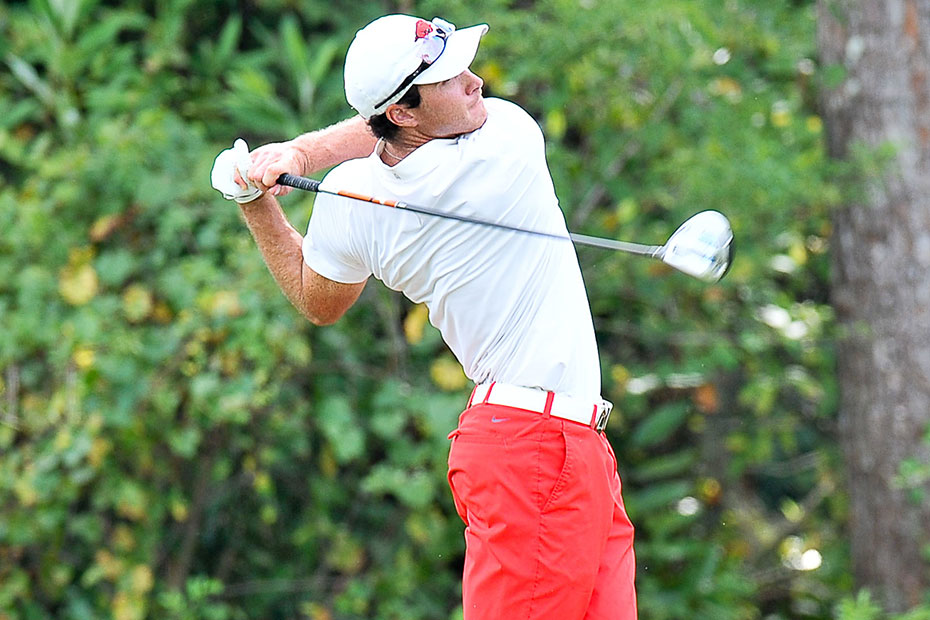 Crawford Leads The Way On First Day
PONTE VEDRA BEACH, Fla. – The Arkansas men's golf team opened its spring season with 36 holes on the first day of the 15-team Sea Best Invitational held at Dye's Valley Course at TPC Sawgrass. Led by back-to-back even par 70s from senior Kolton Crawford, the Razorbacks finished the opening day in a tie for sixth place overall.
Arkansas carded a four-man score of 287 in the morning and 290 in the afternoon to sit just two strokes out of the top five and within striking distance of third place. The Razorbacks will take the course for Tuesday's final round from 7:45-8:21 a.m. CT, going off the first tee along with North Florida and fell SEC member Texas A&M.
Live scoring of Tuesday's final round is available at www.Golfstat.com or via the Golfstat Live app.
Currently in a tie for eighth place, Crawford was one of just five players in the field of 84 to shoot even-par 70 or lower both rounds on the day. Crawford finished the day even-par on both the front and back nine of the par 70, 6977-yard layout. The Mansfield, Texas product made a team-best eight birdies on the day and reached as low as two-under in each round.
Coming off a 13th place showing a few weekends ago at the Latin America Amateur Championship, senior Nicolas Echavarria produced two solid rounds with a one-over 71 in the morning and 73 in the afternoon to sit just outside the top 20 in a tie for 23rd position.
Making his first collegiate start and first appearance as a Razorback after transferring to Arkansas mid-year from Texas, freshman Charles Kim produced a pair of counting scores on the day with back-to-back 72s. Kim currently sits in a tie for 23rd place with Echavarria and was able to fight back late in both rounds for his two-over scores. In the morning, Kim played his final 13 holes at two-under and his final five of the afternoon at two-under.
Sophomore Alvaro Ortiz led the Razorbacks and ranked second in the field with 27 pars on the day during his rounds of 74 and 75. Senior Taylor Moore uncharacteristically shot a pair of 75s. More was Arkansas' low-man in the fall with a 72.2 scoring average.
Playing as an individual, senior Gonzalo Rubio improved by nine shots from the morning to the afternoon, carding a one-under 69 to end the day. Rubio's 69 was one of just 10 under-par rounds recorded by the field in the afternoon as he played bogey-free two-under par over his final 10 holes.
@RazorbackMGolf Lineup
T8. Kolton Crawford – 70-70/140 (E)
T23. Nicolas Echavarria – 71-73/144
T23. Charles Kim – 72-72/144
T49. Alvaro Ortiz – 74-75/149
T60. Taylor Moore – 75-75/150
Individual
T36. Gonzalo Rubio – 78-69/147
Sea Best Invitational Participants (Golfstat Rankings)
1. Florida (19) – 265-278/543 (-17)
2. North Carolina (21) – 283-279/562 (1)
3. Liberty – 281-288569
4. North Florida (45) – 281-293/574
5. Texas A&M (42) – 282-293/575
T6. Arkansas (35) – 287-290/577
T6. Campbell – 297-280/577
8. Lipscomb – 292-287/579
9. Tennessee (47) – 286-295/581
T10. Jacksonville (66) – 293-291/584
T10. McNeese State – 291-293/584
12. Charleston Southern (34) – 294-296/590
13. Jacksonville State (153) – 299-292/591
14. Stephen F. Austin (143) – 300-300/600
15. USC Upstate (173) – 306-302/608