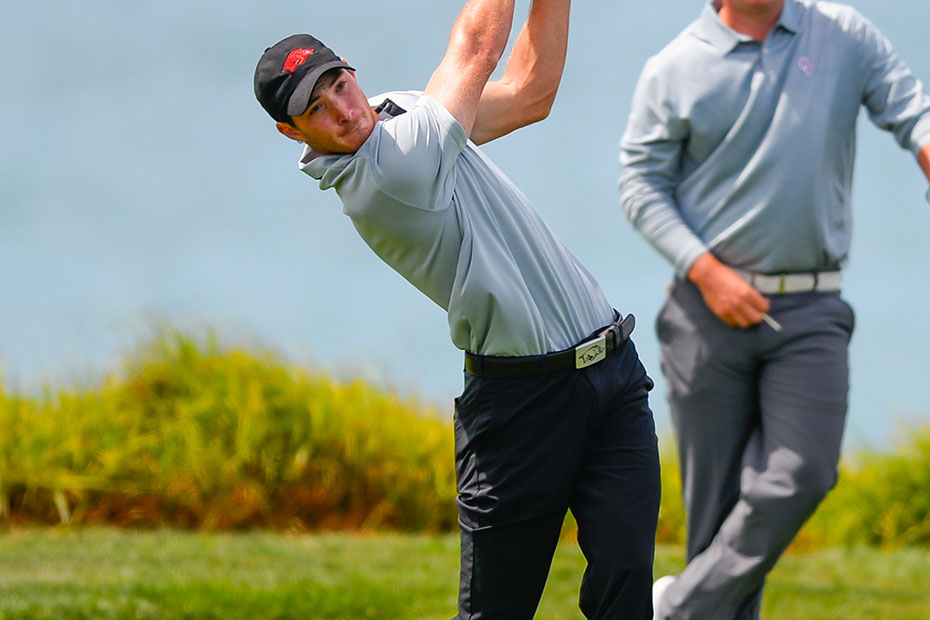 Crawford, Moore Land On PING All-Region Squad
SARASOTA, Fla. – Arkansas men's golf junior duo of Kolton Crawford and Taylor Moore garnered postseason accolades on Saturday, earning a spot on the PING All-Central Region team. A total of 155 student-athletes across six regions – Northeast, East, Southeast, Midwest, Central and West – earned all-region status.
Crawford and Moore combined for three SEC Golfer of the Week honors in the spring while their selection to the PING All-Region team marks the eighth straight year a pair of Razorbacks have been selected to the team. Over his nine years at the helm of the program, head coach Brad McMakin has had 17 PING All-Region selections.
The duo was Arkansas' top two finishers in six of the 10 events they played together. Either Crawford or Moore was the team's low-man in seven tournaments and 23 of 32 rounds.
Crawford was the only Razorback to start all 11 tournaments, finishing second behind Moore in both scoring average (72.2) and birdies (92). The Mansfield, Texas product led Arkansas with five top 5 finishes, including four in the spring, Crawford's 11 under-par rounds equaled his career total over his first two seasons while he carded the lowest round of the year by a Razorback with a five-under 65 in the first round of the SEC Championships. The five-under 65 was the third-lowest round in program history at the SEC Championships and helped Crawford shoot an Arkansas 36-hole record at the event.
The PING All-Central Region selection is the second of Moore's career, as he also earned All-SEC second team honors earlier in the spring. Currently ranked in the top 50 by Golfweek (No. 48) and Golfstat (No. 41), Moore earned a pair of SEC Golfer of the Week honors during his start to the spring in which he posted four consecutive top 10s. Moore's team-leading 71.8 scoring average was bolstered by 13 under-par rounds, including five in the final round. His 27 counting scores over 29 rounds including a 66 and 67 over the final 36 holes of the SEC Championships in which he was Arkansas' low-man in a tie for sixth place.
Arkansas advanced to an NCAA Regional for the eighth straight year under McMakin while its sixth place showing at the SEC Championships made it the only program in the league to finish in the top six each of the last seven years. During the spring, the Razorbacks picked up their 21st tournament win under McMakin with a 16-stroke victory at the Towson Invitational.