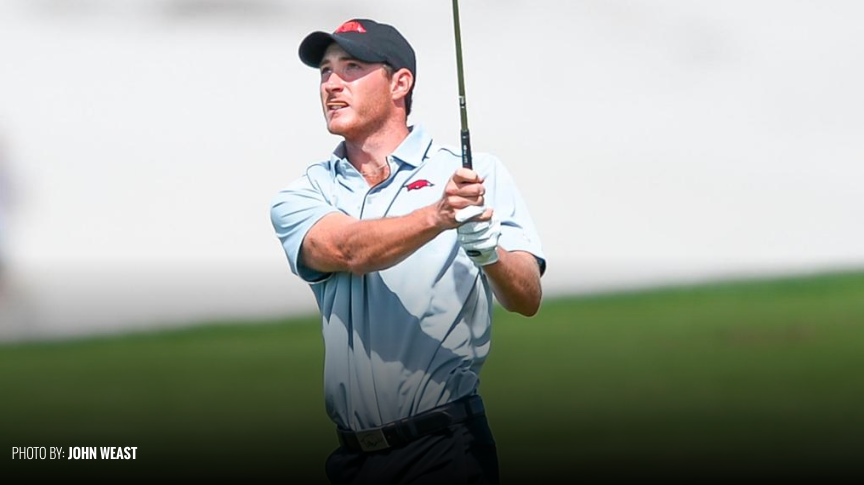 Crawford Tied for First Round Lead at Patriot All-America
LITCHFIELD PARK, Ariz. – Playing in The Patriot All-America Invitational for the first time, Arkansas redshirt junior Kolton Crawford opened in style with a two-under 68 on the Gold Course at The Wigwam to sit in a tie for first place.
Crawford was bogey-free through his first 17 holes, finishing the first day tied with Damon Sale at two-under. Only four players in the 84-player field finished under-par, while Crawford's 33 on the front nine was tied for the lowest score by anyone in the field.
"Honestly, it was pretty steady," said Crawford. "There was nothing too major that happened. I think I only missed two fairways all day. One key event was on hole seven. I pushed it right into the rough and then I chunked it short of the bunker. Tough bunker shot, the pin was tucked up against the green. I just hit a big high flop, landed on the fringe and it just trickled against the left lip and it just fell in for birdie. That's the point when I was like 'we got something here, let's keep it going'. I was two-under going into hole No. 8, which is pretty tough. I parred holes 8, 9 and 10, those are all tough holes, and I knew it was time to cruise after that. (No.) 18 is the one that got me though. I missed a five-footer."
Crawford will return for his second round on Tuesday at 1:40 p.m. CT. Live scoring is available at www.PatriotAllAmerica.com. The three-round event will conclude on Wednesday.
A year removed from tying for third in his first appearance at The Patriot All-America, junior Taylor Moore shot an uncharacteristic 79 on Monday. Moore's second round will begin at 1:10 p.m. CT on Tuesday.
The Patriot All-America, in only its fourth year is recognized as a top amateur event attracting 84 nationally-recognized golfers from the NCAA Divisions, as well as NAIA, NJCAA, and AJGA rankings. The Arizona Golf Association (AGA), JDM Partners and the Golf Coaches Association of America (GCAA) are once again partnering with the Folds of Honor Foundation to host the amateur tournament at the Wigwam Arizona on December 29-31.
Invitations to The Patriot All-America are primarily based on individuals earning PING All-America honors the previous season. Additionally, a member from each of the United States Military Academies have been invited as well as GCAA national award recipients, members of the most recent Palmer Cup Teams and AJGA All-Americans and Toyota Junior Golf World Cup participants currently enrolled in their freshman year of college.