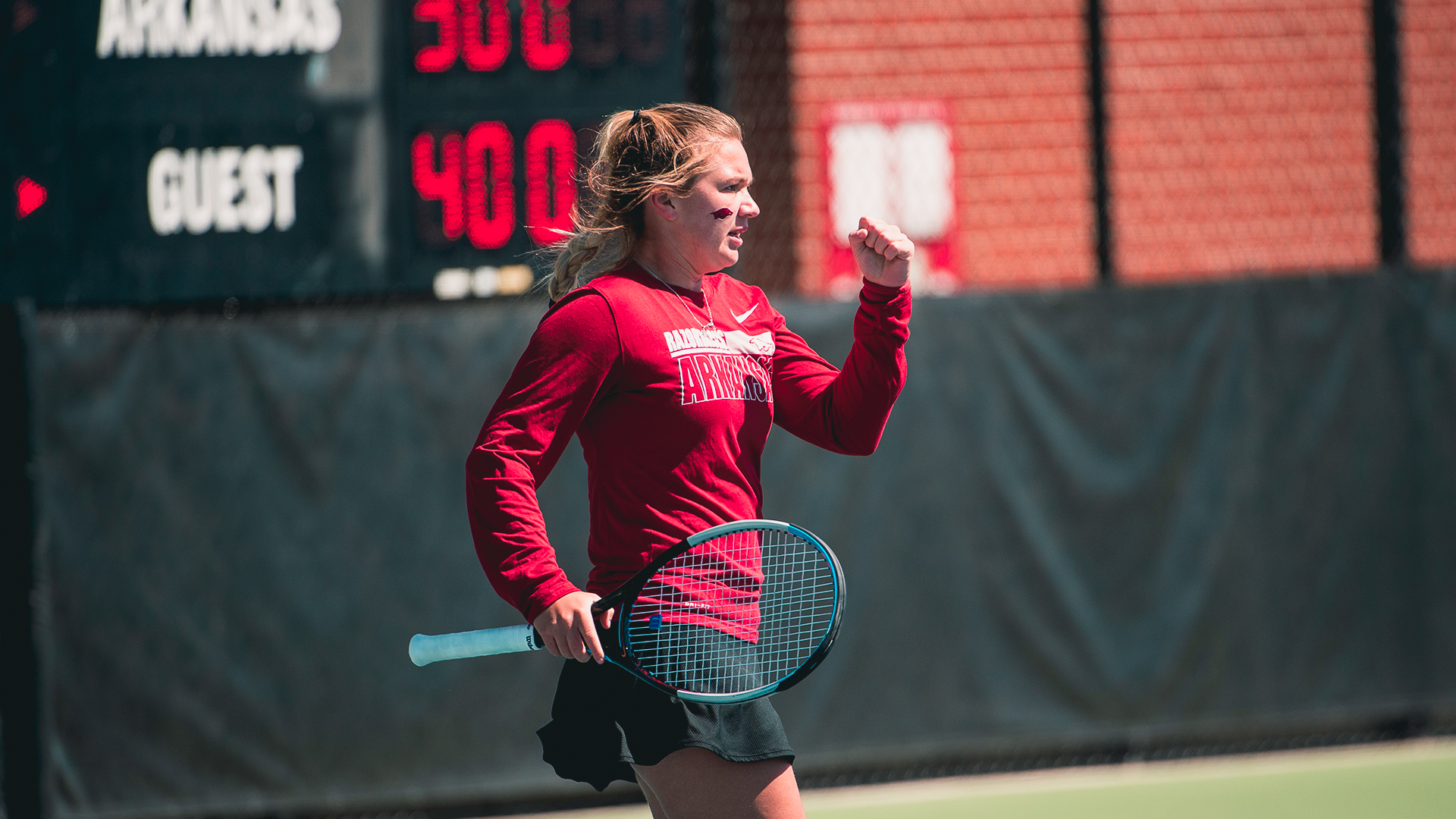 Cross Earns Top Singles Finish at HEB Invitational
WACO, Texas  – Arkansas closed out the HEB Invitational on Sunday with five overall wins in singles competition against Tulsa and doubles play against Baylor. Sophomore Morgan Cross was the top finisher in singles with a 4-0 record and sophomore Lenka Stara finished third with a 3-0 record on the weekend.
"I am really pleased with outcomes from this trip with almost the whole team to Waco," said Sanchez-Quintanar. "It has been three days of a lot of tennis, effort and emotions. It has been great results-wise, but the most important part is that the girls competed hard against really good opponents. I think they are realizing that all the effort they are putting into practice and in school is worth it. We are excited about keeping the focus and the intensity and seeing what this team is capable of."
Arkansas' doubles duos continued to show success with two wins over the Baylor Bears. Graduate Tatum Rice and partner Morgan Cross posted a 6-4 victory over Baylor's Ana Carmen Zamurek and Mel Krywoj. Lenka Stara and Laura Rijkers won their third doubles match of the weekend, taking down Olivia Malm and Paula Baranano, 6-3.
Morgan Cross wrapped up her undefeated weekend in singles competition with a 6-3, 6-3 win over Tulsa's Benedejcic. Sophomore Kelly Keller brought home the second singles win for the Hogs in a 6-0, 6-2 victory over Rozenkova. After dropping her first set, Grace O'Donnell stormed back in a three-set tiebreaker to defeat Lily Hutchings 3-6, 6-4, 1-0 (10-6).
The Razorbacks continue fall play on Thursday, Oct. 21 when they travel to Iowa City to compete in the ITA Central Regional Championships.
Fans are encouraged to visit ArkansasRazorbacks.com for the latest information on all things Arkansas Women's Tennis. You can also find the Hogs on social media by liking us on Facebook (Arkansas Razorback Women's Tennis) and following us on Twitter and Instagram (@RazorbackWTEN).