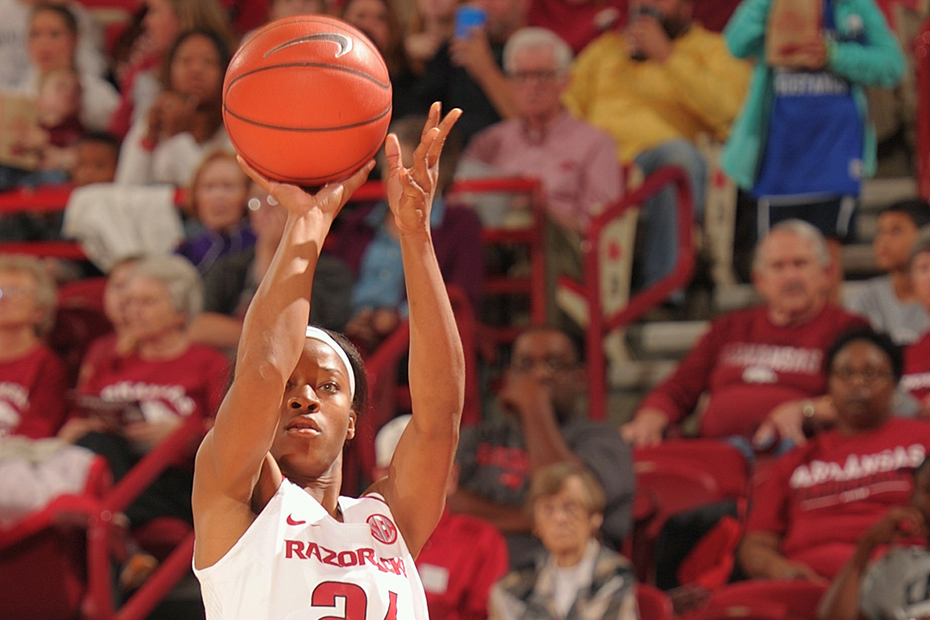 Danberry, Jackson Score Double Figures Against No. 7 Oregon State
SAN JUAN, Puerto Rico – University of Arkansas freshman Jordan Danberry and junior Jessica Jackson both scored in double figures but the Razorbacks were unable to overcome No. 7 Oregon State's height and three-point shooting in a 63-47 loss at the San Juan Shootout in San Juan, Puerto Rico Saturday.
The first and third periods belonged to the Razorbacks but an 18-5 run by Oregon State and seven three-pointers were the difference in the game.
Danberry finished her night tying her career-best with 14 points on 6-for-14 shooting with one three and a 1-for-1 night from the line. Jackson added 11 points going 4-for-13 with one three and two free throws. Arkansas forced 19 Beaver turnovers and grabbed 10 steals but OSU made up for that with 13 blocks as their six-foo-seven-inch post player dominated the paint.
Danberry dropped in nine points in the first period leading Arkansas to a 17-16 advantage after the first 10 minutes of play. Freshman Briunna Freeman dropped in a deuce giving Arkansas' its first lead, 15-14, and Danberry added two of her first period high prompting an OSU timeout.
Arkansas finished the first frame shooting 36.4% but had 11 rebounds and three assists to lead the stanza.
The second period started with an Oregon State 16-0 run as the Beavers got hot from three-point range. The Beavers went 4-for-7 from distance and dominated inside with six blocks and 18 points in the paint taking a 38-26 lead into the halftime break.
Danberry tied her career-best with a three-pointer early in the third frame giving her 14 points. Arkansas forced back-to-back turnovers by OSU and put together a 9-3 run closed the margin to eight with just over six minutes to play in the frame.
Arkansas outscored OSU 16-7 in the third period behind seven points from Jackson and three more from Danberry in the frame. The Razorbacks used their quickness to force eight turnovers and platooned players in sometimes five at a time. Arkansas trailed OSU by three, 42-45, heading into the last 10 minutes of the game.
The pendulum swung back to the Beavers who opened the fourth period on a 7-2 run prompting an Arkansas timeout. But the inside scoring proved to be too much for the Razorbacks to defend against the much taller Beavers. OSU continued to bang away inside, opening up the lead to as many at 18 points.
FROM JIMMY DYKES
We out-fought the No. 7 team in the country. I like how we fought. We had a couple a minutes where we couldn't stay with them but we'll get better at that. We battled our tails off against a team that has three seniors and is ranked No. 7 in the country. We will take these lessons, go back home and get ready for our next game. We had four or five critical turnovers in the fourth period that didn't allow us to get up enough shots at the end of the game. We'll get better at that and learn from it.
NOTES
Jessica Jackson has had six consecutive double-digit scoring games to start the year
Jessica Jackson had a streak of four consecutive 20+ point scoring games end tonight
Arkansas is 1-2 all-time against Oregon State
All three meetings between Arkansas and Oregon State have come on games played on Nov. 28
11/28/2003 AR 58 Oregon State 50 Los Angeles
11/28/2008 AR 56 Oregon State 69 Grand Bahama
11/28/2015 AR 47 Oregon State 63 San Juan, Puerto Rico
Arkansas is 2-9 all-time versus teams who are ranked No. 7 in the Associated Press poll
UP NEXT
Arkansas returns home hosting Missouri State Wednesday, Dec. 2
The Razorbacks travel to Rutgers Dec. 6 | Arkansas hosts Oral Roberts Dec. 10 | At Butler Dec. 13 | Versus Texas (Oklahoma City) Dec. 20 | Hosts Mississippi Valley State Dec. 28 and New Orleans Dec. 30
For more information on Arkansas women's basketball, follow @RazorbackWBB on Twitter.