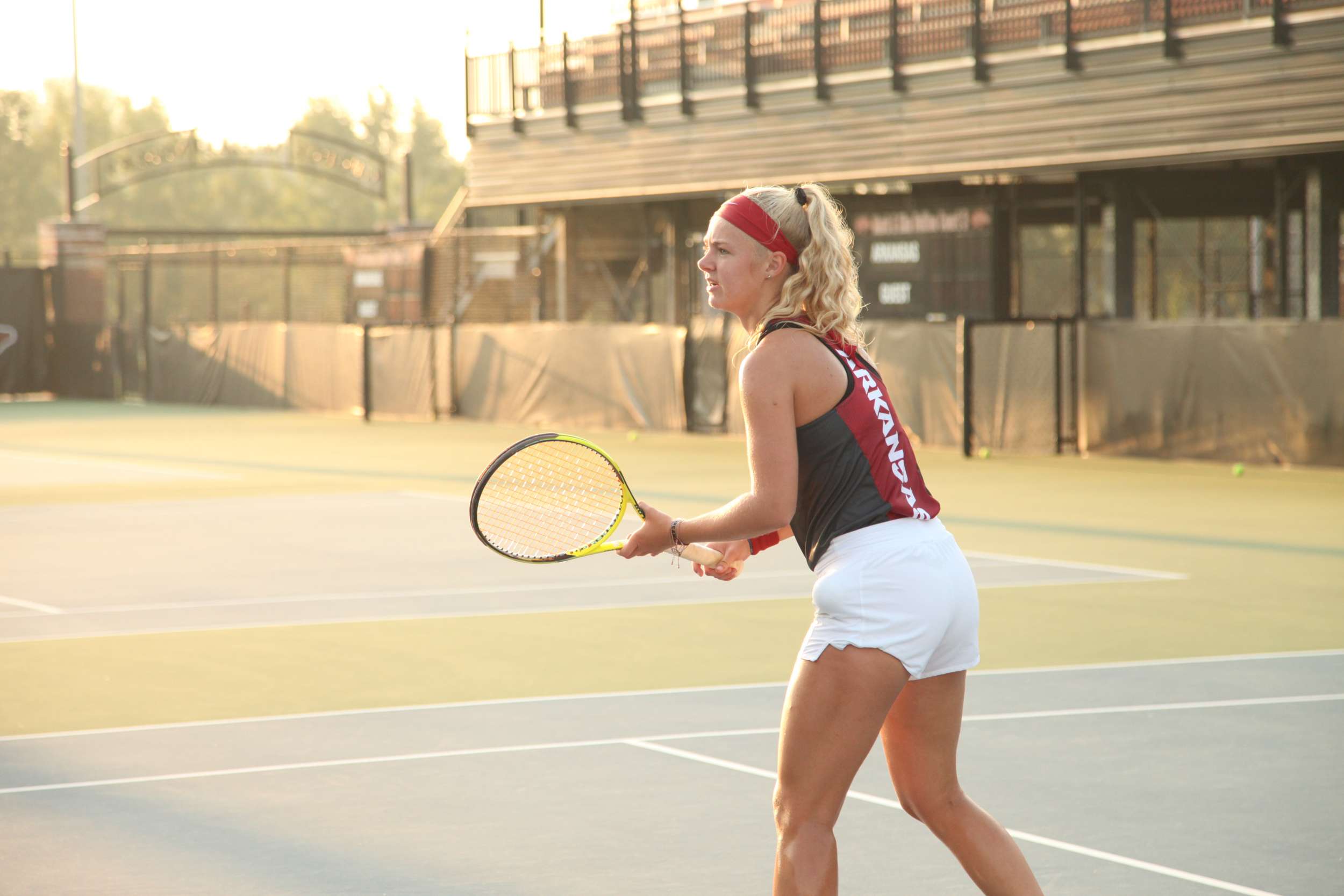 Day Two for the Hogs at HEB Invitational
The Arkansas women's tennis team has shown a lot of determination and resilience since the start of the HEB Invitational. The Hogs opened the day with doubles play.
DOUBLES PLAY:
The duo of Myrna Olaya and Claire Slaughter took on Baroja/Menon in round one but could not clinch the win and fell 6-4.
Next up was the duo of Kelly Keller and Laura Rijkers who advanced from the first round in the green and gold doubles bracket. Keller and Rijkers fought hard and came out with a win against Carolyn Ansari and Georgie Axon with a sore of 6-3. The duo then found themselves facing Lexi Ryngler and Tijana Spasojevic, keeping fans at the edge of their seats, the match finally ended with Keller and Rijkers falling 7-6 (5).
SINGLES PLAY:
Kelly Keller, Claire Slaughter, Laura Rijkers and Myrna Olaya had a good run in singles play today. Keller was the first Hog to begin action play and took on Josie Frazier in the gold draw, but fell 6-4, 7-5. Up next, Slaughter represented the Razorbacks in the green draw but could not clinch the win, losing 6-1, 6-0. Rijkers went up against Phonexay in an exhibition match and fell 6-1, 6-2, and while Olaya had a good run these last two days she found herself losing as well in an exhibition match.
WHAT TO LOOK FORWARD TO:
Tomorrow all the Hogs will be playing in exhibition matches. To see more results on the HEB tournament click here   
For more information on Arkansas women's tennis follow @RazorbackWTEN on twitter and Instagram.