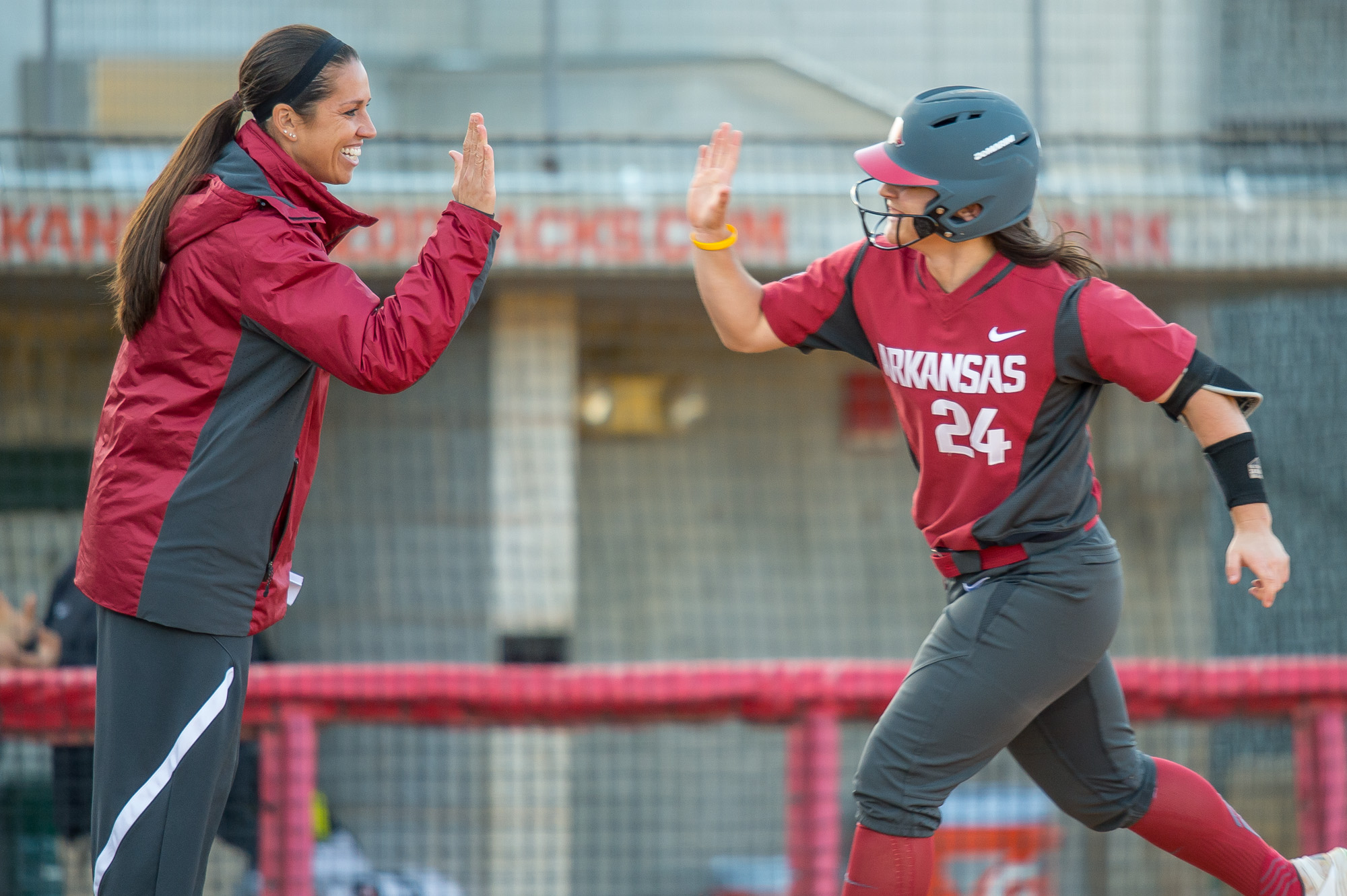 Deifel Adds Trio of Transfers to Roster
FAYETTEVILLE, Ark. – Head coach Courtney Deifel has announced the addition of three transfer student-athletes to the University of Arkansas softball roster. The newest Razorbacks are Ashley Belans, Sydney Benz and Katie Warrick. Belans comes to Fayetteville as a junior while Benz and Warrick will both carry sophomore standing this season.
Ashley Belans
INF | 5-5 | R/R
Hollywood, Fla. (American Heritage HS)
In two seasons at Florida International University, Belans amassed 103 hits with 56 runs scored, 55 RBIs and 31 extra-base hits. On her way to earning a spot on the 2016 All-Conference USA Second Team, she posted a .390 batting average with nine home runs and 36 runs driven in. Her 2016 season highlights featured a .414 batting average during league play and a C-USA Offensive Player of the Week selection. Belans, a member of the 2015 Conference USA All-Freshman Team, started all 107 games in which she played during her time at FIU.
During her prep career, Belans was an all-state performer and part of two state championship teams (2012, '14) at American Heritage High School in Florida. She was the state's Class 5A Player of the Year after a standout senior campaign in which she hit .527 with eight home runs and 37 RBIs; 21 of her 47 hits went for extra bases.
Sydney Benz
INF | 5-5 | R/R
Carol Stream, Ill. (Glenbard North HS)
As a freshman at Louisville, Benz played in 25 games including nine starts during the 2015 season. She finished the year with a .295 batting average and a pair of home runs. Seven of her 13 hits came against Atlantic Coast Conference teams. Benz tallied two multiple-hit and -RBI games. She brings postseason experience to Fayetteville after helping Louisville secure a berth into the 2015 NCAA Tournament. For her work in the classroom, she was on the ACC Academic Honor Roll.
Benz was an all-state selection and four-time all-conference performer at Glenbard North High School in Illinois. As a senior, she capped her prep career by hitting .459 with 13 extra-base hits, 29 RBIs and 39 runs scored on her way to securing all-area honors.
Katie Warrick
INF/P | 6-0 | R/R
Chapel Hill, Tenn. (Forrest HS)
On the heels of a standout freshman season at UT Martin, Warrick earned spots on the 2016 All-Ohio Valley Conference Second and All-Newcomer teams. She led the Skyhawks with 10 home runs and 41 RBIs, categories in which she was tied for first and second in the OVC, respectively. Warrick was third on the team with a .299 batting average and played in all 56 games. The utility standout also picked up three wins, three complete games and a save in 45.2 innings of work as part of the UT Martin pitching staff.
Warrick was a MaxPreps All-American at Forrest High School in Tennessee where she was instrumental in the team's run to the 2015 TSSAA Class A state title. As a senior for the Lady Rockets, she bolstered the team's lineup with a .594 batting average and 14 home runs. She was as impressive in the circle with 32 victories. Warrick hit a school-record 51 home runs during her prep career.
For more information about Arkansas Softball, follow @RazorbackSB on Twitter.