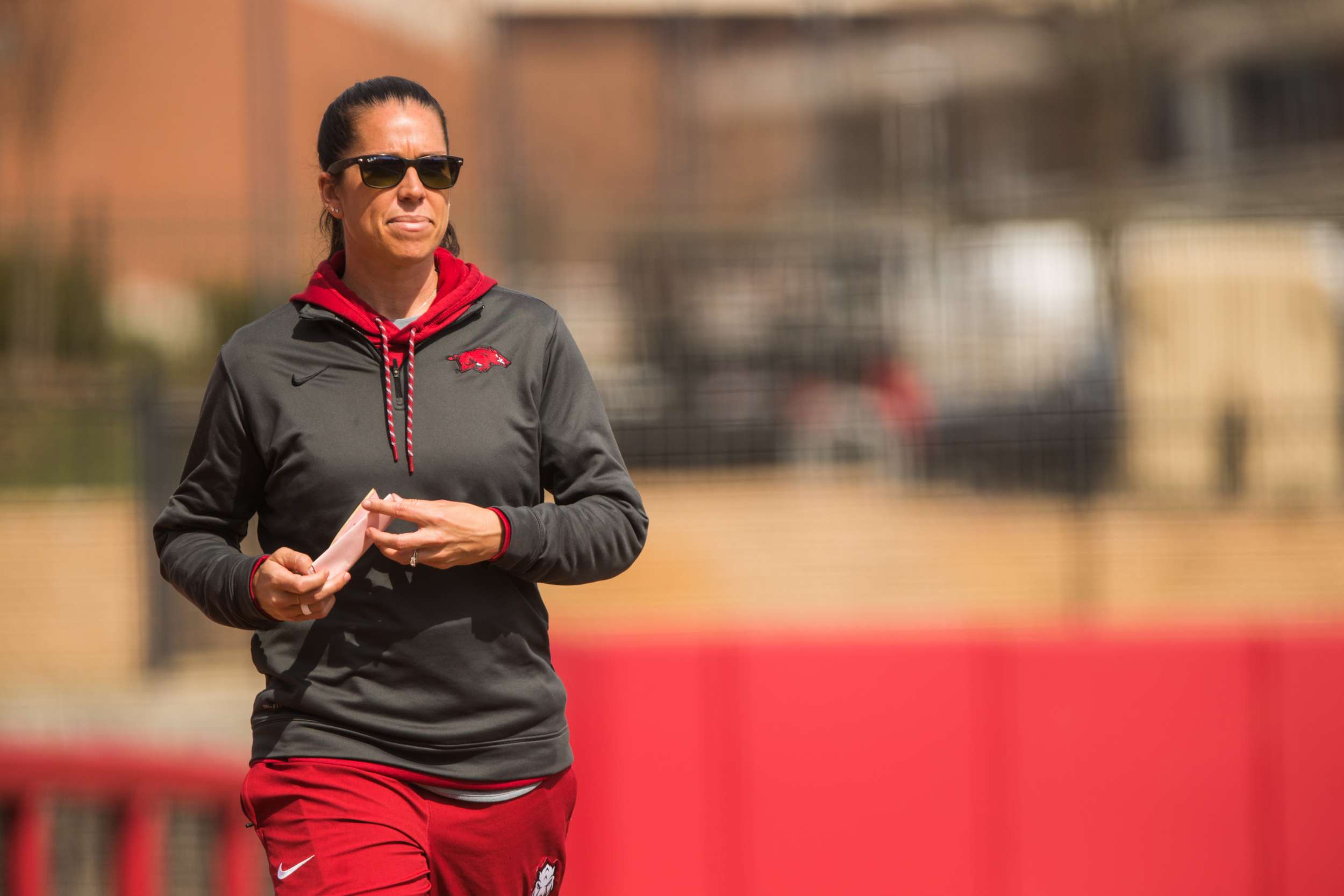 Deifel, Razorbacks Add Three On National Signing Day
FAYETTEVILLE, Ark. – Featuring a top-50 addition, head coach Courtney Deifel and the University of Arkansas softball team has announced the program's 2019 signing class. The newest group of Razorbacks are Jenna Bloom, Paloma Usquiano and Rylin Hedgecock.
"We are excited to welcome Jenna, Rylin, and Paloma to the Razorback Softball family," said Head Coach Courtney Deifel. "Although this class is small in size there is no doubt they will have a huge impact from the day they step on campus.  We cannot wait for them to get to Fayetteville and begin to make their mark on the program."
This marks Arkansas' fourth recruiting class under coach Deifel as Bloom is the latest top-100 recruit to come to Fayetteville. She will be joining future teammates Larissa Cesena, Taylor Greene, Mary Haff and Autumn Storms who were all ranked in their respective classes.
Jenna Bloom | 5-10 | RHP
Huntington Beach, Calif./Edison HS (Athletics Mercado)
LA Times: Jenna Bloom's return sparked Edison softball
About Bloom…
A standout performer for Edison High School and the Athletics Mercado travel ball team, Bloom is ranked No. 43 in the final FloSoftball Hot 100. During last season's state tournament run, Bloom struck out 24 batters in 12.1 innings of play while allowing just one earned run while leading Edison HS to its first playoff win in two years. Against the nationally-ranked Mission Viejo High School in Edison's season opener last spring, Bloom dominated, striking out 15 batters while allowing just one hit in a 10-0 win. The five-inning game saw every out be recorded via a Bloom strikeout. She finished last season with a 6-4 record while splitting time at pitcher.
Jenna is the daughter of Daniel and Melonie Bloom and has one brother, Jacob. Her mother, Melonie, played volleyball for San Diego State from 1992-97.
Paloma Usquiano | 5-5 | INF
Downey, Calif./Lutheran HS (So Cal Athletics Jendro)
About Usquiano…
Usquiano helped lead Orange Lutheran High School to a 26-5 record last season, that included a tournament win in the Dave Kops Tournament of Champions against third-ranked Los Alamitos High School. She also lead the team to the Torrance National Tournament championships; a tournament that features the top softball teams from California, Arizona, Utah and Nevada. Usquiano has batted over .350 in each of her sophomore and junior seasons, including a .435 average during her sophomore campaign. As a member of the So Cal Athletics Jendro travel ball team, she has been equally consistent, owning a .350 and a .360 batting average during her sophomore and junior seasons, respectively.
Paloma is the daughter of Armando and Dianna Usquiano and has two sisters, Sofia and Julietta.
Rylin Hedgecock | 5-9 | RHP/INF
Valdosta, Ga./Lowndes HS (Gainesville Gold)
About Hedgecock…
During her high school career, Hedgecock posted a 1.1 ERA in each of the last two seasons. She holds the school record for career strikeouts with 500. Hedgecock has led Lowndes High School to two Region Championships, including a fifth-place finish in the state tournament during her sophomore campaign. As a batter, she has posted 11 or more home runs in a season three times, including a career-high 13 home runs and 49 RBI her sophomore year. She has batted over .400 each season with Lowndes HS, including a .549 mark last season, with 12 homers and 43 RBI.
Hedgecock plays travel ball for Gainesville Gold. Rylin is the daughter of Russ Hedgecock and Heather Prince. She has three siblings: Tori, Bryson, and Savannah.
For more information on Arkansas softball, including in-game updates, follow @RazorbackSB on Twitter.