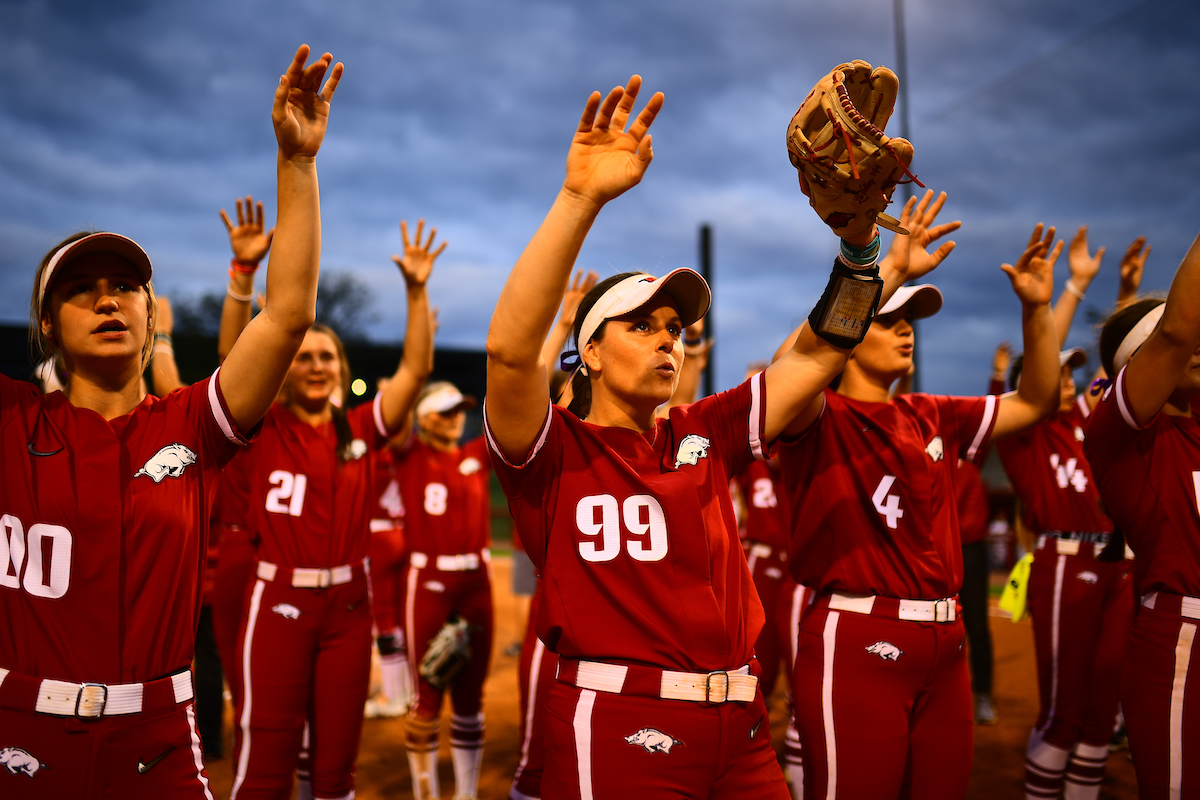 Delce Dazzles, Razorbacks Romp Gamecocks
FAYETTEVILLE, Ark. – Early and efficient offense combined with Chenise Delce's second-consecutive shutout fueled No. 5 Arkansas to a 12-0 (5) victory in its series opener against South Carolina Friday night at Bogle Park.
The Razorbacks improve to 37-8 and push their SEC record to 15-4 (.789), remaining the only team with above a.700 win percentage in conference play. The Hogs have now won 10 of their last 11 home games.
Delce (14-3) went the distance, slinging her fourth shutout of the season. In five innings, Delce manufactured nine strikeouts and held the Gamecocks to two hits, including zero extra base hits. The Oklahoma City, Okla., product has now spun 14 scoreless frames, dating back to game two against Florida on April 23.
The Arkansas offense combined for 13 hits and two home runs against South Carolina, utilizing an eight-run first to break the game open. Senior Hannah McEwen compiled her second-consecutive game going 3-for-3 at the dish, including a triple, and added three RBIs. Senior Linnie Malkin had a productive night with a three-run home run and double to go along with three RBIs and a run. Senior KB Sides bolted three hits, including a double and was scratched home three times. Graduate Taylor Ellsworth scattered two hits and two RBIs and was sent home once. Audrie LaValley accounted for two runs while also clobbering the Hogs' second home run. Senior Danielle Gibson and sophomore Hannah Gammill each smacked a hit apiece.
How It Happened
Arkansas set the tone early with Sides' leadoff single and McEwen's walk, placing a runner into scoring position for Ellsworth. Ellsworth reached on a fielder's choice, prompting a 6-4 play at second to get McEwen out, but it gave Sides enough time to turn on the jets at third and hurry across home before the throw.
With a runner now on first with one out, Gibson took an inside pitch and sailed it to the right field line for a single and advanced Ellsworth to third. Next, Gammill smashed an RBI single through the left side to extend the lead to 2-0. Malkin followed, breaking the game open with a three-run blast for her 15th home run of the season and bumping the lead to 5-0. LaValley pelted her fourth home run of the year on a solo shot for another run. The Hogs continued to pile on with McEwen's RBI single to short, which scored Friedman. Ellsworth's RBI single to right knocked the lead to 8-0 to end the first frame.
Arkansas went quiet in the second but followed with a two-run third. Sides reached on an error and then scored on McEwen's triple, which created a Gamecock throwing error and subsequently allowed her to score from third and advance the Razorback lead to 10-0.
The Hogs attached their final two runs in the fourth on Sides' RBI single to right, sending LaValley home. McEwen crossed the final run of the night on her single up the middle to score Friedman.
Hog Highlights
Chenise Delce threw her second-consecutive two-hit shutout
Delce dealt nine strikeouts
KB Sides tied her career high in runs scored with three
The Razorbacks have won 10 of their last 11 home games
Arkansas cruised to its 14th run rule victory of the season
Hannah McEwen filed her second-straight 3-for-3 performance at the plate
Linnie Malkin torched her 15th home run of the season
Audrie LaValley tanked her fourth home run of the season
The Hogs combined for 13 hits
Arkansas has homered in three-consecutive games
Up Next
Game two between the Razorbacks and Gamecocks is set for 1 p.m. Saturday on SEC Network+. Sunday's series finale, which is also Senior Day, is scheduled for 10:30 a.m.