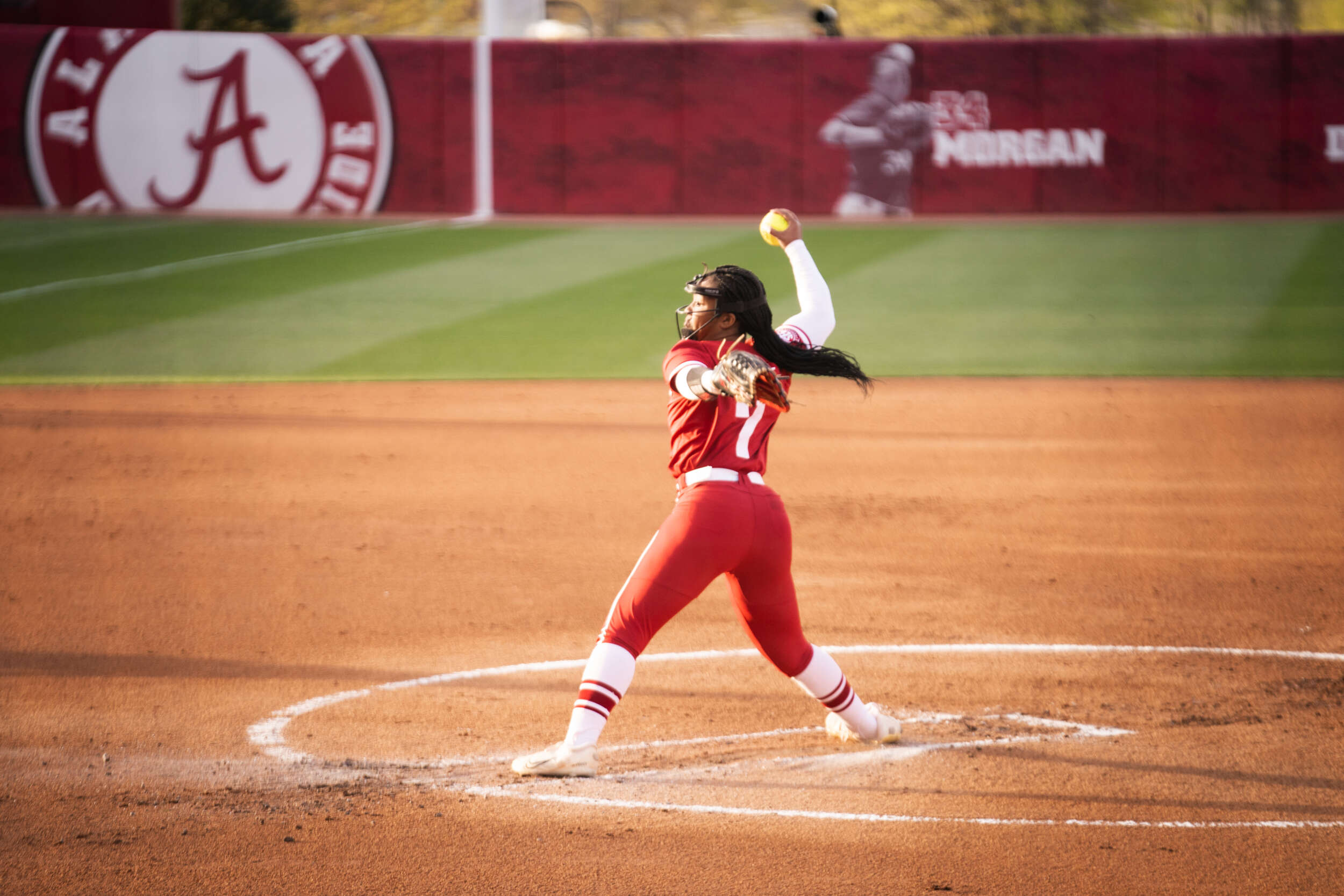 Delce Goes the Distance, Hedgecock Blasts Solo Shot for Series Win
TUSCALOOSA, Ala. – Energized by fifth-year senior RHP Chenise Delce and redshirt junior designated player Rylin Hedgecock, No. 12 Arkansas (22-8, 3-3 SEC) muscled to a 2-1 (10 inn.) series-clinching win over No. 13 Alabama Monday night at Rhoads Stadium. It's Arkansas' ninth consecutive SEC road series victory.
Monday night's triumph also marks the Hogs' first-ever series win vs. Alabama in Tuscaloosa.
Chenise Delce (11-5) went the distance for the Razorbacks. Throwing a career high 10 innings and 172 pitches, Delce struck out eight and allowed just one earned run on five hits. The reigning SEC Pitcher of the Year was nails down the stretch, working out of a bases-loaded jams with one out in the bottom of the 10th. The Oklahoma City product also escaped a bases-loaded jam in the bottom of the ninth. Delce struck out back-to-back batters in the bottom of the 10th for the victory.
Redshirt senior Rylin Hedgecock's go-ahead solo home run in the top of the 10th was all Arkansas needed for the win.
Arkansas outhit Alabama at a 7-5 clip. Hedgecock and freshman catcher Lauren Camenzind powered the Hogs offensively, collecting two hits apiece. In her fourth career multi-hit game, Camenzind finished 2-for-4 with an RBI. Hedgecock had her eighth multi-hit game this season, finishing 2-for-5 with her 12th homer of the season.
Raigan Kramer, Hannah Gammill and Kacie Hoffmann chipped in with a hit each.
How It Happened
Bottom 2nd: Alabama took an early 1-0 lead on a solo home run in the bottom of the second.
Top 4th: Cylie Halvorson reached after getting hit by a pitch. Halvorson then moved into scoring position after advancing to second on a wild pitch. Hoffmann's ground out to second pushed Halvorson to third. Then, Camenzind smacked a one-out RBI single up the middle to tie the game at 1-1.
Top 10th: Rylin Hedgecock's go-ahead solo home run put the Hogs on top, 2-1.
Quoting Coach Deifel
"I thought this was a huge series to win, especially since it was our program's first-ever series victory at Alabama. We showed a ton of grit and character, and I couldn't be more proud of how we fought. That's a game where nobody deserves to lose. Chenise Delce was outstanding tonight. Our team showed a ton of resilience and had each other's backs."
Quoting Rylin Hedgecock
"We worked so hard as a team this week to put our skills together, and it really showed this weekend. It's always hard to win in this league, especially on the road, so it felt great to get the series against a top-25 opponent. Our energy was electric all weekend, and I'm so proud of how we competed."
Notes
Arkansas won its first-ever series vs. Alabama in Tuscaloosa.
The Razorbacks get their first series win vs. Alabama since 2018.
Arkansas has six wins against opponents ranked inside ESPN.com/USA Softball's top-25. The Hogs have eight victories against foes that are either ranked or receiving votes in ESPN.com/USA Softball's top-25 poll.
Redshirt senior RHP Chenise Delce threw a career high 10 innings and 172 pitches.
Redshirt junior DP Rylin Hedgecock tanked her 12th home run of the season.
Hedgecock parked a go-ahead home run for the second time this season. Hedgecock last delivered a go-ahead solo home run on Feb. 24 vs. Arizona.
Up Next
Arkansas returns to the friendly confines of Bogle Park on March 24-26 for a three-game series against No. 11 Florida. First pitch is set for 6 p.m. Friday on SEC Network+.
For schedule updates and other news, go to ArkansasRazorbacks.com, or follow @RazorbackSB on Twitter, Instagram and Facebook.