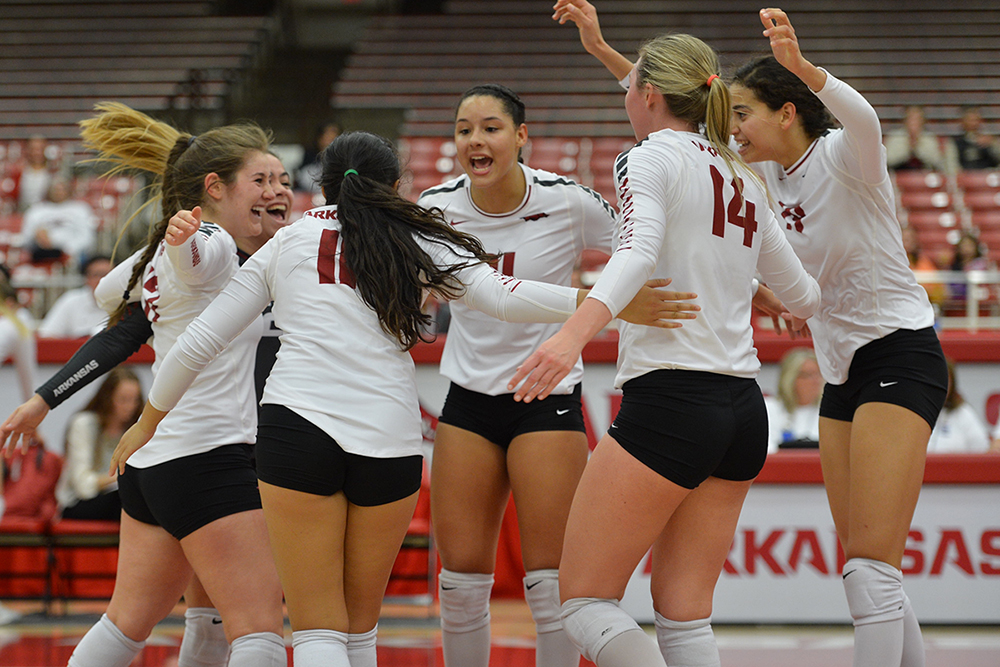 Double-Double for Victoria in Loss to Mizzou
FAYETTEVILLE, Ark. – Despite a double-double effort from junior Pilar Victoria, the University of Arkansas volleyball team had its three-match winning streak snapped Wednesday evening with a loss to Missouri. Victoria finished the match with 11 kills and 12 digs for her team-leading 13th double-double of the season. With the setback, the Razorbacks are 17-10 overall with a 7-8 mark in SEC play.
FINAL
Missouri 3, Arkansas 0 (25-23, 25-18, 25-19)
Attendance: 837 | Time: 1:30
Barnhill Arena | Fayetteville, Ark.
#RazorStats
• Leaders vs. Missouri
o Kills: Pilar Victoria – 11 kills
o Digs: Okiana Valle – 17
o Blocks: Danielle Harbin & Ana Sofia Jusino – 2.0 (0-2)
Along with the output from Victoria, the duo of Chanell Clark-Bibbs and Danielle Harbin combined for 16 kills with eight from each. Harbin also tied her season high with five digs to go along with two blocks. Clark-Bibbs came in off the bench for eight kills on a .636 hitting percentage. Defensively, libero Okiana Valle registered a match-high 17 digs while Rogers, Ark., native Kimi Davis picked up a season-best five digs.
Missouri (24-4, 12-3 SEC) won three of the first four points of the match but the Razorbacks steadied and took its first lead of the match at 4-3 on a kill by Victoria. The teams went on to trade points with 10 ties between 4-4 and 16-16. The home team took an 18-16 lead after a kill from Clark-Bibbs and illegal contact call against Missouri. Arkansas led 21-19 before the Tigers rattled off five of the next six points to arrive at set point. The Razorbacks saved one set point but an attack error on the next play sealed the opener for Missouri, 25-23.
Sets two and three were played in out in similar fashion with the visitors jumping out to early advantages. In each set, the Razorbacks put together runs to pull to within one before Missouri pulled away late. In the second, the Tigers went ahead 17-12 before Arkansas used a 5-1 run, capped by a Barbara Dapic kill, to nearly even the score. However, Missouri won seven of the last eight points to take a 2-0 match lead.
The third set saw the Tigers take an early lead, eventually going ahead 12-8 on the scoreboard. Arkansas got to within one on three different occasions, the final instance coming with Missouri leading 16-15. Five-straight points added cushion to the visitors' lead to go ahead 21-15. Back-to-back kills from Harbin and a tandem block from Dapic and Ana Sofia Jusino pulled Arkansas to within two at 21-19. However, the Tigers scored the final four points of the match to seal the straight-set victory.
Up next, the Razorbacks travel to Auburn for their final road match of the regular season. First serve of the SEC matchup is scheduled for Sunday, Nov. 22, at 1:30 p.m. (CT) on the Tigers' home floor. The match will be streamed live through SEC Network+ and through the WatchESPN app. Arkansas returns to Barnhill Arena to close out the regular season with home dates against South Carolina and Texas A&M.
For more information about Arkansas volleyball, follow @RazorbackVB on Facebook, Instagram, Snapchat and Twitter.