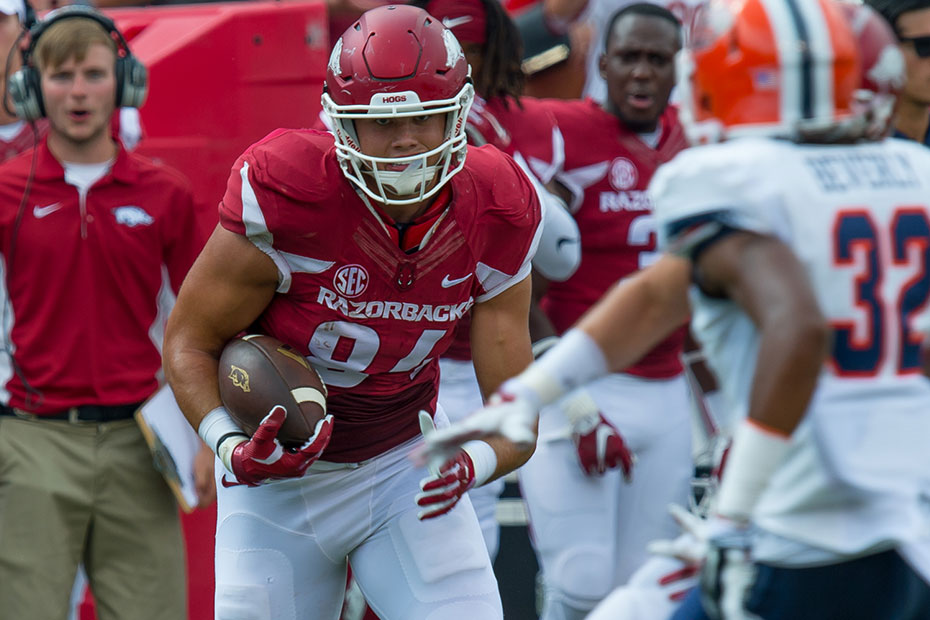 Duo Honored By Sporting News
FAYETTEVILLE, Ark. – Honors continue to roll in for Arkansas junior tight end Hunter Henry and senior offensive lineman Sebastian Tretola as both players have been named All-Americans by the Sporting News. Henry captured a spot on the first team while Tretola earned second team status, the organization announced Tuesday.
Henry totaled 46 receptions for an FBS-leading 647 yards among tight ends and three touchdowns this season. The junior also led all FBS tight ends with 32 first down catches and 19 plays of 15-plus yards. His two 100-yard receiving games led the SEC and were tied for second most nationally among tight ends and helped him equal D.J. Williams' program record of four career 100-yard receiving games by a tight end.
Since 2013, Henry has led all SEC tight ends in receptions and receiving yards with 111 and 1,569 respectively. He is one of just eight tight ends in league history to reach the triple-digit mark in receptions while playing in the SEC. Of the eight, he is one of four to rack up more than 1,500 receiving yards.
Last week, Henry was honored with the John Mackey Award, given annually to the nation's most outstanding tight end. The Little Rock, Arkansas native joined 2010 recipient D.J. Williams as the only two Razorbacks to win the award which made Arkansas the only program to produce multiple winners.
Tretola, a co-recipient of the Jacobs Blocking Trophy, started all 12 games at left guard this season and has made 23 consecutive starts at the position. He graded out at more than 80 percent in 10 of 12 contests this season and led the team with an 84 percent overall grade. He played in all 834 snaps that the first team offense took in the regular season and led the team with 68 knockdowns and was flagged for just one penalty.
The San Bernardino, Calif. native has allowed just one half-sack in his career, helping the Razorbacks lead the SEC in the fewest sacks allowed each of his two seasons. His efforts helped the Razorback offensive line pave the way for a league-best six 200-yard rushing games in SEC action.
2015 POSTSEASON HONORS:
TE HUNTER HENRY
– USA Today First Team All-American (Dec. 8)
– Coaches First Team All-SEC (Dec. 8)
– USA Today All-SEC Team (Dec. 9)
– John Mackey Award Winner (Dec. 9)
– ESPN.com All-SEC Team (Dec. 9)
– Walter Camp First Team All-American (Dec. 10)
– Sports Illustrated Second Team All-American (Dec. 10)
– Associated Press First Team All-American (Dec. 13)
– ESPN.com All-American Team (Dec. 14)
– Associated Press First Team All-SEC (Dec. 14)
– Sporting News First Team All-American (Dec. 15)
OL SEBASTIAN TRETOLA
– Jacobs Blocking Trophy (Dec. 8)
– Coaches First Team All-SEC (Dec. 8)
– ESPN.com All-SEC Team (Dec. 9)
– Sports Illustrated First Team All-American (Dec. 10)
– Associated Press Second Team All-American (Dec. 13)
– Associated Press First Team All-SEC (Dec. 14)
– Sporting News Second Team All-American (Dec. 15)