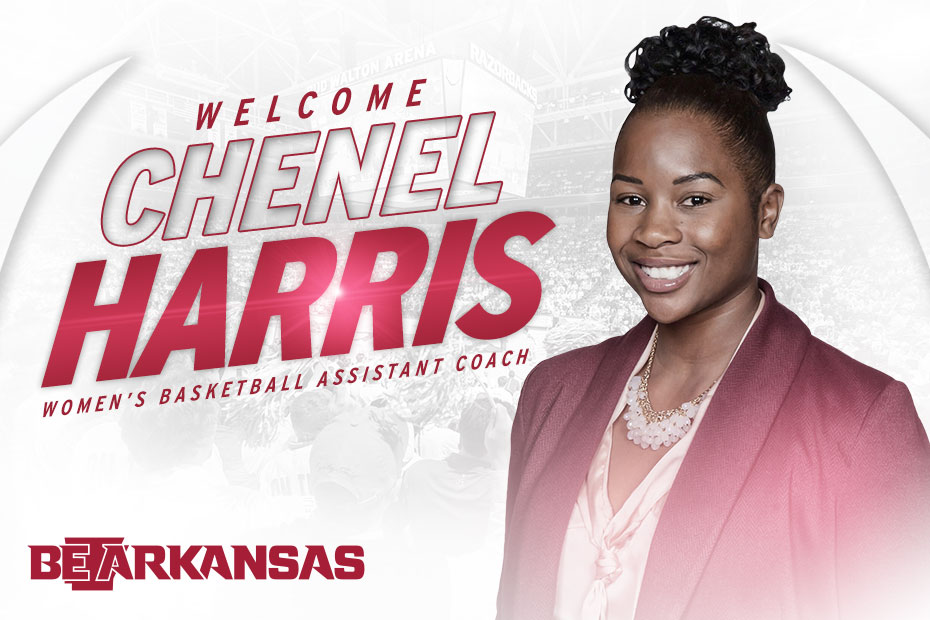 Dykes Adds Harris to Staff
FAYETTEVILLE, Ark. – University of Arkansas women's basketball head coach Jimmy Dykes announced the hiring of Chenel Harris Wednesday, citing the up-and-coming coach's energy and enthusiasm and the qualities that made her stand out.
"It was the common thread in all the conversations I had about Chenel," Dykes said. "She brings a level of energy and enthusiasm that will be contagious. She is a great fit with our staff and I'm confident our players will respond to her energy right away.
"Chenel has recruited all over the country and, as a native of Toronto, Canada, brings an international connection to our program. We can't wait for her to get to campus and start with our program."
Harris, a native of Ontario, Canada, has made coaching stops at Robert Morris and, most recently, Stony Brook. While with the Seawolves, Harris served as the team's recruiting coordinator, bringing top talent to campus and establishing relationships with high school and AAU coaches.
"I am privileged and grateful to be a Razorback," Harris said. "The University of Arkansas women's basketball program has a rich history of success as well as a promising future. I know that Jimmy Dykes and the staff are committed to winning at the highest level and they are working to develop young women who are educated, confident, resilient, and successful both on and off the court. I'm excited to assist Coach Dykes and the women's basketball program in realizing their goals."
In addition to her work at Stony Brook, Harris worked with the post players as a position coach and was responsible for the skill development of the team's forwards in the pre- and postseason.
She also was instrumental in developing "So You Want To Be A Coach", a WBCA program designed to help college women's basketball players prepare for a career in coaching.
Harris earned her degree in business management from Kent State in 2010.
As A Player at Kent State (July 2007-May 2011)
• Kent State forward
• Started 88 of 120 games
• Finished with 573 career rebounds and 901 points
• All-Mid-American Conference honorable mention
• All-Mid American Conference All-Rookie honors
• Bachelor's degree in business management in 2010
Trinidad and Tobago National Team (July 2011)
• Competed in the Caribbean Basketball Championship tournament
• Served as captain of the Trinidad and Tobago women's basketball national team
• Ranked 8th among all players in points per game scoring 12.6 ppg
• Ranked 8th overall in free throw percentage
• Ranked 3rd in overall 3-point percentage during the tournament
At WBCA Office (January 2012-Apring 2012)
• Betty F. Jaynes Special Projects intern
At Robert Morris (June 2012-July 2014)
• Assistant coach on team that claimed the 2013-14 Northeast Conference regular season and tournament titles
• Specialized in working with forwards
• Developed two-time NCA Player of the Year Artemis Spanou, 2012-13 Rookie of the Year Ashley Ravelli and three All-Rookie selections
At Stony Brook (July 2014-May 2016)
• Helped Stony Brook to a 17-15 record and 10-6 in America East Conference play last year (third place)
• Worked with Co-South Jersey Female College Player of the Year Brittany Snow
• Coached two All-Conference selections
• Served as team's recruiting coordinator
• Helped the Seawolves to 17-14 season in 2014-15