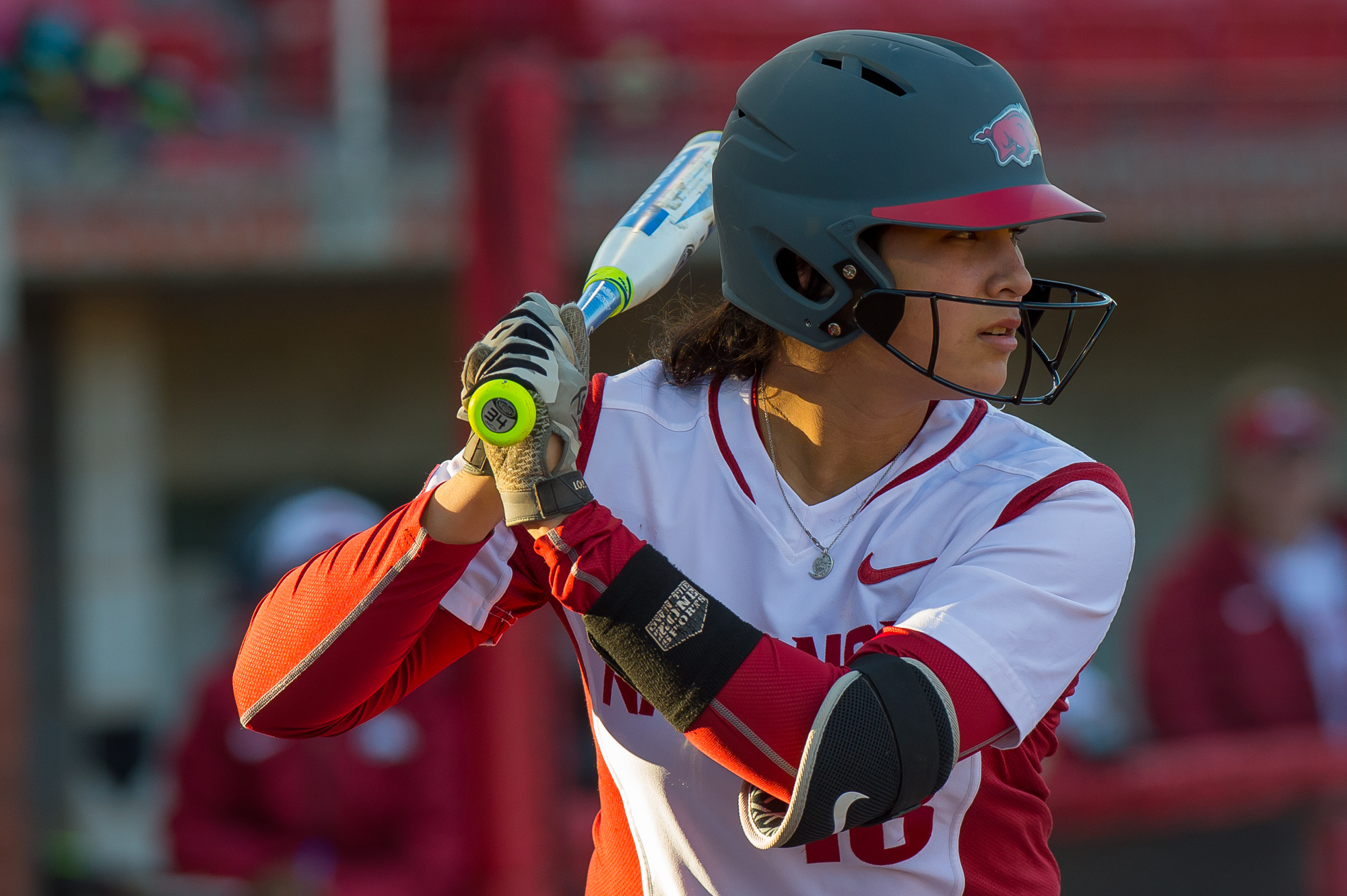 Early Lead Doesn't Stand at No. 16 Tennessee
KNOXVILLE, Tenn. – Rachel Box and Ashley Diaz tallied two hits apiece including a home run for each in Friday evening's SEC opener at No. 16 Tennessee. The Razorbacks led early but the home-standing Volunteers used a big innings in the third and fourth to come away with an 18-4 win at Sherri Parker Lee Stadium in Knoxville. The teams return to competition Saturday for a doubleheader, beginning at 11 a.m. (CT).
Due to the threat of inclement weather later this weekend in the area, the decision was made to play a doubleheader. Game two of the twin bill is still scheduled to start at 2:30 p.m. and will be aired live on the SEC Network. Mark Neely and Jenny Dalton-Hill will handle the play-by-play and color commentary duties, respectively.
Arkansas (11-10, 0-1) struck first thanks to a two-run shot by Box in the top of the opening inning. With two outs, Diaz lined a single to right center in her first-career SEC at-bat to extend her hitting streak to 15 games. She came around to score on the big fly Box who also added a single in the third inning. The home run was Box's second of the season. Tennessee (18-5, 1-0 SEC) got one of those runs back in the home half of the inning.
Tori Cooper led off the Razorbacks' second frame with a single through the right side and moved up to second on a sacrifice bunt by Madison Yannetti. With runners on first and second—Lauren Archuleta drew a walk—and two outs, Shelby Hiers delivered with a base knock to left field to plate Cooper, the team's third run of the game. The RBI hit pushed Hiers' career-long hitting streak to 10 games.
Starter Grace Moll ran into a bases-loaded, no-out situation in the bottom of the second inning but limited the Vols' damage to one run to keep the Razorbacks in the lead. Leading off the third inning, Diaz greeted new Tennessee pitcher Matty Moss with a solo home run to center field on the first pitch of the frame. It was her team-leading seventh home run of the season. Diaz now has nine multi-hit games through the first 21 games of her freshman campaign.
From that point, however, the conference opener belonged to the 16th-ranked Volunteers who benefitted from two Arkansas errors on their way to nine runs in the third inning. Tennessee extended their lead with seen more runs in the fourth frame thanks in part to a grand slam.
After this weekend's conference opener in Knoxville, the Razorbacks return to Fayetteville for a midweek contest against Tulsa at Bogle Park. Wednesday's game is scheduled for a 5 p.m. (CT) and will be streamed live on the SEC Network+ and through the WatchESPN app. Arkansas' SEC home opener is scheduled for March 25-27 when it hosts No. 17 Kentucky.
Season tickets are now on sale for $45 through the Razorback Ticket Center. For more information about purchasing season tickets, call 800-982-HOGS (4647) or 479-575-5151, email raztk@uark.edu or visit the Razorback Ticket Center located next to Baum Stadium. For more information about Arkansas softball, follow @RazorbackSB on Twitter.