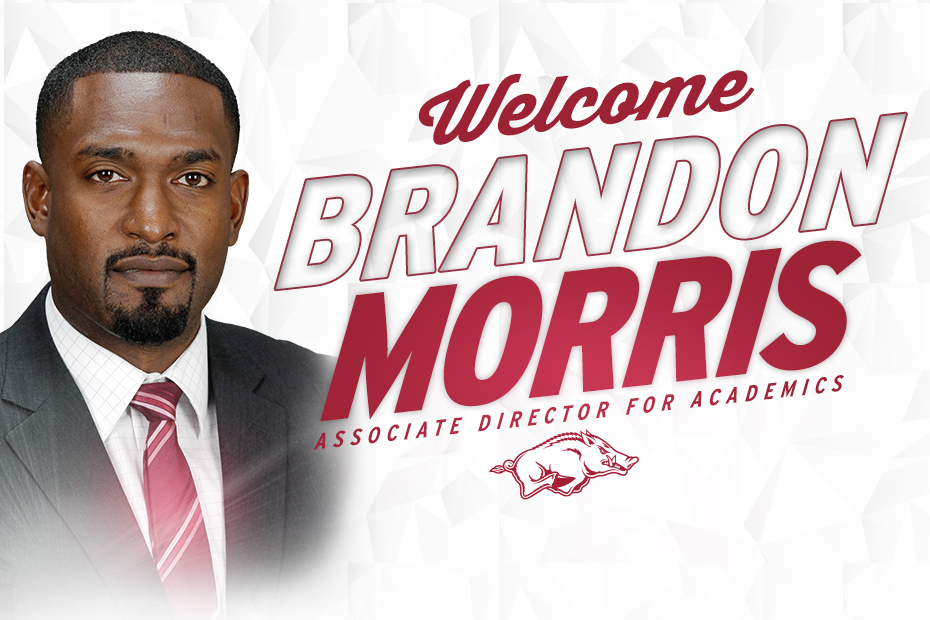 Empowering Razorbacks
FAYETTEVILLE, Ark. — Brandon Morris joined the University of Arkansas as the athletic department's new associate director of academics on July 18. In his role, Morris will serve as the academic counselor for the men's basketball and women's soccer teams in addition to being a liaison between coaches, faculty, sport administrators and college advisors.
He will also be a resource for student-athletes in a range of areas including strategically selecting a major, tracking progress toward degree completion, communicating academic progress to coaches and following up with professors about student-athlete academic needs.
"I am both fortunate and grateful for the opportunity to be a part of the Razorback family," Morris said. "It's exciting to have the chance to work with my new colleagues in the Office of Student-Athlete Success and all the great work they do. I look forward to working with coach Anderson and coach Hale and their staffs. Most importantly, I look forward to serving and impacting the lives of the student-athletes at the University of Arkansas for many years to come."
Prior to joining the Razorbacks, Morris worked at the University of Minnesota, where he served as an academic counselor for men's basketball and women's soccer.
In 2013, Morris began his doctoral studies at the University of Northern Colorado, where he also served as a Director of Residential Education. Before Northern Colorado, Morris worked at Saint Louis University for more than six years while serving as Director of Athletic Academic Support Services for more than four years. Under his leadership, the Billikens initiated numerous programming efforts that impacted student-athletes in all aspects of their lives.
A former men's basketball student-athlete, Morris earned his undergraduate degree from Drury University in Exercise Sport Science and Sport Management. He began his post-graduate career in athletics as a graduate assistant for football academic development at Arizona State University, where he completed his master's degree in higher and postsecondary education.
"Under the leadership of Vice Chancellor and Director of Athletics Jeff Long, we have made tremendous strides academically," Assistant Athletic Director for Academic Services Charles Small said. "We have the support of our coaches and administration. As a result, we are able to attract talented administrators to our Office of Student-Athlete Success team. Brandon will help empower our student-athletes to reach their fullest potential academically. I am confident that Brandon will take pride in helping our student-athletes win championships off the basketball court and soccer field. He will provide support to help our student-athletes compete in the classroom and graduate."