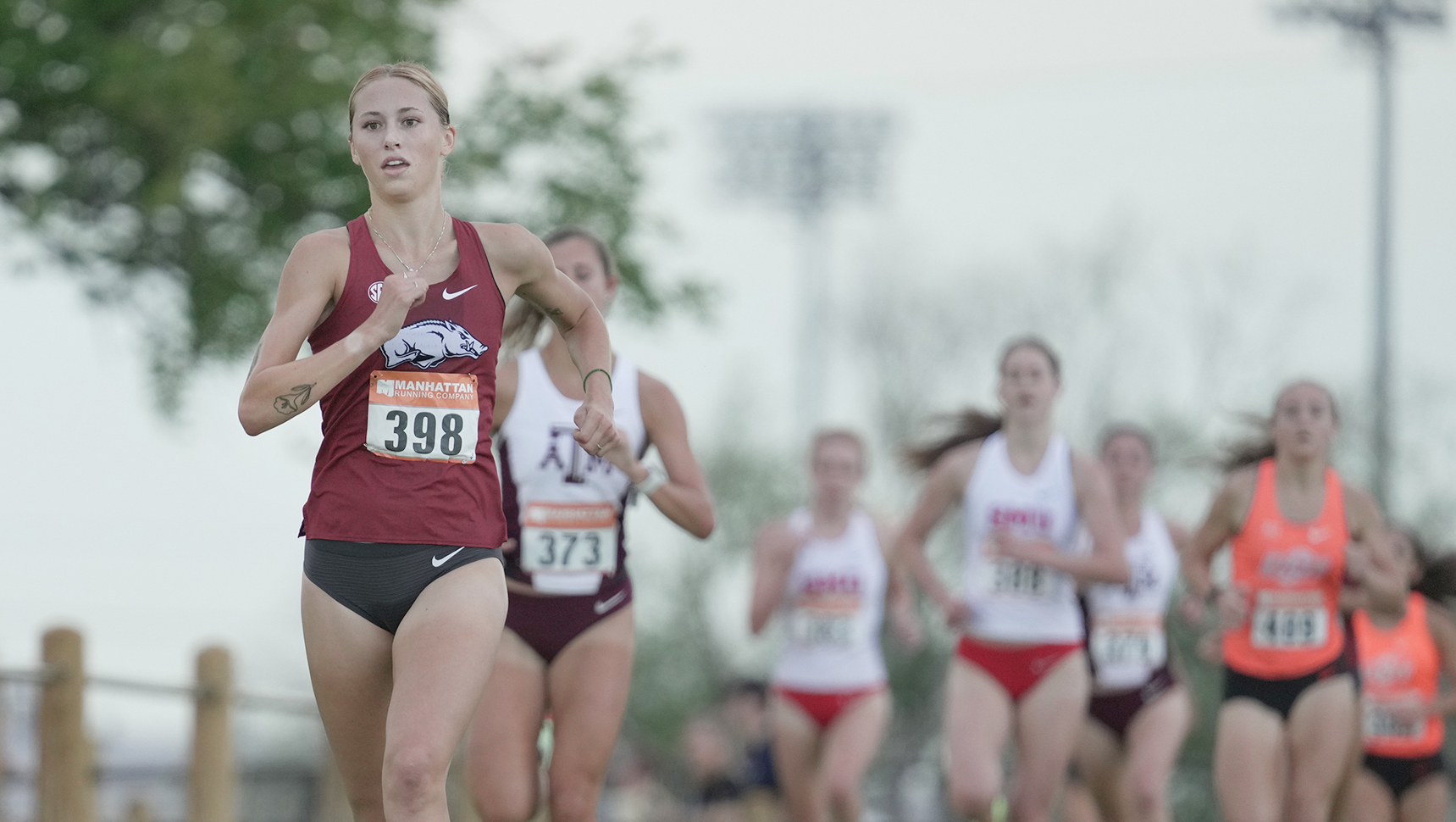 Ewert claims individual title, leads Arkansas to victory
STILLWATER, Okla. – Running for the Razorbacks for the first time in 11 months, Taylor Ewert posted a time of 10 minutes, 38.6 seconds over a 3,000m cross country course to win the Oklahoma State Cowboy Preview on Thursday morning.
"It's pretty early in the season, and I think the whole team's goal was to go out today and get a good rust-buster and a good feel for the course since we'll be out here for nationals," said Ewert. "Today's goal was to get out there, get a good feel for the course, and finish strong. I think the Hogs did well and I'm happy with a great start to the season. It's been a while."
Arkansas claimed the team title with 41 points off a 1-7-8-11-14 finish while not running a few members of the team. Texas A&M placed second with 56 points, followed by SMU (67), Oklahoma State (70), and Tulsa (119). The OSU Cowgirls also did not run some of their key runners.
"This was a good meet to kind of get that initial competition under our belt," said Arkansas women's head coach Lance Harter. "It comes very quickly when school has barely started. A lot of it is a reflection on what kind of summer training they had.
"We had some very positive things occur up front. It was nice to see Taylor Ewert and Julia Paternain, who have basically been off a year, back into the fold. We held out four or five others who I think could impact the front of our group."
In returning to racing mode, Ewert enjoyed the rolling course which reminded her of courses in her home state of Ohio.
"A lot of courses in Ohio have ups and downs, and I'm really use to doing that, so it was very familiar to me," stated Ewert. "I think it was nice that it was just a 3k, so we only had to go through it once. It will definitely be interesting to see when we get out there to do a 6k.
"It's been almost a year since my last race. I've had a lot of ups and downs, but it just feels good to get my feet underneath me. I still have a ways to go, and this is definitely a positive start. I just hope everyone keeps improving and the whole team has a great season."
Finishing a second behind Ewert was Grace Plain of Texas A&M in 10:39.8 while the top finisher for Oklahoma State, Maddie Salek, claimed third in 10:42.2.
The next pair of finishers for Arkansas included senior newcomer Katie McCune in seventh with Julia Paternain eighth. They posted times of 10:47.2 and 10:48.1, respectively. Another newcomer, junior Nyah Hernandez placed 11th in 10:50.5 while Gracie Hyde finished 15th in 10:55.3.
Adoette Vaughan and Mackenzie Rogers were the sixth and seventh finishers for the Razorbacks, placing 16th and 17th in 10:56.2 and 10:56.3, respectively. Mary Ellen Eudaly placed 26th in 11:12.8.
Arkansas runners competing unattached included Claire McCune, who finished 14th overall in 10:54.9, and Brooklyn Biancamano, who placed 38th in 11:35.3. The field had 43 runners finish.