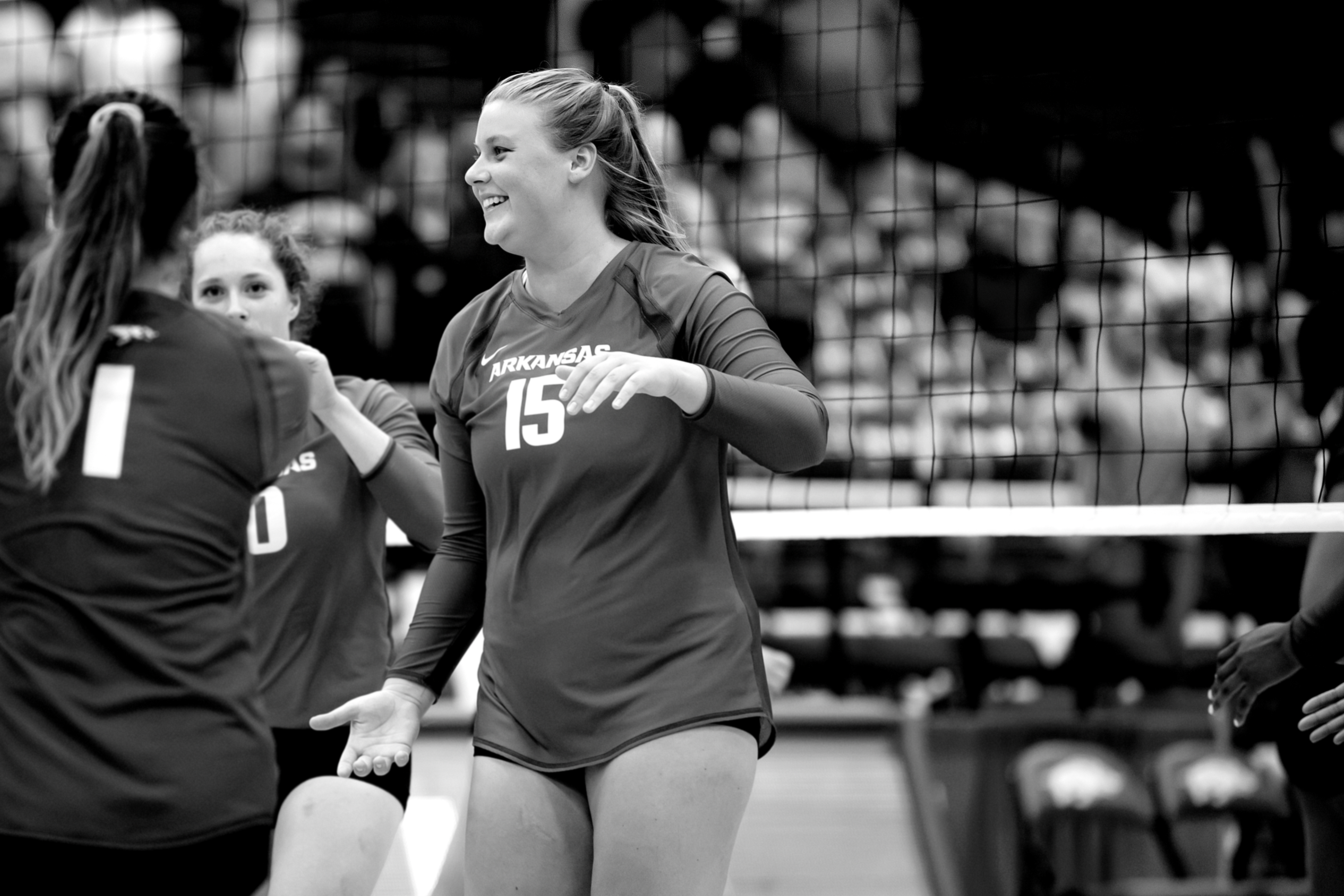 Far From Home: Maia Stripp
Maia Stripp is just the second Razorback in Arkansas history to reign from Denmark. Finishing up her third year at Arkansas as a human nutrition and dietetics major, Stripp has been displaced by COVID-19 and is unable to travel home to be with her family during this time. Being away from home and those you love during a time like this is tough, so we checked in to see how she was doing.
When the virus began to spread, Stripp had already had her plans for spring break and summer locked in. "There was a lot of thoughts going through my head," she said. "I had a flight already booked for home for spring break and was supposed to go see my family for a week, but the week before we got the news that school was going online and within that one week so many things changed, probably one of the most stressful weeks of my life."
Arkansas students were deep in midterms and now the Roskilde native had to make a blind decision, not knowing what the near future would look like. "I obviously wanted to go home and see family, I know they were extremely nervous for me, but I had to look at the bigger picture and look at how this all could possibly turn out," Stripp said.
Her situation wasn't black and white like most students who commute locally or even within the states. "It was an extremely hard decision," she said. "I had a flight lined up for spring break to go home and was supposed to connect through London. Then, because of the virus, my flight from London to Denmark was cancelled and I would have ended up stranded in London."
Unsure of when she would, or if she would be able to return to America, Stripp knew she was to take biochemistry and anatomy during summer sessions and was aware that she needed to be out of her apartment in mid-July as well.
"I had a lot of questions," Stripp said. "But I didn't have an answer to any of them. I was looking ahead and thinking about opportunities to stay active and in shape and I knew that if I were to stay with my teammate, Hailey Dirrigl, we could push each other hard and make sure that we would be as ready for the season as we possibly could."
---
Stripp said the first couple of weeks were the hardest, "Hailey and her family have done an amazing job making me feel at home," she said, "but to be honest, it will just never be the same, home is home, and it will always be like that.
Stripp and Dirrigl are staying busy during quarantine, as Stripp is doing her best to keep her mind off of missing home. "School has been slightly stressful and we have kept busy adjusting to online classes and preparing for finals. We work out at a couple times a day to clear our minds and stay as mentally and physically strong as we can. Thankfully we have been able to have fun while we do it, going on hikes, painting and just enjoying time in the Arizona sun."
The Dirrigls have welcomed Stripp into their Phoenix home and she has been able to bring a little bit of Danish tradition to the Copper State. "I had the chance to celebrate my birthday last month and was able to introduce Hailey and her family to a traditional Danish birthday cake, so that was a lot of fun because it has been a couple of years since I have made one." Authentic Danish Layer Cake has vanilla pudding and fruit layered between soft yellow cake and is topped with lots of luscious whipped-cream frosting.
---
"It's hard," said Stripp. "I often think about how I would have been home after finals week to see them for some time before returning for fall camp. I miss my family a lot, and thinking about the fact that I might not see them until December is really hard to think about, and to be honest I try not to think about that. Because I know it will only get harder from here on out."
Stripp said there has been the concern of being sick, taking the precautions to socially distance as much as she can. Stripp suffers from asthma, which means she is at higher risk than others and therefore has to be extra careful. "To be honest," she said. "My biggest concern is not being able to see my family for a whole year, this will be the longest I have ever not seen them. It's hard now, but as time goes on I know it will become more and more difficult."
"This quarantine has been really tough on my heart. I miss my family the most. Being away from them has been extremely taxing, especially during times like this. I worry about them, and I know they worry about me too."
All Stripp can do to pass the time is Facetime those she can contact, but they must find a time between her school schedule and the nine-hour time difference to talk. "I have been able to talk to them a couple times a week," Stripp mentioned. "But of course I wish it was more. I miss them a lot and wish I could be with them, but I am happy and thankful that I am able to hear their voice and see their faces. I think it has been hard for them that I am here, I know they worry a lot and that they miss me a lot but we are making the best out of a less than ideal situation."
Visit ArkansasRazorbacks.com for the latest information on all things Arkansas Volleyball. You can also find the Hogs on social media by liking us on Facebook (Arkansas Razorback Volleyball) and following us on Twitter and Instagram (@RazorbackVB).