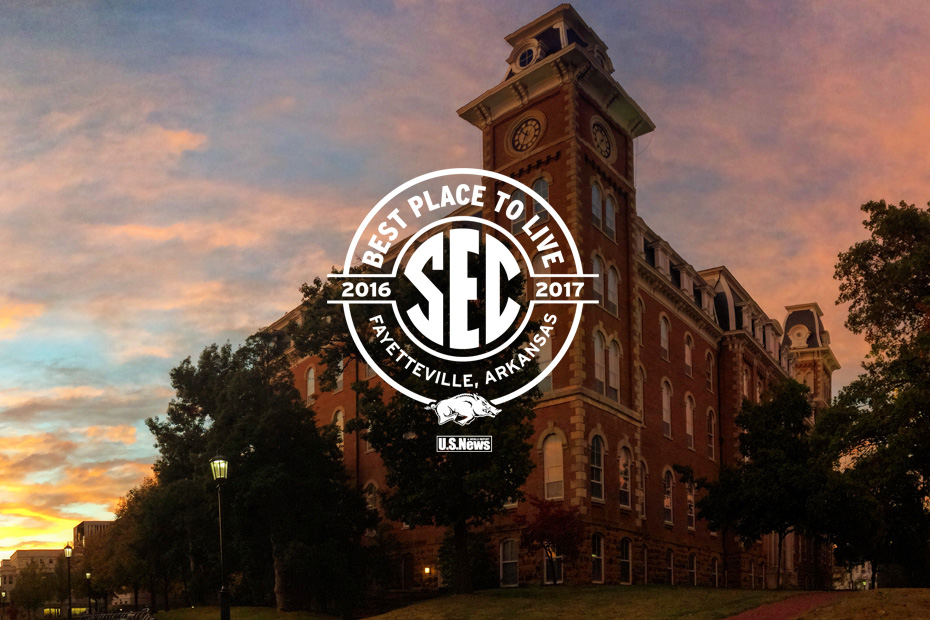 Fayetteville Repeats As 'Best Place To Live' In SEC
FAYETTEVILLE, Ark. – U.S. News & World Report (USNWR) has ranked Fayetteville as the best city to live in the Southeastern Conference and the fifth-best city overall in the nation on the publication's annual "Best Places To Live" list.
The city's top-five overall ranking places the University of Arkansas at No. 1 in the SEC and No. 2 among all Power Five Conference institutions for the second year in a row.
The "Best Places To Live" list is USNWR's evaluation of the 100 most populous U.S. metropolitan areas whose rankings were based on its value, desirability, job market strength, quality of life and other factors.
Fayetteville scored an overall 7.3 out of 10, reaching high marks for value (7.9), job market strength (7.1), quality of life (7.4) and net migration (8.0).
USNWR also cited the city's affordable housing costs ($182,508 vs. $211,731 nationally), mild winters, short commute times (4.7 minutes shorter than the national average) and low unemployment (two percentage points below the national average) as additional favorable factors.
The publication's 2017 percent weighting for each index category favored Fayetteville's strengths: The job market index accounted for 20 percent, value index at 25 percent, quality of life index at 30 percent, desirability at 15 percent and net migration at 10 percent.
Including Fayetteville, only four out of 14 SEC cities made the list: Nashville landed at No. 13; Columbia, South Carolina was ranked No. 56; and Knoxville, Tennessee placed at No. 61.