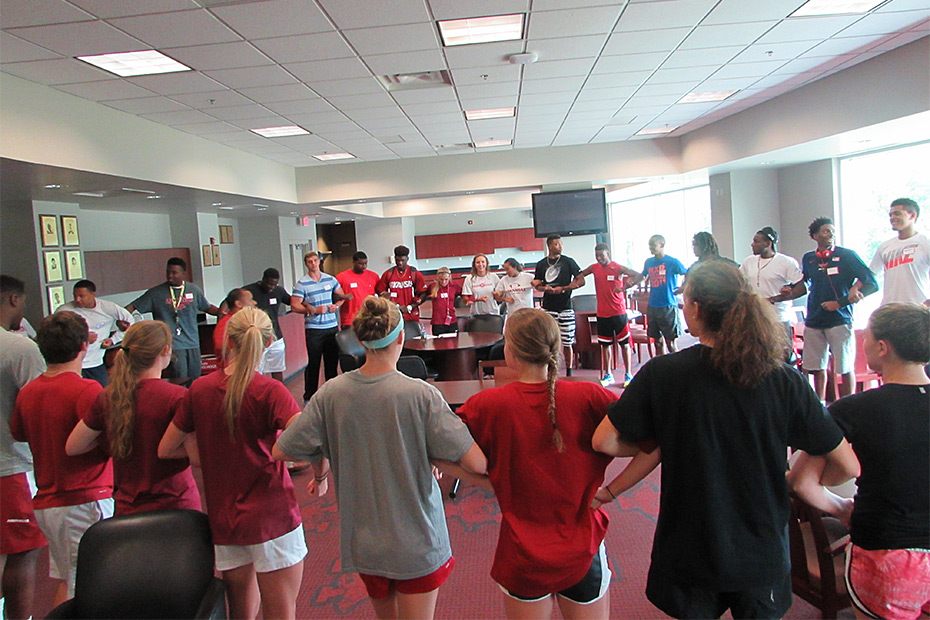 Fifth Annual Hogs In Transition Program a Success
FAYETTEVILLE, Ark. – This summer, 50 new student-athletes participated in the fifth annual Hogs In Transition (HIT) Program. The HIT Program is a high school to college transition series for first year and transfer student-athletes attending summer session at the University of Arkansas.
The overarching goal of HIT is to support each student-athlete as he or she makes the best use of the available resources. The main objective is to engage participants in interactive learning experiences that challenge their notions about college life, while addressing various issues faced by first year and transfer college student-athletes. The HIT Program challenges participants to share with and learn from their peers, supporting their overall transition to Arkansas while attending summer session.
Various campus departments and community leaders joined the HIT Program this summer to assist with the programming. It is with special thanks to them for taking time out of their busy schedules to speak with student-athletes. The planning committee was composed of Ragean Hill, JL Jennings, Justin Johnson, Christine Scheets and Dr. Charles Small.
Session topics included:
Transition to College Academics (July 1) with Christine Scheets and the Educational Enrichment Services staff
StrengthsQuest (July 6) with Dr. Charles Small and the Student-Athlete Development staff
Educational Fair (July 8) with College Advisors from numerous colleges on campus
Graduation and Eligibility/Professional Panel (July 13) with Ragean Hill and former Student-Athletes
Controllable Challenges (July 15) with guest speaker Jeff Janssen of Janssen Sports Leadership Center
Razorback Promise/Game of Life (July 20) with Student-Athlete Development and Academic staff
Summer Reflection/SWOT Analysis/Goal Setting (July 22) with Student-Athlete Development and Academic staff
For more information on Arkansas Athletics, follow @ArkRazorbacks and @HogLife_Scholar on Twitter.