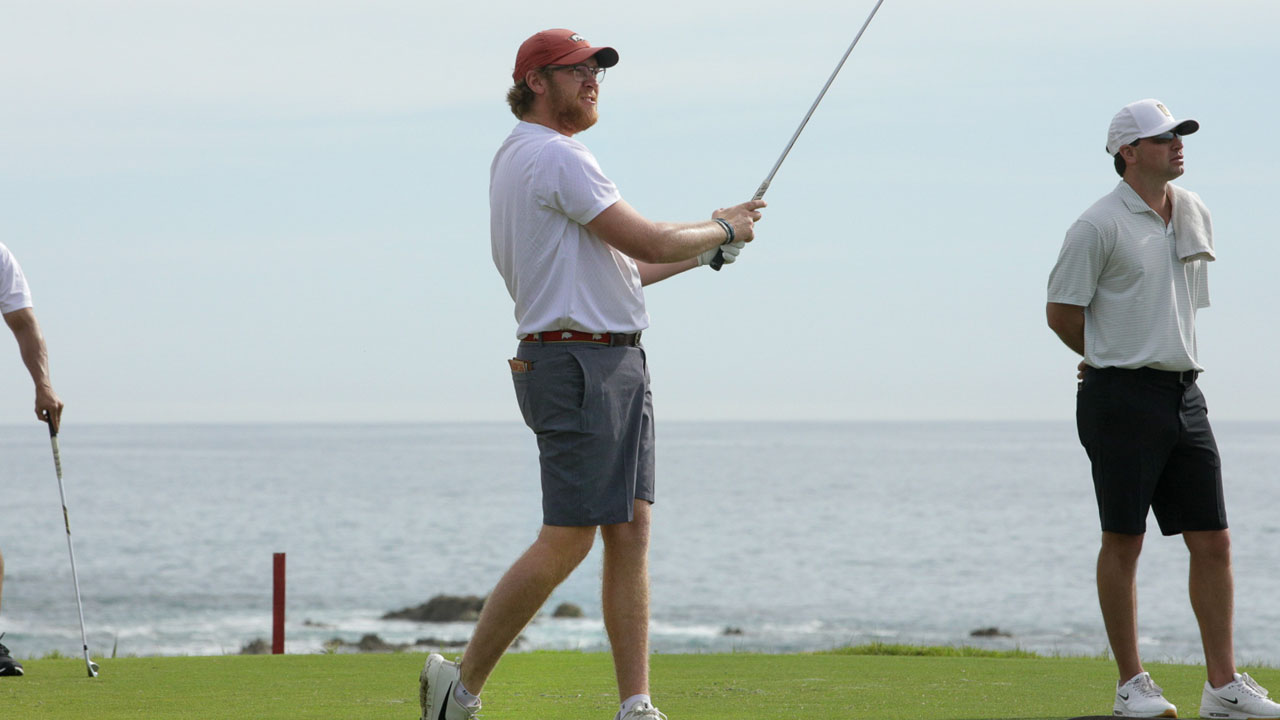 Five Razorbacks Shoot Par or Better on Day 2 in Cabo
CABO SAN LUCAS, Mexico – Five Razorbacks shot par or better in round two of the 10th Annual CABO COLLEGIATE, presented by CFO4Life, and Arkansas stands in 10th place with a 3-under-par score of 565 at Cabo del Sol's Cove Club Course (par 71, 6,807 yards).
Freshman William McDonald, playing as an individual, turned in his third career 69. Julian Perico and William Buhl each carded a 1-under-par 70 and Tyson Reeder and Luis Garza each shot an even-par 71.
Arizona, ranked 14th nationally, leads the 15-team field, 14 of which are ranked among the nation's top 50. The Wildcats turned in a 9-under-par round Monday and are 15-under for 36 holes to lead by three strokes. Vanderbilt, ranked 20th, is second (556), followed by #9 Arizona State (558), #47 Florida State (559), #35 Stanford (559), #25 Oklahoma State (561). #13 Baylor (561), #6 Texas A&M (562), #42 Alabama (563) and #50 Arkansas (565).
Arkansas continues to lead the field in playing the par 3's (3.06 scoring average) and its 42 birdies over two rounds are the second-best total.
Perico added five birdies in round two and leads the field with 13 birdies over 36 holes. Specifically, the sophomore birdied 4-of-his-last-6 holes Monday. He is also playing the par 3's with a 2.80 scoring average to rank second-best in the field. Perico finished with a 1-under 70 and is tied for 15th after two rounds with a 3-under-par score of 139.
Buhl, who is second in the field with 28 pars over 36 holes, had 13 pars on Monday to accompany two bogeys and three birdies. He has carded back-to-back rounds of 70 and is tied for 19th with a 2-under-par score of 140.
Reeder, who has 10 birdies in two days, had seven on Monday to shoot an even-par 71. The senior moved up two spots and is tied for 45th with a 36-hole score of 144. Fellow senior Mason Overstreet is also tied for 45th (71-73=144).
McDonald climbed 10 spots and is tied for 57th (77-69=146). Garza shaved 12 strokes off his opening-round score and jumped three places into a tie for 73rd (83-71=154).
The final round is set for Tuesday (Mar. 3).
For more information on Arkansas Men's Golf, follow @RazorbackMGolf on Twitter.