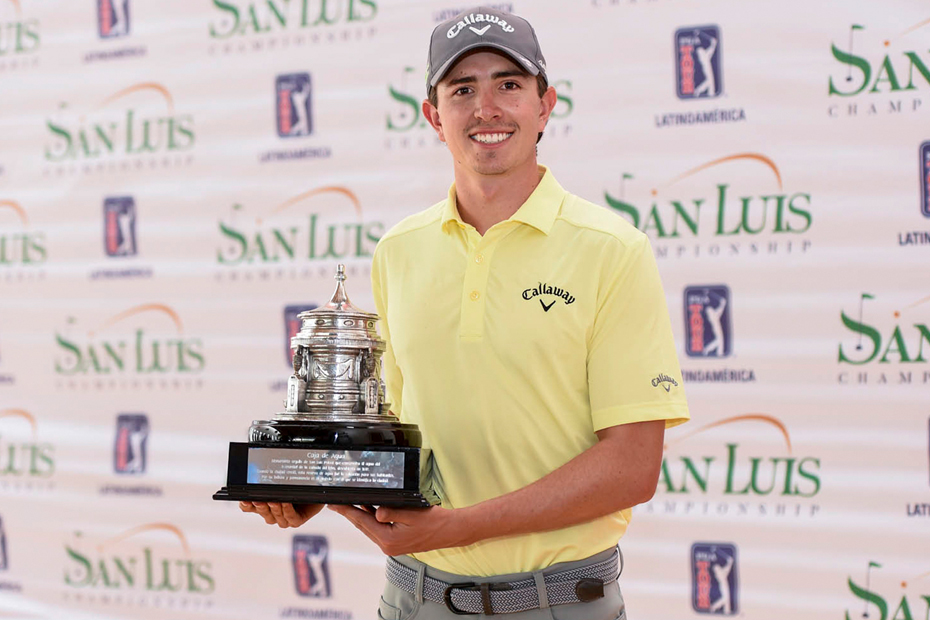 Former Razorback Nicolas Echavarria Wins Again, Moves to #1
SAN LUIS POTOSI, Mexico — Going into PGA TOUR Latinoamérica's scheduled summer break this past June, Nicolás Echavarría was ranked 23rd on the Order of Merit. A few months and three tournaments later and the entire trajectory of Echavarría 's season has changed. With a final-round 70 Sunday, Echavarría won his second tournament in three starts, capturing the San Luis Championship by four shots. Combined with his win at the Sao Paulo Golf Club Championship last month, this victory vaults Echavarría to the No. 1 position on the earnings' chart.
With a five-shot advantage when the final round began, a margin that bulged to an eight-shot advantage midway through the round, Echavarría only had to avoid major mistakes to record the victory. When a rough patch in his round came, with bogeys at Nos. 10, 12 and 14, it didn't really matter because of the birdies he made on his front nine—four in a row, starting at No. 3. Still, he looked at the leaderboard and became a little nervous.
"It wasn't fun (going) from an eight-shot lead to three shots after hole 14 when I three-putted. The nerves came in, but I was able to handle them," Echavarría explained. "Giving me (birdie) chances on 15, 16 and 17 was key. I saw Raul make a bogey on 16, which gave me a little bit of separation, and I feel very happy with how I finished."
Cortes and Smotherman both shot 5-under 67s, but they started so far behind Echavarría when the day began and ultimately had to make up too much ground.