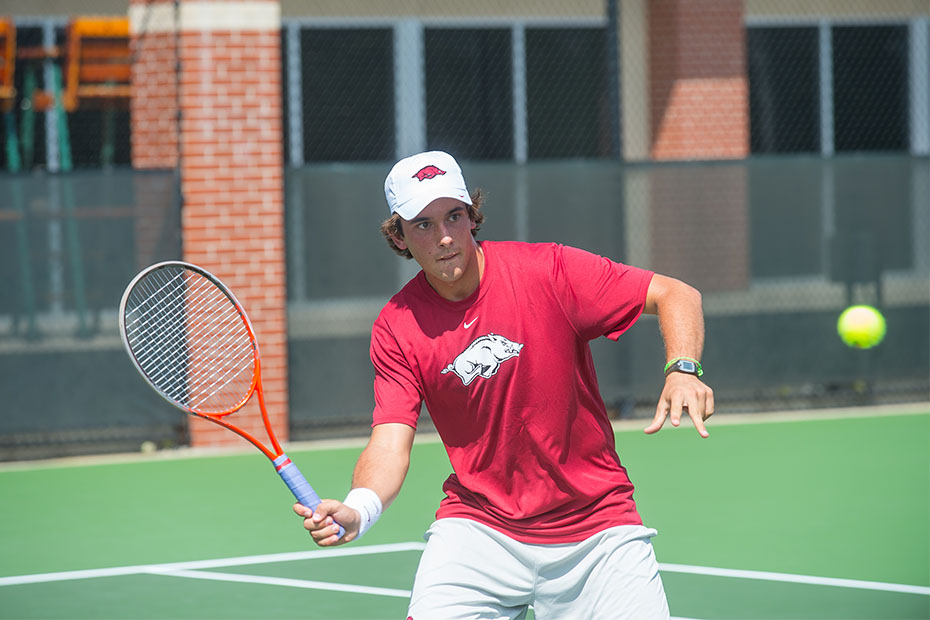 Four Advance to Quarterfinals
ATLANTA, Ga – Four University of Arkansas men's tennis players are advancing to the singles quarterfinals which is set for tomorrow morning. The Georgia Tech Invitational is being held by Georgia Tech at the Ken Byers Tennis Complex through Sunday afternoon.
Singles:
Santiago Munoz, David Herrerias, Mike Redlicki and Jose Salazar defeated their opponents Friday morning in the first round of singles play. Munoz and Herrerias will continue play in the B Singles White draw and Redlicki and Salazar will continue play in the A Singles Gold draw. All four will continue singles play in the quarterfinals on Saturday morning.
Doubles:
Redlicki and Munoz defeated Georgia State's Sebastian Acuna and Andrei Andrukhou 8-6 and will begin the semi-finals round Saturday in the A Doubles Gold draw. Herrerias and Salazar defeated Andrew Li and Xander Veys from Georgia Tech and will play in the semi-finals Saturday in the B Doubles White draw.
A Singles Gold Draw Quarterfinals:
Mike Redlicki vs. Gabriel Friedrich (South Carolina) 9a.m.
Jose Salazar vs. Joseph Van Dooren (Auburn) 9a.m.
B Singles White Draw Quarterfinals:
David Herrerias vs. Thomas Mayronne (South Carolina) 9:30 a.m.
Santiago Munoz vs. Igor Smelyanski (Tennessee) 8:30 a.m.
A Doubles Gold Draw Quarterfinals:
Santiago Munoz/Mike Redlicki vs. Elijah Melendez/Daniel Yun (Georgia Tech)
B Doubles White Draw Quarterfinals:
Herrerias/Salazar vs. Alex Fennell/Gabriel Friedrich (South Carolina)
Results will be posted throughout the weekend on the Georgia Tech men's tennis website and on UTSA.
For more information on Arkansas men's tennis, follow @RazorbackMTEN on Twitter.