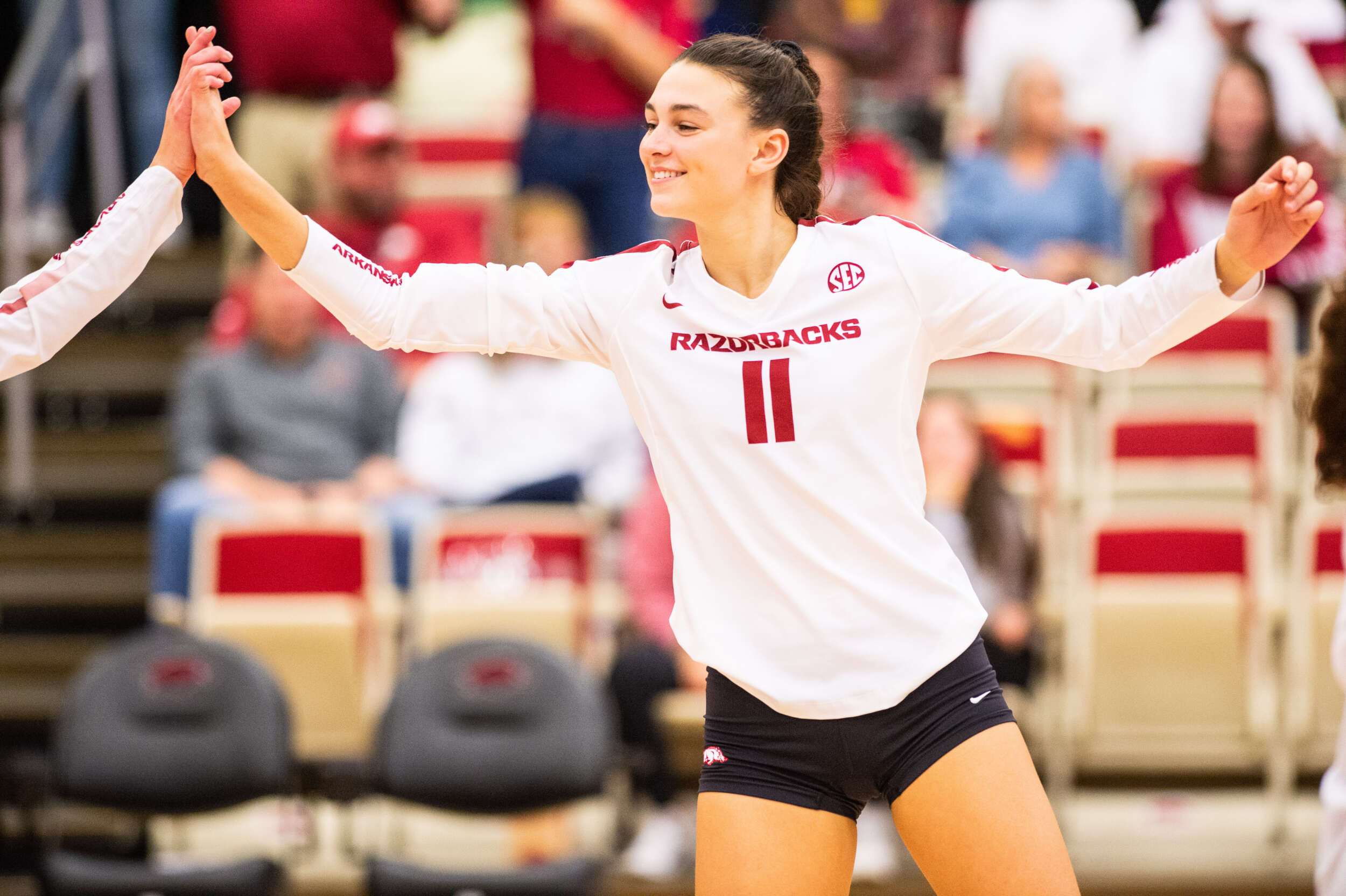 Four Hogs Invited to US Women's National Volleyball Team Open Tryouts
COLORADO SPRINGS, Colo. – USA Volleyball is gearing up for the U.S. Women's National Team Open Tryouts taking place Feb. 21-23 at the U.S. Olympic and Paralympic Training Center in Colorado Springs, with four Razorbacks Maggie Cartwright, Hailey Dirrigl, Jillian Gillen and Taylor Head vying for a chance to represent the Stars and Stripes.
"This is the third year we have sent athletes to the tryout," head coach Jason Watson remarked. "Each time, it's been a valuable and rewarding experience. It exposes our athletes to the best college volleyball players in the country."
"I am so grateful for the opportunity to represent the University of Arkansas at USA tryouts," Gillen said. "I am excited to play and compete with amazing volleyball players and learn from the best in the country."
Gillen had an immediate impact in her first year as a Hog by being named to both the SEC All-Freshman Team as well as the 2019 VolleyballMag.com All-Freshman Team. Fellow freshman Cartwright led the team in solo blocks (10) in the fall and was second on the team in kills (246) and service aces (26).
Despite an injury that sidelined Dirrigl for most of the 2019 season, she will be making her second appearance in as many years at the tryout.
"I'm looking forward to seeing how I compare to the other players in my position," said Dirrigl. "Being around different players will only make my game better and I can learn from others to apply to this upcoming season. I get to see where I need to improve and to better help the team for next year. I'm also a simply looking forward to competing! It's been almost six months since I've played against anyone other than my teammates and I can't wait to see what I'm capable of."
Lastly, newcomer Head, who has joined the Razorbacks this spring will be one of 19 athletes participating that have four years of college eligibility remaining.
The tryout will consist of 214 athletes from 94 colleges across the country for a potential spot on the U.S. Women's National Team and 56 open spots on the U.S. Collegiate National Team programs. The four Hog outside hitters are an extension of the 69 total outside hitters trying out, along with 47 liberos, 37 middles, 37 setters and 24 opposites.
The tryout will involve four sessions with three waves per session. Friday's first session goes from 2-8 p.m. MT, while Saturday's two sessions are at 8 a.m. and 8 p.m. The final session on Sunday begins at 7:30 a.m. MT with tournament style play, along with 16-18 athletes selected by the U.S. Women's National Team staff to participate in a "USA" training session. The Sunday session wraps up at 10:30 a.m. MT.
Three-time Olympic gold medalist and U.S. Olympic Hall of Famer Karch Kiraly and the U.S. Women's National Team staff will lead the tryout process.
"It means more for me to go than last year because since I was injured, I'm grateful to be healthy and strong enough to be able to compete against the best girls in the nation," Dirrgil explained.
"It's a taxing tryout and the level of play can be a challenge," Watson said. "The growth and learning they experience over the three days is invaluable. To be able to provide our athletes this opportunity, to have them represent the Razorbacks, serves to better our program. I'm excited to see how each athlete responds."
All sessions minus the USA training session on Sunday morning will be streamed live by clicking here. USA Volleyball will use #USAVtryout as the event hashtag for photos, notes, quotes and stories posted to its social media platforms Facebook, Snapchat, Twitter and Instagram under the handle @usavolleyball.
Selected athletes for the U.S. Women's National Team may begin their training in Anaheim, California, as early as the spring of 2020, or when an athlete's scholastic or professional club season has concluded.
Selections for the U.S. Collegiate National Teams will be made by the end of March.
Visit ArkansasRazorbacks.com for the latest information on all things Arkansas Volleyball. You can also find the Hogs on social media by liking us on Facebook (Arkansas Razorback Volleyball) and following us on Twitter and Instagram (@RazorbackVB).