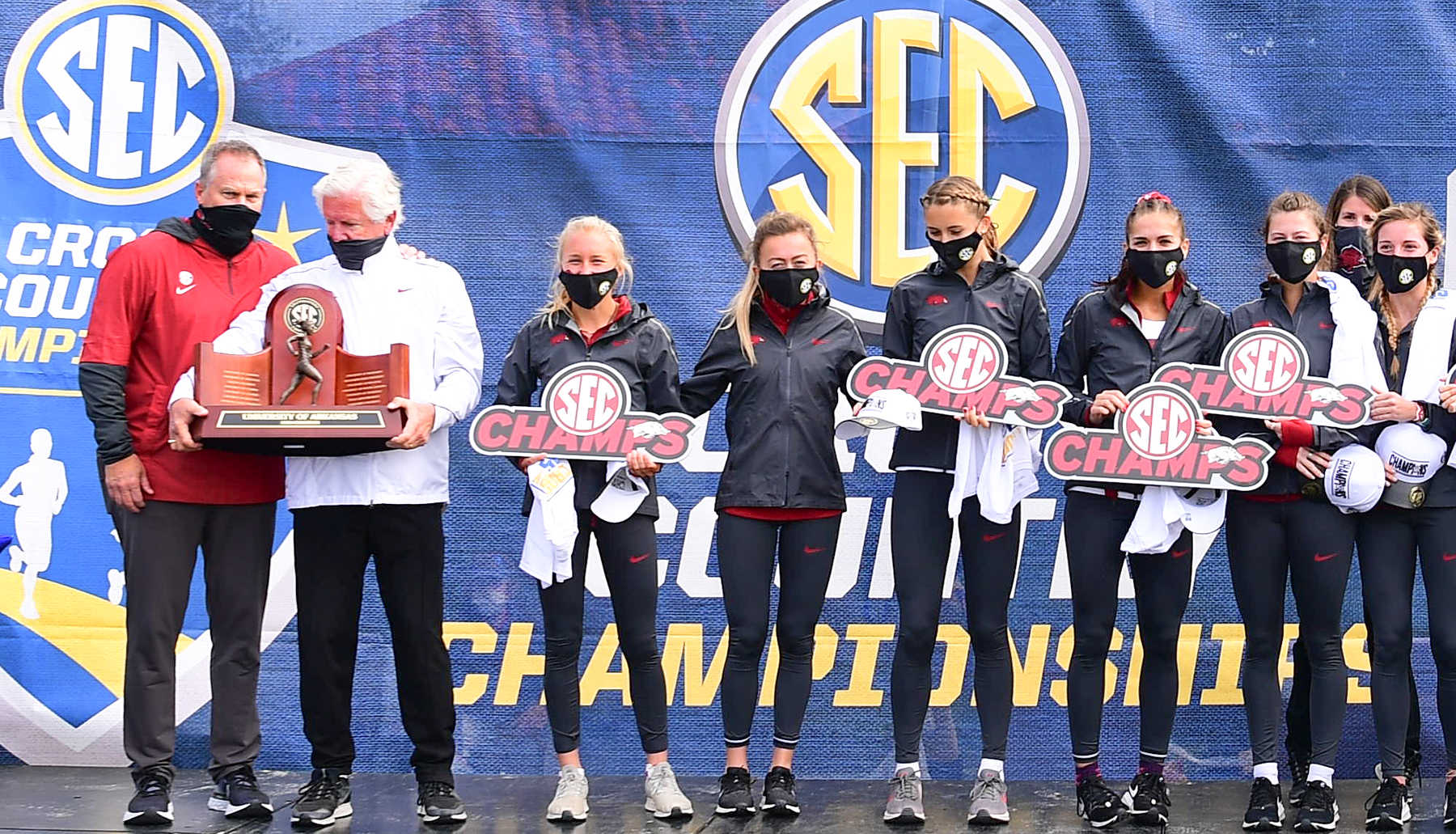 Four Impressive Distance Runners Sign With Razorbacks
National signing day became very prosperous for the Arkansas women's track and field program with four talented distance runners delivering their intention of becoming Razorbacks this week.
The crew of Arkansas signees includes Allie Janke of Spokane, Washington; Heidi Nielson of Katy, Texas; Carmie Prinsloo of Pretoria, South Africa; and Sydney Thorvaldson of Rawlins, Wyoming.
"Through the years of my time at Arkansas, we've had some great recruiting classes join the Razorback program," said Arkansas women's head coach Lance Harter, in his 31st season with the Razorbacks. "I think this crew as a whole is probably, if not the best, definitely in the top two.
"We're super excited about how all four of them have such great range, be it cross country, indoor or outdoor track. I look forward to them coming on board and complementing the freshman class we have now. We will look forward to real special things in the future."
Arkansas' future title aspirations remain on course with this signing class of distance runners, who will join a current freshman class, which includes London Culbreath, Taylor Ewert and Corie Smith, next August.
The Razorbacks recently enjoyed a 2019 campaign that included three national championships for indoor, outdoor and cross country seasons. The 2020 season included a pair of SEC team titles for the indoor and cross country seasons while NCAA Championship events were canceled or delayed.
"Success breeds success," stated Harter. "Because of the coronavirus and all the limitations and protocols in place, these are individuals who in some respects never even visited the campus. They were sold on the program, the vision of the program along with the care and concern that the Razorback family has for each and every athlete."
Allie Janke (North Central HS | Spokane, Washington)
Best times: 4:43.60 (1600), 4:42.91 (Mile), 10:10.83 (3200)
Janke, a five-time State champion in Washington for North Central HS, has claimed a pair of cross country titles along with three titles – two in 1,600m and one in 3,200m – during the track season. She has previously qualified for both the Nike Nationals and Foot Locker Nationals in cross country, placing fourth in the 2019 Nike Northwest Regional and finishing as runner-up in the 2018 Foot Locker West Regional.
After winning a mile race at the 2019 Portland Track Festival, Janke set her career best of 4:42.91 in the mile to place fourth in the Brooks PR Invitational.
Heidi Nielson (Cinco Ranch HS | Katy, Texas)
Best times: 4:29.33 (1500), 4:47.90 (1600), 4:46.31 (Mile), 9:46.71 (3000)
Nielson, who competes at Cinco Ranch HS, was a member of three USA national teams in 2019, which included the IAAF World Cross Country Championships held in Aarhus, Denmark. She also competed in San Jose, Costa Rica, during the Pan Am Junior Championships as well as in Port of Spain, Trinidad & Tobago, for the NACAC Championships in cross country.
Named to an all-decade team in the 1,600m by Texas Track & Field Coaches Association, Nielson won the 2019 Dream Mile in a 4:46.31 career best during the adidas Boost Boston Games and claimed the 2020 AAU Junior Olympics title at 1,500m. In the 2019 USATF Junior Championships, Nielson earned a silver medal in the 5,000m and added a fourth place in the 1,500m.
Carmie Prinsloo (Hoërskool Montana | Pretoria, South Africa)
Best times: 2:06.66 (800), 4:17.09 (1500), 9:18.92 (3000), 16:39.64 (5000)
Prinsloo, a 2018 Youth Olympian from Hoërskool Montana, is the fourth female distance runner from South Africa to become a Razorback, following Christine Kalmer, Dominique Scott and Carina Viljoen. This past March, in three races over a span of seven days, Prinsloo improved her times to 4:17.09 (1,500m), 16:39.64 (5,000m) and 2:06.66 (800m).
A two-time junior cross country champion, Prinsloo competed in the 2019 IAAF World Cross Country Championships in Denmark, placing 27th and finishing second among the South African squad as they were fifth in team scoring.
Competing in the 2019 Senior Championships in South Africa, Prinsloo claimed silver medals in the 1,500m and 10,000m. During the Youth Olympics, held in Buenos Aires, Argentina, Prinsloo finished fourth in the 3,000m and also placed 13th among a field of 52 athletes in a cross country race.
Sydney Thorvaldson (Rawlins HS | Rawlins, Wyoming)
Best times: 4:52.53i (1600), 4:53.12i (Mile), 9:21.76i (3000), 10:01.52i (2 Mile)
Named the Wyoming Gatorade Athlete of the Year five times, Thornvaldson has earned the honor three times in cross country and twice in track and field competing for Rawlins HS. In winning her fourth Wyoming State title in cross country recently, improving her record in the State meet to 16:59.6, Thornvaldson has collected 18 Wyoming State 3A titles, which includes seven each during indoor and outdoor seasons.
A bronze medalist at the 2019 Nike Cross Country Nationals, Thornvaldson has won the Nike Northwest Regional twice. This season she posted a career best of 16:19.0 on a 5,000m cross country course.