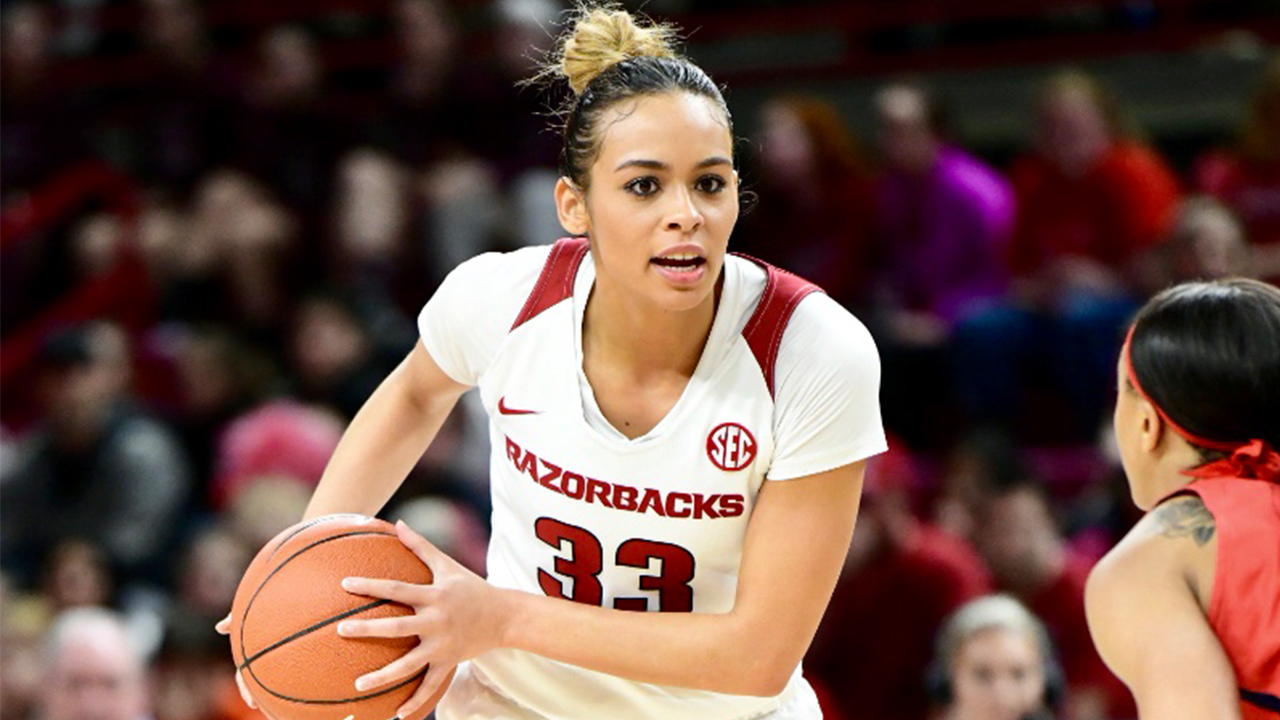 Four Players In Double Figures In Senior Day Win
FAYETTEVILLE, Ark. – The University of Arkansas women's basketball team had four players in double figures behind a 33-point performance from sophomore Chelsea Dungee in a 73-61 Southeastern Conference win on Senior Day in Bud Walton Arena on Sunday.
Dungee played 39 of 40 minutes helping send seniors Malica Monk, Bailey Zimmerman, Raven Northcross-Baker, Sydney Stout and Keiryn Swenson out with a win. Sophomore A'Tyanna Gaulden added 12 points in the win while Alexis Tolefree and Jailyn Mason scored 10 points each for Arkansas (17-11, 6-8 SEC).
The win over Ole Miss (9-19, 3-11 SEC) moves Arkansas one step closer to a first-round bye in the SEC Tournament which takes place March 6-10 in Greenville, South Carolina.
Ole Miss came out of the gates strong looking to avenge a 30-point loss to the Razorbacks earlier this season. The teams played to an 18-all tie after the first 10 minutes and it was a two-point Arkansas advantage, 35-33, at the half.
The Lady Rebels came out after the break and tried to slow the pace of play, but Arkansas was able to outrebound Ole Miss 9-6 while going on an 8-0 run to open up the lead. Dungee had eight points in the third frame while Mason added six for Arkansas helping the Razorbacks lead by as much as 11 late in the period.
Arkansas stretched the advantage to 15 points with just over a minute remaining when head coach Mike Neighbors cleared the bench letting every Razorback play.
Up Next
The Razorbacks host Missouri on Thursday in an 8 p.m. game that will be televised by the SEC Network. It is the final regular season home game of the year. Arkansas travels to Texas A&M March 3 before beginning postseason play at the SEC Tournament.
Notes
•Arkansas Starters: Alexis Tolefree, Malica Monk, Kiara Williams, Jailyn Mason, Chelsea Dungee
•Chelsea Dungee scored 10 points in the first quarter. It is the 10th time this year she has had double figures in a quarter. She finished with 33 points. It is her 14th game of the year with 20+ points and her third with 30+ points.
•A'Tyanna Gaulden had 12 points – her fourth game of the season in double figures.
•Alexis Tolefree finished with 10 points scoring in double figures for the 14th time this year.
•Jailyn Mason scored 10 points, and was in double figures for the eighth time.
For more information about Arkansas women's basketball, follow us on Twitter and Instagram at @RazorbackWBB and on Facebook at Facebook.com/RazorbackWBB. Be sure to subscribe to our YouTube Channel, "Kickin' It In The Neighborhood" for an inside look at the Razorback women's basketball program and check out The Neighborhood podcasts at CoachNeighbors.com.