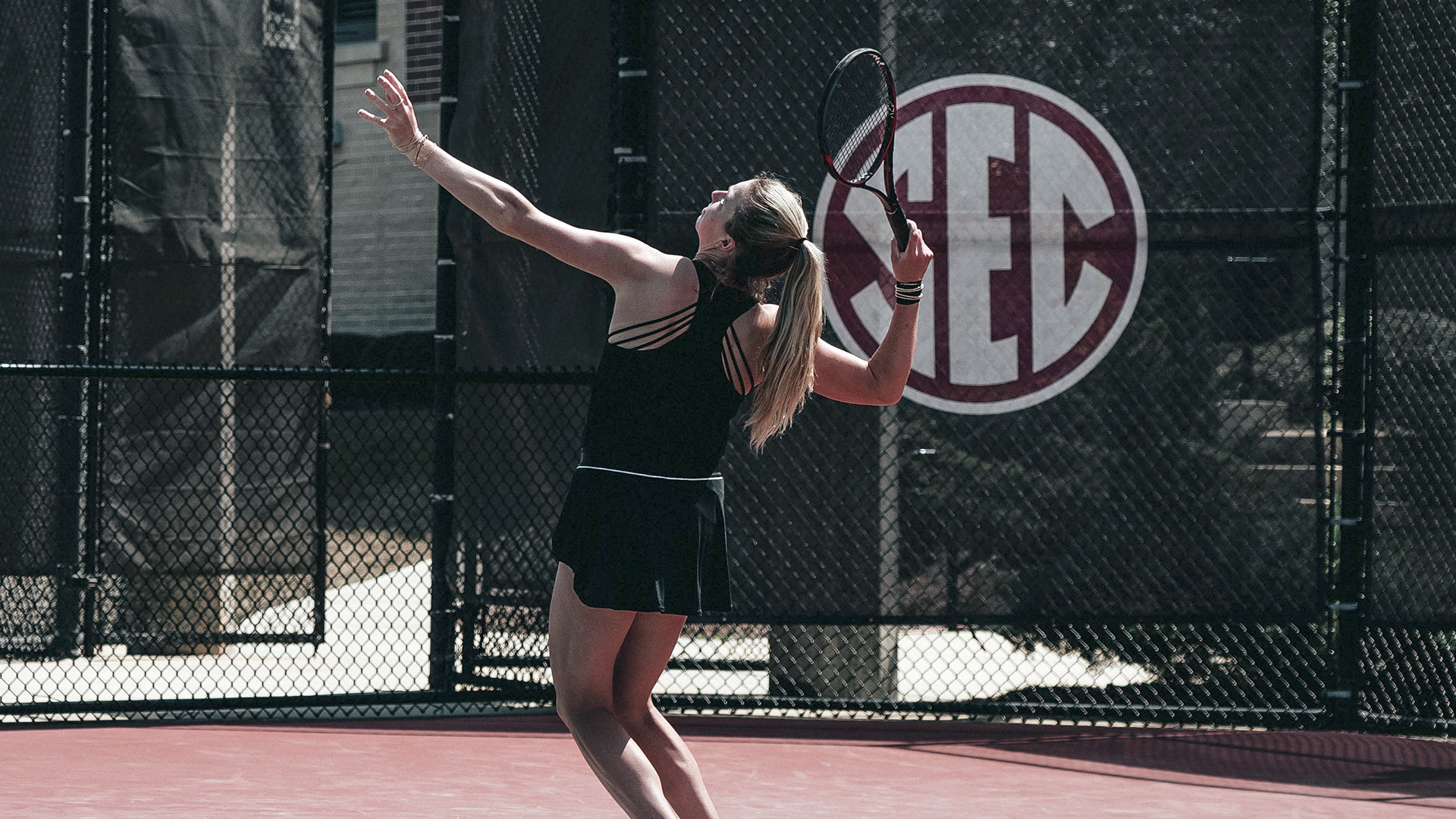 Women's Tennis Rolls by No. 38 Alabama with Four Singles Wins
TUSCALOOSA, Ala. – The No. 33 University of Arkansas women's tennis team closed out the weekend in Alabama with four singles wins to defeat the Crimson Tide, 4-1. Razorbacks improve to 12-5 on the season and 5-2 in Southeastern Conference play.
The Crimson got the early lead, claiming the doubles point with wins on court one and two. On court one, Tatum Rice and Morgan Cross dropped a close 7-5 match to Alabama's Loudmilla Bencheikh and Anne Marie Hiser to give them the lead. The duo of Kelly Keller and Indianna Spink were leading 6-5 before the point was clinched.
In singles, the Razorbacks were off to a hot start, claiming the first set on five courts.
On court six, junior Laura Rijkers tied the match at 1-1 with a straight-set 6-3, 6-1 win and Morgan Cross followed with a 6-4, 5-2 win on court five to put Arkansas up 2-1. The Crimson Tide struck back taking the second set on courts one and two to force a third set tiebreakers, but Indianna Spink showed up to split the sets on court three as well.
Sophomore Lenka Stara struck next for the Razorbacks, defeating Alabama' Anna Parkhomento 7-6, 6-4 on court four to put Arkansas within one point of the match win.
On court one, graduate Tatum Rice earned her second victory of the weekend to clinch the match win for the Razorbacks. Rice took the first set 6-2, but Bencheikh split the match with a 2-6 win in the second. Tatum continued to roll taking the third-set tiebreaker 6-3 over Alabama's No. 74 Loudmilla Bencheikh. Rice improves to 7-5 in the No.1 spot and 4-4 against nationally-ranked opponents.
The Razorbacks return home next weekend to continue conference play, hosting No. 31 Tennessee on Friday, April 1 and the No. 7 Georgia Bulldogs on Sunday, April 3 at the Billingsley Tennis Center.
For the latest information on all things Arkansas Women's Tennis, follow the Hogs on social media by liking us on Facebook (Arkansas Razorback Women's Tennis) and following us on Twitter and Instagram (@RazorbackWTEN).