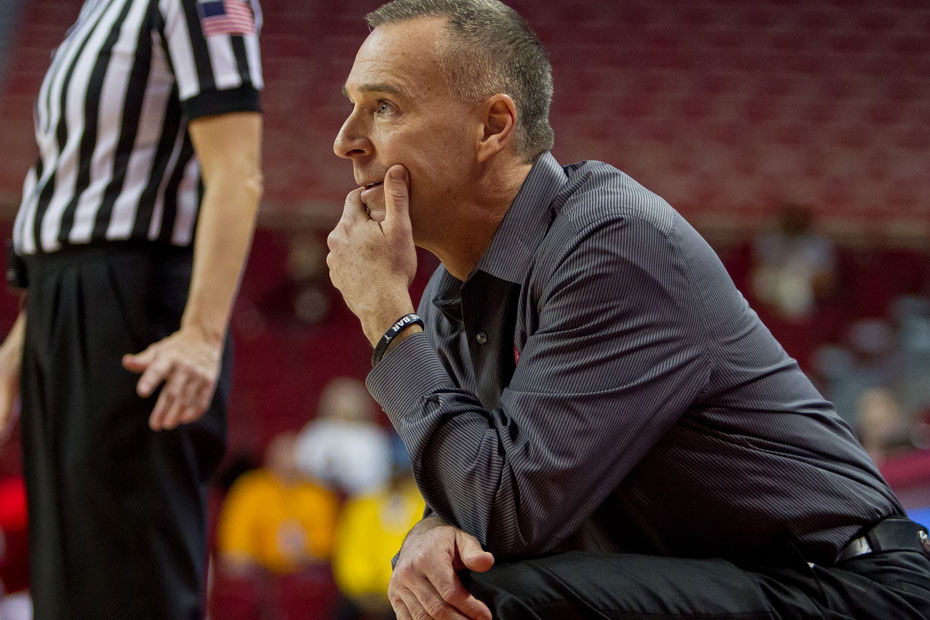 Freeman Has Career Day At Butler
INDIANAPOLIS, Ind. –Senior Melissa Wolff and junior Jessica Jackson had double-doubles and freshman Briunna Freeman posted career numbers but Arkansas fell at Butler, 63-57, in historic Hinkle Fieldhouse Sunday.
The loss drops Arkansas to 2-7 on the year while Butler moves to 5-5. Jackson scored a team-high 15 points and grabbed 12 boards, took two charges and had three blocks. Wolff fouled out with 10 points and 10 rebounds while Freeman added nine points and eight rebounds in what was a balanced effort by Arkansas.
The first period was a game of streaks with both Arkansas and Butler suffering through some dry spells. Arkansas put together a balanced effort finishing the period with four players with four points each in the opening 10 minutes. Trailing 18-20 with the clock winding down, Arkansas got a steal, shot and an athletic put-back by Briunna Freeman to tie the game at the break.
It was definitely colder inside Hinkle Fieldhouse than outside in Indianapolis in the second period as both teams started 0-for-6. Freeman heated up for Arkansas first scoring five points and hitting the boards hard. Both teams had just two baskets at the 4:33 mark of the second frame but the Razorbacks held a 27-24 lead at the under-five minute timeout thanks to nine offensive rebounds and a 19-11 rebounding lead over the Bulldogs.
Butler found some offense late in the second behind six points from Michelle Weaver and went on an 11-0 run to reclaim the lead, 35-29, before halftime. Arkansas went 3-for-18 in the second 10 minutes and left the floor shooting just 31.4% in the first half struggling through a 1-10 performance with a 3:28 minute scoring drought. Freeman led Arkansas with seven points and she and senior Melissa Wolff had six rebounds each.
Butler moved into zone defense at the mid-point of the second period and remained in that set for the balance of the game. That defense forced a four-plus minute scoring lapse for Arkansas as the Bulldogs extended the lead. The Razorbacks finished the period going 1-for-6 and trailed 39-52 going into the final 10 minutes.
The teams were even in the second half, both scoring 28 points but the second period deficit was too much to overcome. Arkansas outrebounded Butler 46-35 but shot just 27% on the game. Arkansas missed 54 shots and went 4-for-24 from beyond the arc and battled through several long scoring lapses in the game.
FROM COACH JIMMY DYKES
I hate to lose but I hate to lose this way. We missed way too many shots. We couldn't get the ball inside and when we did, we couldn't make the shots. It's very disappointing. I thought we could win this ballgame. We are so young and we make mistakes but we'll work on that and get better.
NOTES
Starters: Arkansas: Malica Monk, Devin Cosper, Jordan Danberry, Melissa Wolff, Alecia Cooley
Butler: Brittney Ward, Belle Obert, Michelle Weaver, Sydney Buck, Blaire Langlois
Arkansas is 2-0 all-time against Butler
Arkansas held Butler to 66 points in each of the first two meetings (1992, 1994)
In the first half Arkansas
Had a 3:28 minute scoring drought
Went 2-for-17 to head the half
Was led by Briunna Freeman with seven points
Was led on the boards by Briunna Freeman and Melissa Wolff with six each
Was outscored 15-9 in the second period
Lead Butler 23-17 on the boards
It is the seventh consecutive game in which Arkansas has been outscored in the second period
Jessica Jackson took two charges on the defensive end of the floor
Jessica Jackson had her third double-double of the year and her 13th in her career
Melissa Wolff had a double-double, her first of the year and seventh of her career
Arkansas outrebounded its eighth opponent in 10 games
UP NEXT
Arkansas breaks from competition for a week for finals before facing its third neutral-site opponent in No. 5/6 Texas Dec. 20, as part of the Big 12/SEC Challenge in Oklahoma City, Oklahoma.
The Razorbacks host Mississippi Valley State Dec. 28 and New Orleans Dec. 30 as the non-conference schedule comes to an end.
For more information on Arkansas women's basketball, follow @RazorbackWBB on Twitter.