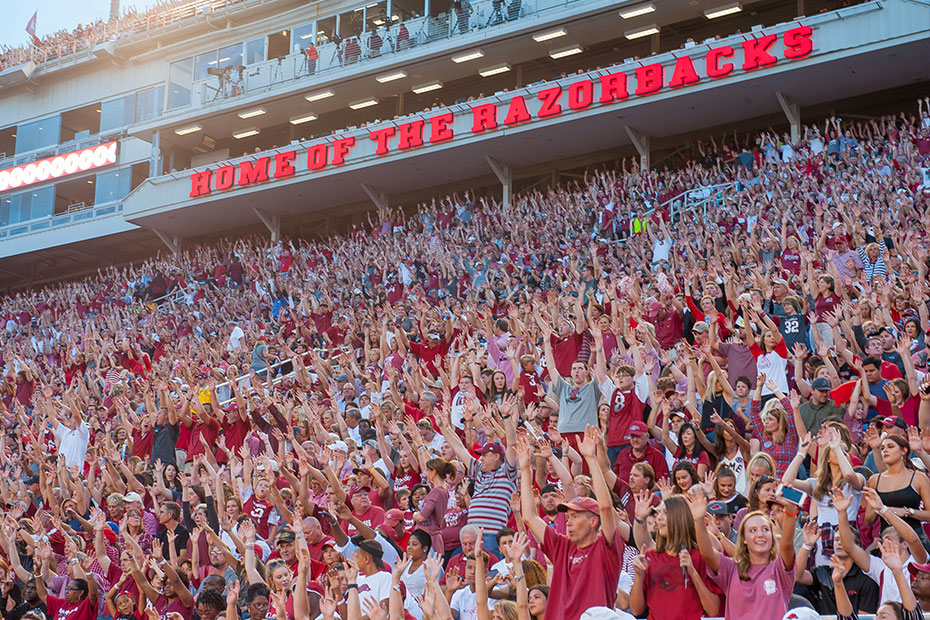 Fundraising Tops $38.4 million
FAYETTEVILLE, Ark. – The University of Arkansas Department of Intercollegiate Athletics and the Razorback Foundation collaborated to raise more than $38.4 million in support of Razorback student-athletes in the past fiscal year.
The fundraising total included $20.5 million in the Razorback Foundation's Annual Fund with the remaining support coming from capital gifts, donations to the Donald W. Reynolds Razorback Stadium Renovation and North End Zone addition and other private gifts.
The $38.4 million total is the third-highest fundraising total since the Razorback Foundation was formed. In 2015, a $10.65 gift from the Jerry and Gene Jones Family led to a total of $47.3 million. In 2016, the $50.1 million total included multiple significant capital gifts made in conjunction with the new Founders Suites that will open in 2018 as part of the Donald W. Reynolds Razorback Stadium Renovation.
"Thanks to the generosity of our Razorback Foundation members, season ticket holders and others who financially support our program, we are able to continue to invest in our mission of developing student-athletes through intercollegiate athletics," Vice Chancellor and Director of Athletics Jeff Long said. "To exceed $38 million, the third highest total in our history, without the benefit of signature naming gifts which we have benefited from in our two highest years, is a credit to our entire team and most of all to those who have partnered with us to help make a difference in the lives of our more than 460 student-athletes."
Razorback Athletics is one of 22 financially self-sustaining intercollegiate athletics programs in the nation. Athletic Department funds are generated through ticket sales, SEC Conference distributions, private gifts and contract revenue from multimedia and sponsorship rights.
"Without the support of Razorback Foundation members, we simply would not be able to support our student-athletes and coaches at the level necessary to successfully compete in the Southeastern Conference and nationally," Razorback Foundation Executive Director and General Counsel Scott Varady said. "I want to express my gratitude to all those who have taken an active role in supporting our program with gifts to the Annual Fund, the stadium renovation and expansion, or contributed as a season ticket holder or through our Razorback Clubs. The passion of Razorback fans is unmatched and is helping us secure the future of a program we all love."