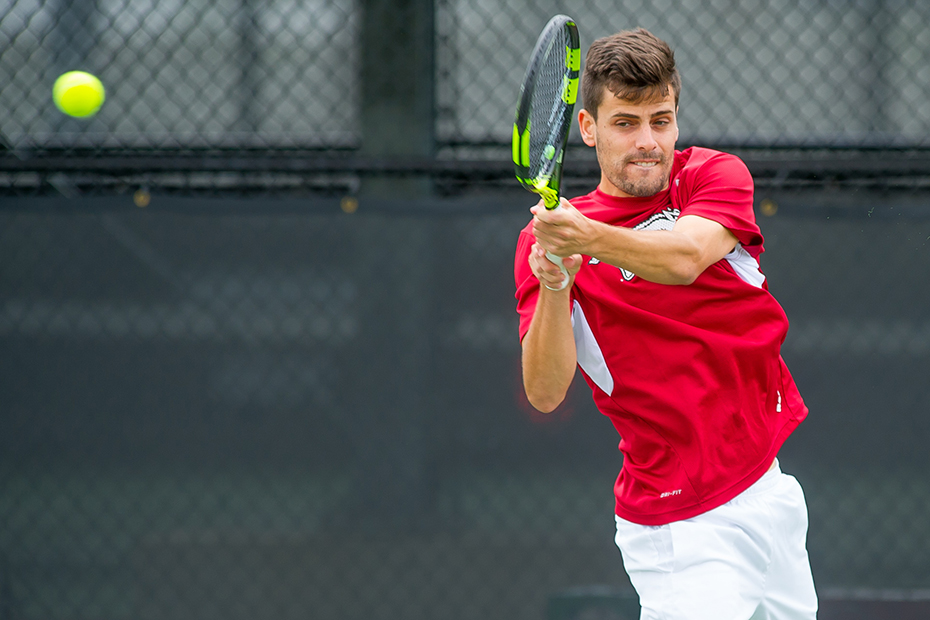 Gamecocks Edge Arkansas On Senior Day
FAYETTEVILLE, Ark. — Coming down to the final singles match, the Arkansas men's tennis team lost a 4-3 heartbreaker to South Carolina on Sunday afternoon at George M. Billingsley Tennis Center. It was Senior Day for the home squad, as William Albanese, Giammarco Micolani and Santiago Munoz were recognized prior to the match.
With the team score tied 3-3, Andrew Schafer edged the Razorbacks' Munoz at No. 2 singles in a three-set thriller to clinch the match for the visiting Gamecocks. The loss dropped No. 12 Arkansas to 19-6 overall and 7-5 in Southeastern Conference play, as the team finished tied for fourth in the final SEC standings.
"I was very pleased with our competitiveness and our fight today, but South Carolina certainly deserved to win the match," head coach Andy Jackson said. "We're really proud of our seniors and looking forward to seeing if we can bounce back and do well at the SEC Tournament."
QUICK HITS
• The No. 3 team of Santiago Munoz and Johan den Toom defeated USC's Yancy Dennis and Andrew Schafer for their first SEC victory since March 13 against LSU.
• The No. 23 duo of Giammarco Micolani and Mike Redlicki clinched the doubles point over USC's Gabriel Friedrich and Harrison O'Keefe for their first win since March 23 at Texas.
• The Razorbacks won the doubles point for the first time since April 3 against Saint Louis, but lost the overall match while doing so for the only second time this season. The team is now 11-2 in such instances.
• No. 76 Jose Salazar beat No. 60 Gabriel Friedrich in his first appearance this season at the top singles spot. With the victory, Salazar improved to 7-4 against ranked opponents.
• Johan den Toom won his second SEC match of the year against Wood Benton at the No. 6 spot. den Toom has won two of his last four singles matches overall.
UP NEXT
Due to tiebreaker scenarios, the Razorbacks will be the No. 6 seed in the SEC Tournament. The team's first match will be a quick rematch against the 11th-seeded Gamecocks on Thursday, April 21 at 9 a.m. CDT in Columbia, South Carolina. The winner moves on to face No. 3 seed Texas A&M on Friday, April 22; also at 9 a.m.
TODAY'S RESULTS
DOUBLES
1. No. 23 Giammarco Micolani/Mike Redlicki (AR) def. Gabriel Friedrich/Harrison O'Keefe (USC) 6-1
2. Jose Salazar/Adam Sanjurjo (AR) vs. Alex Fennell/Thomas Mayronne (USC) 4-3, unfinished
3. Santiago Munoz/Johan den Toom (AR) def. Yancy Dennis/Andrew Schafer (USC) 6-2
SINGLES
1. No. 76 Jose Salazar (AR) def. No. 60 Gabriel Friedrich (USC) 6-1, 6-3
2. Andrew Schafer (USC) def. Santiago Munoz (AR) 4-6, 7-5, 6-4
3. Harrison O'Keefe (USC) def. Giammarco Micolani (AR) 6-0, 6-2
4. Alex Fennell (USC) def. David Herrerias (AR) 6-0, 6-2
5. Thomas Mayronne (USC) def. Adam Sanjurjo (AR) 7-5, 6-4
6. Johan den Toom (AR) def. Wood Benton (USC) 7-5, 6-4
ORDER OF FINISH
Doubles (3,1); Singles (3,4,1,6,5,2)