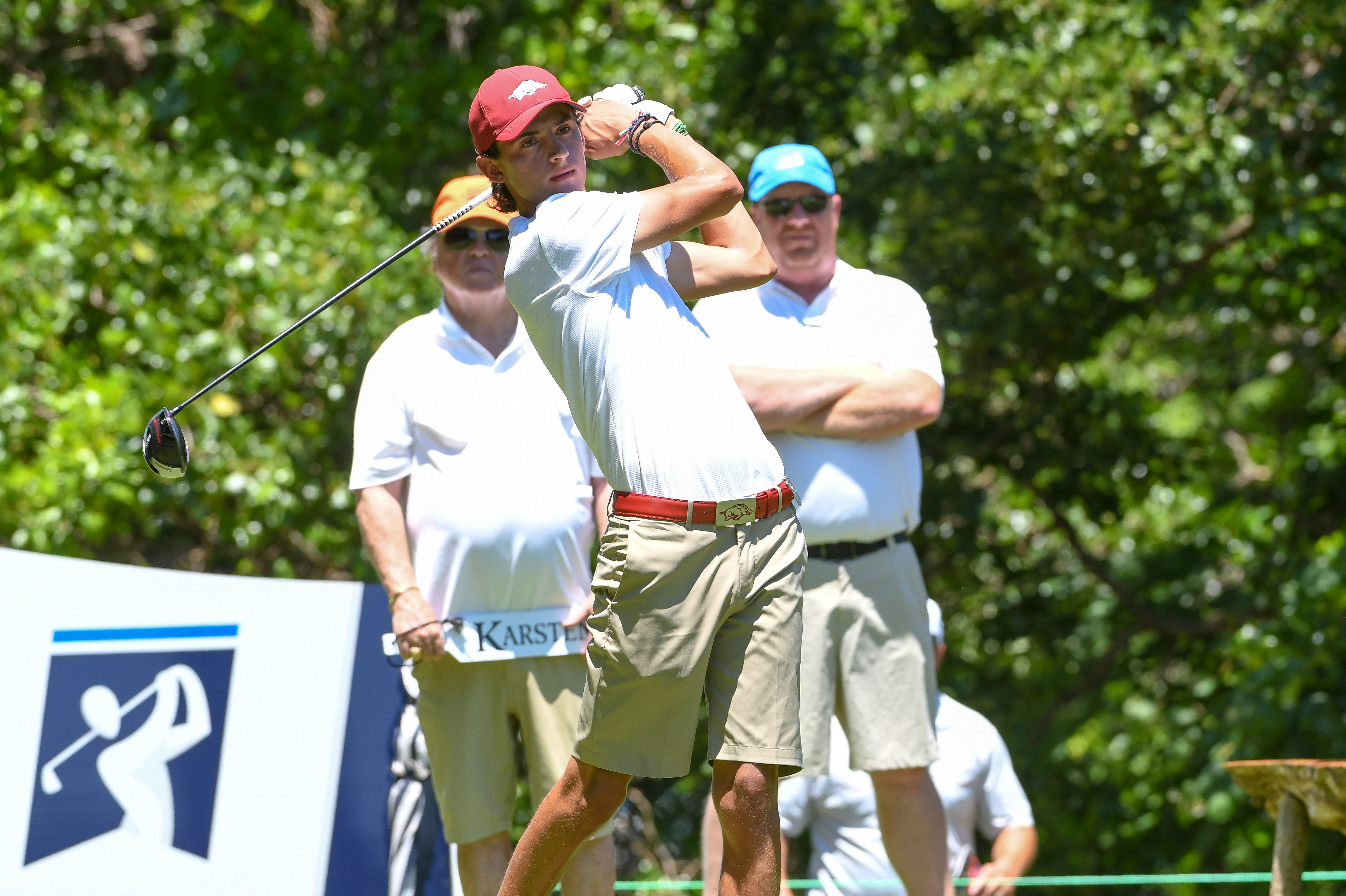 Garza Leads Razorbacks to 4th-Place at Prestigious Carmel Cup
Carmel Cup Final Results (HTML)
Carmel Cup Final Results (PDF)
PEBBLE BEACH, Calif. – For the second straight day, Luis Garza was bogey-free as he shot a career-low 64 (8-under par) Sunday and posted a three-day total of 201, which ranks as the third-best single-round score and third-best three-round score in school history, to lead #17 Arkansas to a fourth-place finish at the season-opening Carmel Cup. Played at historic Pebble Beach Golf Links, the eight-team Carmel Cup featured six of the nation's top 30 teams.
In addition to Garza on Sunday, Arkansas as led by freshman Julian Perico, who shot a 5-under-par 67, as the Razorbacks finished with a team total of 28-under-par 1052 (356-347-349). Third-ranked Oklahoma (1034) held off #30 Georgia (1036) to win the event, followed by top-ranked Oklahoma State (1045) and Arkansas (1052). TCU (1060) finished in fifth, eight shots behind the Razorbacks, with #5 Vanderbilt (1065), #15 Texas Tech (1073) and Mississippi State (1076) completing the field.
Garza climbed four spots in the final round to finish tied for third individually, marking his sixth career top-5, after rounds of 70-67-64 for a 54-hole total of 15-under par 201, two strokes off the winning score. Only two Razorbacks have shot a lower 18-hole score as both Matt Bortis (2005-06) and Darren Holder (2002-03) carded a school-record 63. Also, Garza's 54-hole score of 201 ranks third in the Arkansas record book behind Sebastian Cappelen's total of 199 in 2010-11 and Mason Overstreet's score of 200 last fall at the Jerry Pate Invitational.
"To open the season so early in the school year, in an event as tough as the Carmel Cup and at a venue like Pebble Beach, I could not be prouder of these guys performances," head coach Brad McMakin said. "It was a solid way to start the year and they played well all week. I can't say enough about Luis turning in one of the best 18-hole and 54-hole performances in school history. With our program history, it is really saying something to put your name among the all-time top five. Everyone had really good moments throughout the weekend that they can build on for the future."
Garza, who only had two bogeys for the weekend including one on the 18th hole in the opening round Friday, had a clean scorecard over his final 36 holes, shooting a 5-under-par 67 Saturday and carding his 64 Sunday. The junior's final round started with a par before he got to 5-under through six holes with an eagle on the par-5, 2nd hole and birdies on holes three, four and six. After reeling off six straight pars, Garza went on another run with birdies on holes 13, 15 and 16 before recording pars on his final two holes to shoot 64.
Mason Overstreet turned in his 13th career top 20 finish as the junior tied for 13th with a score of 6-under-par 210. Overstreet carded rounds of par or better in all three rounds this weekend with scores of 68-70-72. His even-par round Sunday featured three bogeys, three birdies and 12 pars.
Perico was the Razorbacks' big mover on Sunday as the freshman jumped 10 spots in the standings to tie for 22nd in his collegiate debut. He improved each day as he shot a 2-over 74 in the opening round, knocked two shots off that total in round two and shot his 67 Sunday. Like Garza, Perico posted an eagle on the par-5, 2nd hole and, after six straight pars, made the turn at 3-under thanks to a birdie on the par-4, 9th hole. He backed that up with birdies on holes 10 and 13. Perico would drop a shot on the par-4, 15th hole, but closed his inaugural tournament with a birdie on the iconic 18th hole.
Tyson Reeder and William Buhl each tied for 28th with matching 54-hole scores of 2-under-par 214. Reeder (71-70-73) got off to a slow start Sunday, standing at 3-over after three holes, but had birdies on holes four, 10 and 18 to shoot a 1-over 73. Buhle only had one square on his scorecard, a bogey on the 17th hole, along with 17 pars to record his 1-over par 73.
Freshman Wil Gibson finished in a tie for 43rd. He had his most consistent round of the weekend Sunday, shooting a 1-over-par 73 thanks to a pair of birdies on the front nine and three bogeys on the back.
Arkansas will have a quick turnaround as the squad travels to Minnesota for the Gopher Invitational, also one of the nation's elite fall events, Sept. 9-10.
NOTES:
Arkansas led the field with 219 pars with Georgia being the next closest with 207.
Arkansas was the co-leader with five eagles along with TCU.
Arkansas had the second-best scoring average (4.67) in the field on par 5's with Vanderbilt leading at 4.65.
Arkansas had the third-best scoring average (4.02) in the field on par 4's.
Tyson Reeder and Julian Perico each had 38 pars, the second-best total behind Brad Dalke (Oklahoma) and Ty Waller (Georgia), each with a tournament-best 39.
Razorback Scores at Carmel Cup (FINAL)
| Place | Player | Score |
| --- | --- | --- |
| T3 | Luis Garza | 70-67-64=201 (-15) |
| T13 | Mason Overstreet | 68-70-72=210 (-6) |
| T22 | Julian Perico | 74-72-67=213 (-3) |
| T28 | Tyson Reeder | 71-70-73=214 (-2) |
| T28 | William Buhl | 73-68-73=214 (-2) |
| T43 | Wil Gibson | 75-76-73=224 (+8) |
Carmel Cup Team Scores (FINAL)
| Place | Team | Score |
| --- | --- | --- |
| 1. | #3 Oklahoma | 340-336-358=1034 (-46) |
| 2. | #30 Georgia | 352-339-345=1036 (-44) |
| 3. | #1 Oklahoma State | 350-350-345=1045 (-35) |
| 4. | #17 Arkansas | 356-347-349=1052 (-28) |
| 5. | TCU | 354-354-352=1060 (-20) |
| 6. | #5 Vanderbilt | 361-352-352=1065 (-15) |
| 7. | #15 Texas Tech | 361-350-362=1073 (-7) |
| 8. | Mississippi State | 361-354-361=1076 (-4) |