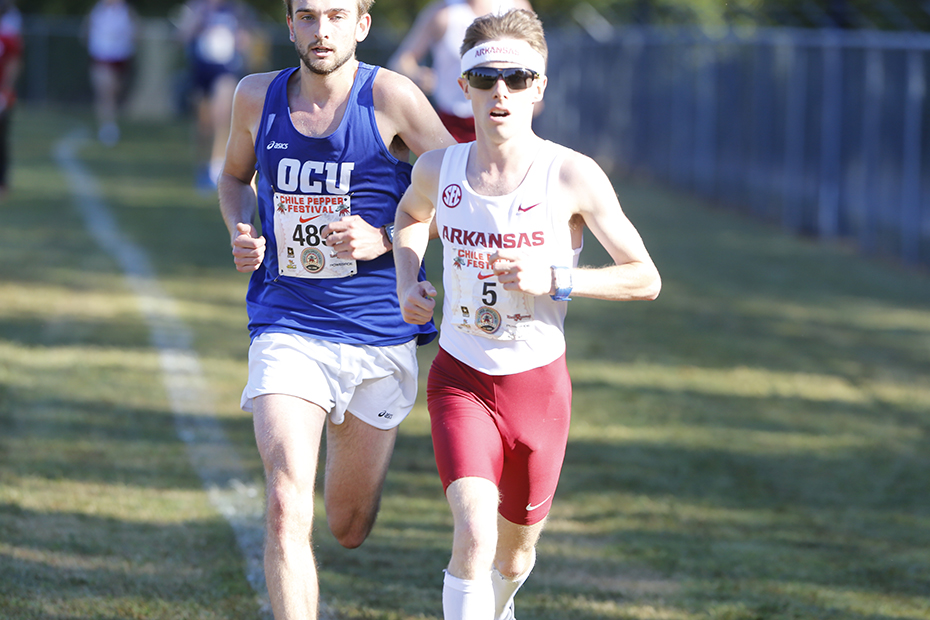 George Returns To Top Of Chile Pepper Podium
FAYETTEVILLE — Fresh off his exceptional 2017 debut at the Iona Meet of Champions, Arkansas senior Alex George returned to the top of the Chile Pepper Festival podium on Saturday at Agri Park.
George captured the men's collegiate 10K title in 29 minutes, 45.4 seconds, winning the event by a 10-second margin ahead of the meet runner-up, Oklahoma City's Mark Shaw.
"It as a good race simulation for the end of the year," George said. "I think it's definitely going to help the younger runners who have not raced so many 10Ks. Even the more experienced runners like me and Jack [Bruce], we have only raced a handful of NCAA 10Ks, so any chance we get to go this distance it is good for us. It's a different type of hurt. You have to go more aerobic, just run it differently."
The fifth-ranked program did not disappoint its home crowd, claiming the team title with a score of 37 points.
"I'm excited about the results," head coach Chris Bucknam said. "We've got three outstanding seniors; Jack Bruce, Austen Dalquist and Alex George and they ran a very controlled race. I wanted to stretch their fitness a little bit early in the season. I thought it would be proactive for us change the 8K to 10K early in the season and they all responded well. I like what I saw today. We also had two unattached athletes that finished ninth and tenth, Matt Young and Ryan Murphy. Both of those athletes show great promise. It's been a good day today and it was a good start to our season."
First Five
Brisbane, Australia native Jack Bruce was the second Razorback to cross the Agri Park finish line, completing his first 10K of the season in 30:05.6.
"I got to about the 7K and could feel that I hadn't raced in a while so I just tried to hold rhythm and finish strong," Bruce said. "I was able to do that and finished third so this race was a good indication of where I'm going."
Right behind Bruce was Austen Dalquist who placed fourth, clocking 30:12.2 over the distance in his senior debut for the Hogs. Juniors Kyle Levermore and Cameron Griffith, who finished 17th and 18th, respectively, rounded out Arkansas' top five.
Up Next
Following two week break from action Bucknam's crew will return to competition in Louisville, Kentucky at Pre-Nationals Saturday, Oct. 14.
Arkansas Results (Overall)
1. Alex George – 29:45.40
3. Jack Bruce – 30:03.60
4. Austen Dalquist – 30:12.20
17. Kyle Levermore – 30:44.10
18. Cameron Griffith – 30:45.00
41. Ethan Moehn – 31:14.70
51. Colin O'Mara – 31:33.80
88. Graham Brown – 32:28.80
2017 Cross Country Schedule
Fri, Sept. 1 – Cowboy Preview (Stillwater, Okla.) 1st of 4
Fri, Sept. 15 – Iona College Meet of Champions (New York, N.Y.) 2nd of 11
Sat, Sept. 30 – Chile Pepper Festival (Agri Park) 1st of 40
Sat, Oct. 14 – Pre-Nationals (Louisville, Ky.)
Fri, Oct. 27 – SEC Championship (Athens, Ga.)
Fri, Nov. 10 – NCAA South Central Regional (College Station, Texas)
Sat, Nov. 18 – NCAA Championship (Louisville, Ky.)
*italicized meet denotes completion.
For more information on Arkansas track and field including in-meet updates, follow @RazorbackTF on Twitter.