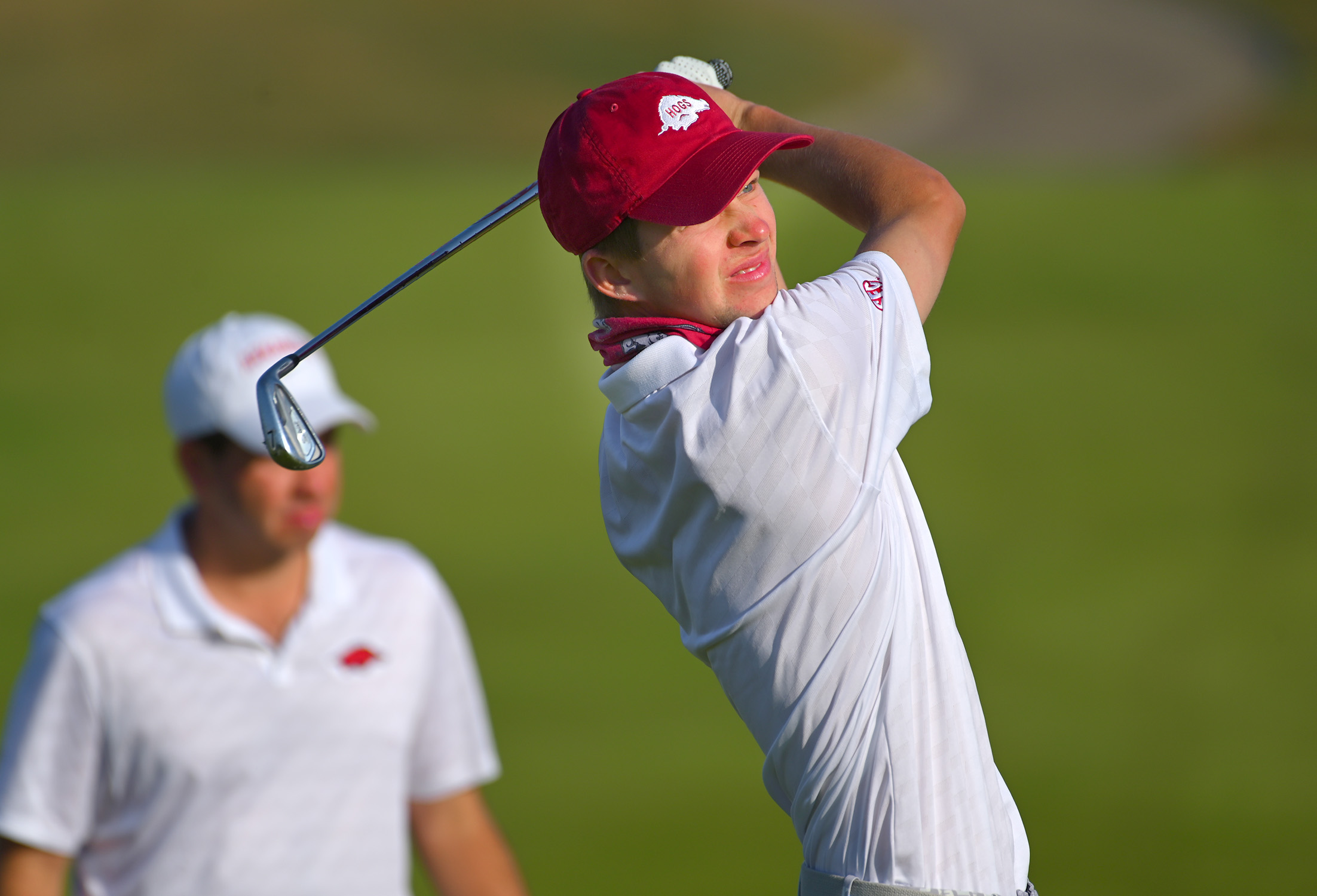 Gibson Leads Razorbacks in Rd1 at Carmel Cup
PEBBLE BEACH, Calif. – Arkansas junior Wil Gibson was the first Razorback to tee off at the team's season opener – the 10th annual and final Carmel Cup – and he started with a double bogey. However, he righted the ship and had six birdies over his last eight holes to shoot a career-low, 4-under-par 68 and lead the 19th-ranked Hogs on day one of the three-day event at historic Pebble Beach Golf Links (par 72, 6,828 yards).
Arkansas is in fifth in the eight-team field, but just three strokes behind leader Georgia. In the six-count-five tournament, Arkansas fired a 2-under-par 258 while #14 Georgia turned in a 5-under-par 355. Mississippi State is second after 18 holes (356), followed by #9 Texas Tech (357) and #2 Oklahoma State (357). Trailing the Razorbacks are #7 Oklahoma (359), #6 Vanderbilt (361) and TCU (378).
Gibson was the clubhouse leader and ended day one in a tie for second, two strokes behind Georgia's Trent Phillips who is the 23rd-ranked amateur in the world. After the opening double, Gibson got a stroke back with a birdied on the par-4, third hole only to suffer a bogey on the par-5 6th to make the turn at +2 (38). The Jonesboro native opened the back nine with par. Then over the last eight holes, he went birdie, par, birdie, birdie, birdie, birdie, par and birdie on the iconic par-5, 18th.
Gibson's previous best round was a 2-under-par 69 in the opening round at the par 71 Cabo Collegiate in his freshman season (2018-19).
"I really just got in a groove and never got ahead of myself," Gibson said. "I felt really comfortable out there on the back nine today compared to the front. I was in a good place mentally even after making early mistakes. Pebble Beach is such a special place with the best views so it's hard not to enjoy a round out here."
Newcomer Mateo Fernandez de Oliveira, a junior transfer from TCU, stands in a tie for ninth after carding a 2-under-par round. He offset a bogey with four birdies to post his 70.
Julian Perico and Juan Camilo Vesga, making his collegiate debut, are tied for 20th as each turned in a 1-over 73. Segundo Oliva Pinto and Luke Long are tied for 30th as each posted a 2-over-par 74.
Day two of the three-day event is set for Saturday with 18 holes of play.
For more information on Arkansas Men's Golf, follow @RazorbackMGolf on Twitter.